Rocket Medicine
Launching into the future of medical education
The University of Toledo College of Medicine and Life Sciences implemented a major curriculum change with emphasis on competency-based curriculum with early clinical experience and seamless integration of foundational and clinical sciences.
KEY ASPECTS OF THE NEW CURRICULUM INCLUDE:
Systems-based foundational sciences with clinical integration
Greater emphasis on clinical reasoning and clinical skills in all four years
Utilization of more innovative educational methods/approaches
Focus on interprofessional education, patient safety and career development
Read more about our MD curriculum
---
Sections: Integrated Curriculum | E-Learning | Important Dates | Contact Us
---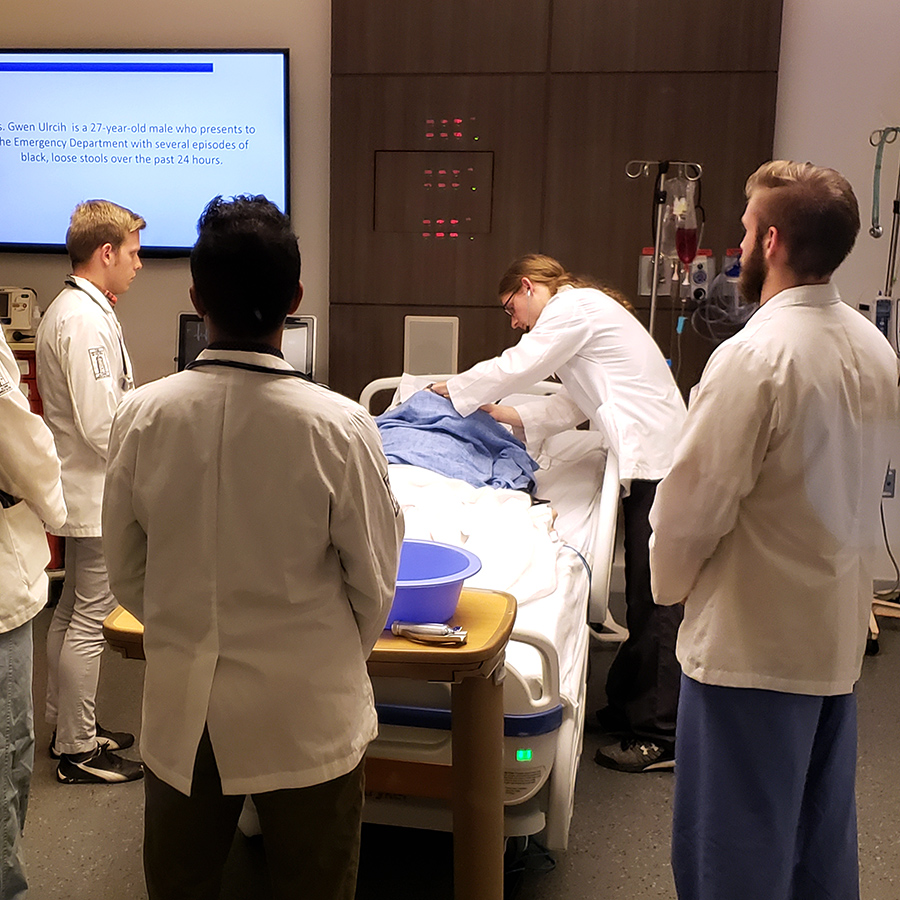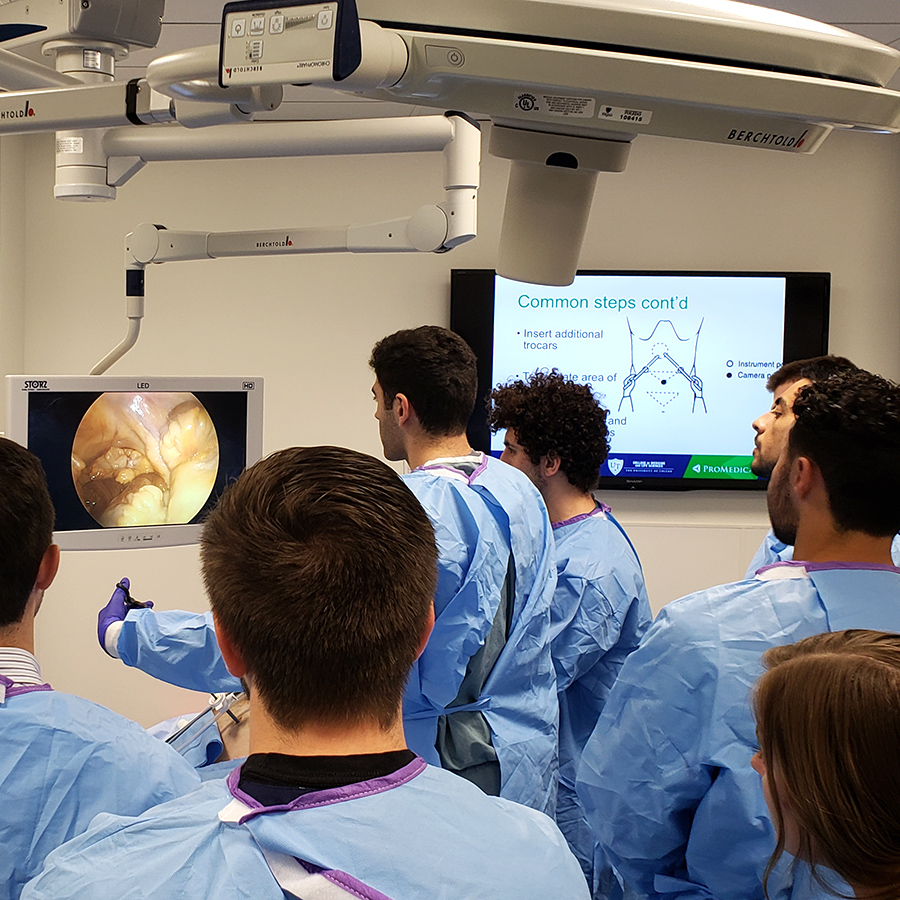 Foundational Science Students Working in the Simulation Center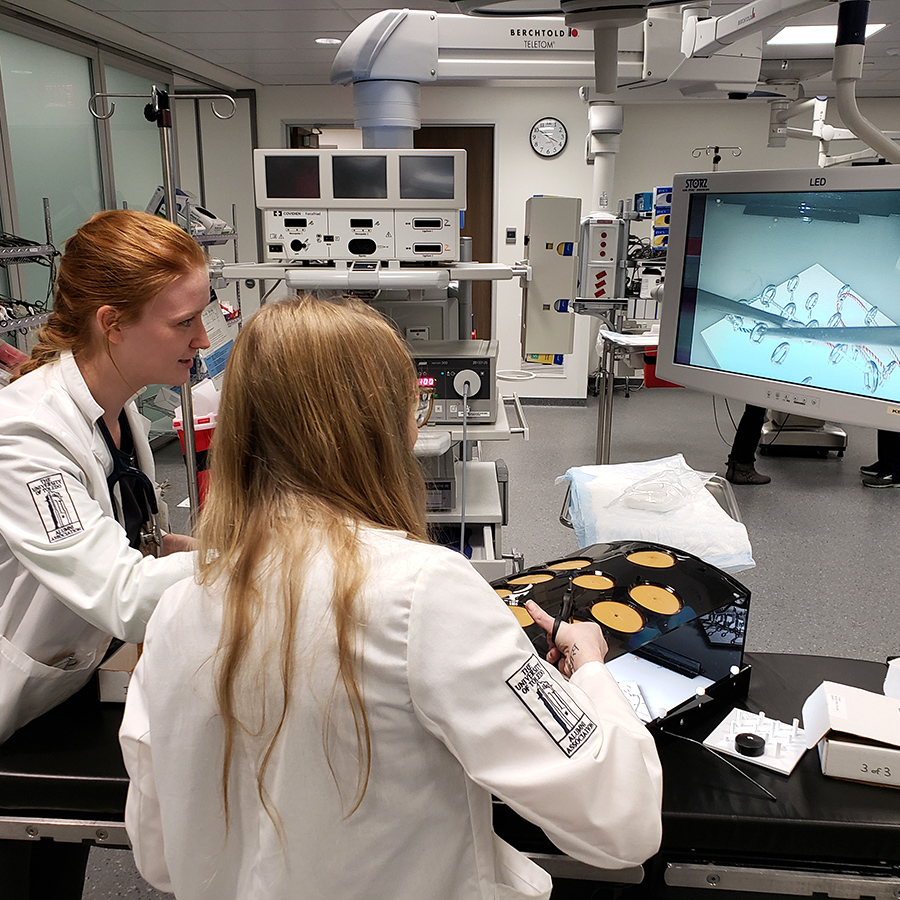 Integrated Curriculum
System based learning
Systems grouped into "Threads" to facilitate progressive learning
Incorporation of different educational methods (E-Modules; Active learning sessions; Team Based Learning; Simulation; etc.)
Focus on clinically relevant material and application with collaboration between clinicians and foundational science faculty
More emphasis on clinical medicine preparation & skills
Early clinical experience
---
e-Learning
Watch a video montage of the e-learning modules available to students, as part of the new curriculum:
---
Important Dates*
2021-2022 School Year
*Subject to change. The health and safety of our campus community is our priority. We will continue to follow the advice and guidance of our local, state and federal officials, as well as our own infectious disease experts. This may affect plans for our curriculum.
Rising M2 – Class of 2024
Thread 3: CVRP Begins: Monday, July 19, 2021
BFUN: July 19 – August 13
CARN: August 16 – September 10
CARP; September 13 – October 8
Thread 3: CVRP Ends: Thursday, October 14, 2021

Thread 4: Cycles and Vices Begins: Wednesday, October 20, 2021
Gastrointestinal: October 21 – November 19
Reproductive: November 29 – January 24
Endocrine: January 26 – February 14
Thread 4: Cycles and Vices Ends: Thursday, February 17, 2022

Winter Break: December 20, 2021 – January 7, 2022
USMLE STEP 1 Prep: February 21 – April 15, 2022
Step 1 Qualifying Exam: Friday, March 4
USMLE Step 1 Exam Deadline: April 15, 2022
Bridge-to-Clerkships: April 25 – 29, 2022
Rising M1 – Class of 2025
Orientation: July 27 – 30, 2021
Classes Begin: Monday, August 2, 2021

Thread 1: Cellular Disease Begins Monday, August 2, 2021


Human Blueprint: August 2 – September 10
Hematology and Oncology: September 13 – October 11
Immunity: October 13-29
Infectious Disease: November 1 – December 13
Thread 1: Cellular Disease Ends: Friday, December 17, 2021
Winter Break: December 20, 2021 – January 7, 2022

Thread 2: Bones/Neuro/Behavior Begins: Monday, January 10, 2022


Musculoskeletal System: January 10 – April 8
Behavioral Sci and Psych Med: April 11 – May 13
Thread 2: Bones/Neuro/Behavior Ends: Friday, May 13, 2022
Summer Break: TBD
Wellness/Holidays
Labor Day: Monday, September 6, 2021
M1 Wellness Day: Tuesday, October 12, 2021
Veterans Day: Thursday, November 11, 2021
M1 Fall Break: Monday, November 22 – Friday, November 26, 2021
Thanksgiving: Thursday, November 25 – Friday, November 26, 2021
Martin Luther King Jr. Day: Monday, January 17, 2022

***Please note there may be additional breaks between systems or threads***
---
Contact Us