COVID-19 Research & Publications
---
March 30, 2021: UToledo hosts Fourth COVID-19 Virtual Town Hall
In the latest of our virtual town hall series, Dr. Daniel Cadigan from the Toledo-Lucas County Health Department shared information about the region's response to COVID-19. UToledo experts also answered questions from members of our community.
Navigate through the different sections and topics from the town hall on YouTube in the description box.
Panelists
Daniel Cadigan, M.D. Medical Director, Toledo-Lucas County Health Department
Joan Duggan, M.D. Professor, Department of Medicine, Infectious Disease
Jennifer Hanrahan, D.O. Associate Professor, Department of Medicine, Infectious Disease
Jason F. Huntley, Ph.D. Associate Professor, Medical Microbiology and Immunology
Russell Smith, Pharm.D. Chief Pharmacy Officer, The University of Toledo Medical Center
---
Sharing Knowledge
Dr. Jason Huntley, associate professor in the Department of Medical Microbiology and Immunology, explains in a new UToledo video the importance of completing both doses of available COVID-19 vaccines:
Dr. Jennifer Hanrahan, associate professor in the Dept. of Medicine and chief of the division of infectious diseases, recently discussed the potential side effects of a new COVID-19 treatment in Rolling Stone. Dr. Hanrahan also recently gave an update on what we've learned about the COVID-19 pandemic in this UToledo video.
Dr. Vithal Shendge, assistant professor in the Department of Orthopaedic Surgery, wrote an article in the Sturgis Journal, titled "Impact of COVID-19 on musculoskeletal care."

Members of the Department of Neurology and the ProMedica Neurosciences Center recently wrote a guide in Frontiers in Neurology, titled "Interventional Stroke Care in the Era of COVID-19." Authors include Drs. Hisham Salahuddin, Alicia C. Castonguay, Syed F. Zaidi, Richard Burgess and Mouhammad A. Jumaa.  

Additional research from members of the Department of Neurology, along with colleagues at 11 stroke centers in Michigan, revealed fewer people were admitted to stroke centers in Michigan and northwest Ohio since the beginning of the pandemic. Even fewer patients received the life-saving procedure, mechanical thrombectomy, for the most severe form of ischemic stroke. Researchers call this negative influence the bystander effect. Authors include Dr. Jumaa, along with Drs. Zaidi and Burgess. The letter, titled "The Bystander Effect on Stroke Care in Michigan," was published in Neurosurgery. 
---
Research of 'Love Hormone' shows it could hold key to treating COVID-19
Dr. Elissar Andari, assistant professor in the Department of Psychiatry, led a recent study that found that oxytocin may have potential as a targeted treatment for cytokine storms in COVID-19 patients.

Dr. Andari's research team, which included Ali Imami, a graduate student in our Bioinformatics program, used a National Institutes of Health database to analyze characteristics of genes treated with drugs closely related to oxytocin. They found that one drug in particular, carbetocin, has similar characteristics (called a signature) to genes with reduced expression of the inflammatory markers that trigger cytokine storm in COVID-19 patients.

"Understanding the mechanisms by which oxytocin or the oxytocin system can be a new immune target is crucial," the authors concluded in their report, which was published online recently in the journal Physiological Genomics.

However, Dr. Andari added that "safety and efficacy of intravenous oxytocin in hospitalized patients with COVID-19 remains to be assessed."

IN THE NEWS: The research was recently shared in U.S. News and World Report and WebMD. 

Authors on the publication are Ali S. Imami, Dr. Sinead M. O'Donovan, Justin F. Creeden, Xiaojun Wu, Hunter Eby, Dr. Cheryl B. McCullumsmith, Kerstin Uvnäs-Moberg, Dr. Robert E. McCullumsmith, and Dr. Elissar Andari.
Read more about the research
---
Research looks at link with comorbidities
There's a new COVID-19-related publication from our researchers, who examined 1,900+ patients with various comorbidities and show that some of these diseases have the potential to increase the ability of the virus to infect target organs.
The publication was led by a graduate student Joshua Breidenbach, and chosen as the Feature paper in the Journal of Personalized Medicine. The full team included Drs. Prabhat Dube,  Ms. Subhanwita Ghosh, Mr. Belal Abdullah, and Drs. David Kennedy, Steven Haller, Nikolai Modyanov, Deepak Malhotra, and Lance Dworkin.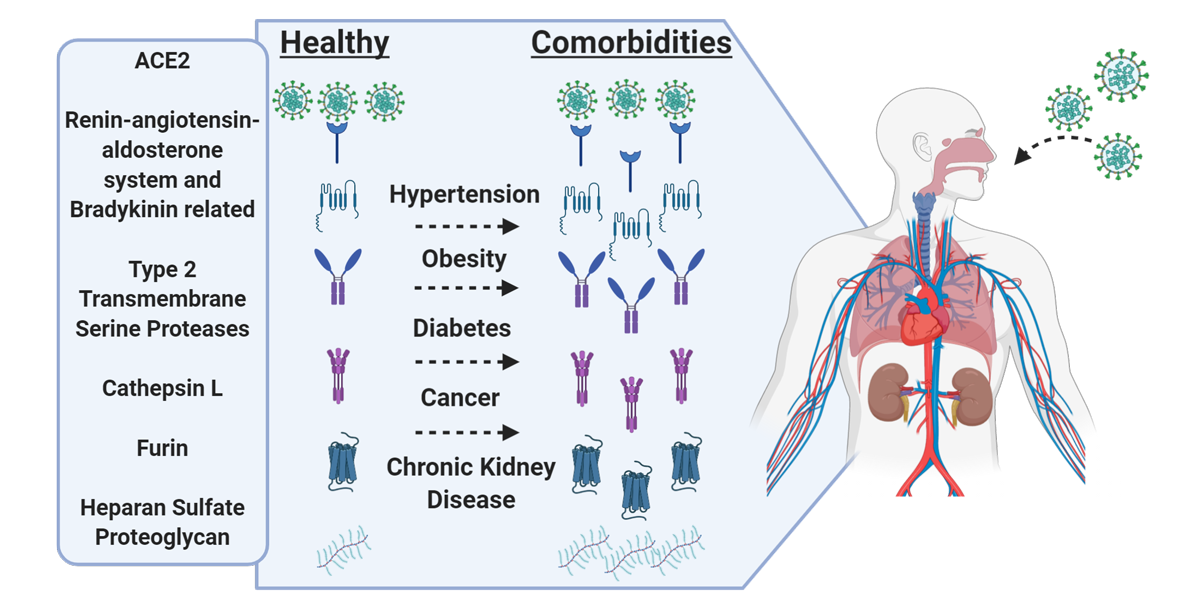 ---
Research links COVID-19 to loss of taste
Nearly half of individuals who contract COVID-19 experience an abnormal or complete loss of their sense of taste, an analysis led by UToledo chief internal medicine resident, Dr. Muhammad Aziz, has found.

The systematic review, published in the journal Gastroenterology, could provide yet another diagnostic hint for clinicians who suspect their patients might have the disease.

"Earlier studies didn't note this symptom, and that was probably because of the severity of other symptoms like cough, fever and trouble breathing," said Dr. Muhammad Aziz, chief internal medicine resident at UToledo and the paper's lead author. "We were beginning to note that altered or lost sense of taste were also present, not just here and there, but in a significant proportion."
Dr. Aziz also recently published a meta-analysis on COVID-19 with Drs. Rawish Fatima and Ragheb Assaly in the form of a letter to the editor in the Journal of Medical Virology.
---
Additional Publications
Ali S. Imami, Sinead M. O'Donovan, Justin F. Creeden1, Xiaojun Wu, Hunter Eby, Cheryl  B. McCullumsmith, Kerstin Uvnäs-Moberg, Robert E. McCullumsmith, and Elissar Andari. Oxytocin's Anti-inflammatory and Pro-immune functions in COVID-19: A Transcriptomic Signature Based Approach. Physiological Genomics. 2020.
Artificial intelligence and machine learning to fight COVID-19. Alimadadi A, Aryal S, Manandhar I, Munroe PB, Joe B, Cheng X. Physiol Genomics. 2020 Apr 1;52(4):200-202. doi: 10.1152/physiolgenomics.00029.2020. Epub 2020 Mar 27. PMID: 32216577 
Harnessing innate immunity to eliminate SARS-CoV-2 and ameliorate COVID-19 disease. Golonka RM, Saha P, Yeoh BS, Chattopadhyay S, Gewirtz AT, Joe B, Vijay-Kumar M. Physiol Genomics. 2020 May 1;52(5):217-221. doi: 10.1152/physiolgenomics.00033.2020. Epub 2020 Apr 10. PMID: 32275178
Gnotobiotic Rats Reveal That Gut Microbiota Regulates Colonic mRNA of Ace2, the Receptor for SARS-CoV-2 Infectivity. Yang T, Chakraborty S, Saha P, Mell B, Cheng X, Yeo JY, Mei X, Zhou G, Mandal J, Golonka R, Yeoh BS, Putluri V, Piyarathna DWB, Putluri N, McCarthy CG, Wenceslau CF, Sreekumar A, Gewirtz AT, Vijay-Kumar M, Joe B. Hypertension. 2020 Jul;76(1):e1-e3. doi: 10.1161/HYPERTENSIONAHA.120.15360. Epub 2020 May 19.PMID: 32426999
What If I Told You the COVID-19 Pandemic Is Not Entirely Bad? Moussa, M. Journal of Graduate Medical Education:  2020; 12(3); 283-283.