David Kennedy, Ph.D.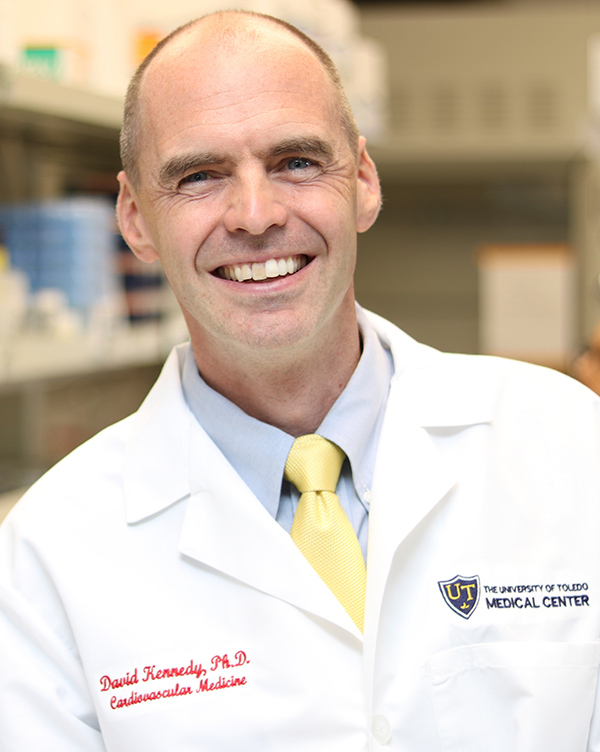 Associate Professor of Medicine
Co-Director, Women & Philanthropy Genetic Analysis Center
Office: 419.383.6822
Laboratory: 419.383.6823
Fax: 419.383.3344
Email: David.Kennedy@UToledo.edu
Our lab studies how interrelated organ systems such as heart, kidney and liver regulate cellular damage (particularly inflammation and fibrosis) and repair during the course of chronic ailments such as heart failure, hypertension, diabetes, obesity and chronic kidney disease.  We are particularly interested in developing new preventative and therapeutic strategies to help people suffering from these diseases through establishing novel biomarkers and molecular diagnostics to assist risk stratification as well as identifying new drugs and drug targets and enhancing endogenous counter-regulatory mechanisms. Given our community's ties to and dependence on the Great Lakes as a source of clean water for drinking, recreation, fishing and agriculture, our laboratory also places a special emphasis on discovering new diagnostic, preventative and therapeutic strategies targeting cellular damage caused by environmental stressors that impair our land-water-food nexus.
Education
B.S., Biology, John Carroll University, 1995
M.S., Biological Sciences, Medical College of Ohio, 2001
Ph.D., Biomedical Sciences, Medical University of Ohio, 2006
Postgraduate Training
University of Toledo Health Science Center, Department of Medicine, Toledo, Ohio (Director: Professor Joseph I. Shapiro, Mercy Health Partners Endowed Chair of Medicine), 2006-2007
David and Lindsay Morgenthaler Endowed Fellowship, Lerner Research Institute Cleveland Clinic Foundation, Department of Cell Biology, Cleveland, Ohio (Director: Professor Roy L. Silverstein, Vice Chair (Translational Research), Jan Bleeksma Endowed Chair in Vascular Biology Cleveland Clinic Lerner College of Medicine of Case Western Reserve University), 2007-2011
Academic Appointments
Research Associate, Department of Cellular & Molecular Medicine, Lerner Research Institute, Cleveland Clinic, 2011-2013
Secondary Appointment to Department of Nephrology and Hypertension, Glickman Urological & Kidney Institute, Cleveland Clinic, 2011-2015
Project Scientist, Department of Cellular & Molecular Medicine, Lerner Research Institute, Cleveland Clinic, 2014-2015
Assistant Professor of Medicine, Division of Cardiovascular Medicine, Department of Medicine, University of Toledo College of Medicine and Life Sciences, 2015-2020
Associate Professor (with Tenure) of Medicine, Division of Cardiovascular Medicine, Department of Medicine, University of Toledo College of Medicine and Life Sciences, 2020-Present
Awards and Commendations
Liberato J.A. DiDio Award for Excellence in Graduate Research, 2001, 2003, 2004
American Heart Association, Predoctoral Fellowship, 2003-2005
Dr. Roberto Franco-Saenz Memorial Scholarship in Internal Medicine, 2004
Cleveland Clinic Foundation/Lerner Research Institute, David and Lindsay Morgenthaler Endowed Fellowship, 2007-2010
American Association for the Advancement of Science/Science Program for Excellence in Science, 2007
American Heart Association, Postdoctoral Fellowship, 2008-2010
American Society for Biochemistry and Molecular Biology Travel Award, 2009
Manuscript of the Quarter, Department of Cell Biology, Lerner Research Institute, 2009
The William E. Lower Award for Basic Science Research, 2010
The Chairman's Award for Art & Science, 2010
The Department of Cell Biology Elsa Albrecht Fellow Award, 2010
Fifth International Conference on Paraoxonases Young Scientist Travel Award, 2012
American Society of Nephrology Advances in Research Travel Award, 2013
Central Society for Clinical and Translational Research Early Career Development Award, 2016
University of Toledo Leadership Institute, 2018-2019
University of Toledo President's Award for Excellence in Grantsmanship, 2019