Faculty: Scott Heckathorn, Ph.D.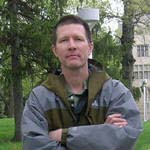 Professor of Ecology
Ph.D., M.S., University of Illinois 1995
B.S., Wichita State University

Research and Teaching Interests
419.530.4328 | scott.heckathorn@utoledo.edu
ResearchCoursesView Dr. Heckathorn's Publications
---
Research
My research interests are in plant, and more recently algal, ecological physiology and biochemistry, stress physiology and stress proteins (especially heat-shock proteins, or HSPs), photosynthesis and respiration, and nutrient relations. Most of my current and recent research is focused on:
Environmental controls associated with global climate change (e.g., CO2, nitrogen, temperature), on tolerance and adaptations of plants to acute heat stress [with particular focus on photosynthesis and HSPs, plant productivity, and community composition];
Understanding the mechanisms by which low-molecular-weight, or small, (HSPs) protect photosynthesis and respiration during stress, especially heat stress;
The patterns, functional consequences, and causes of natural variation in protection of metabolism by small HSPs;
Nutrient (especially micronutrient) deficiency and toxicity effects on physiology and protein and gene expression in plants; and
Abiotic effects on stress-protein production and performance in freshwater algae.
---
Courses
EEES 1160 PLANTS AND SOCIETY [3 hours] This course centers on the importance of plants to our planet. Includes an introduction to botany and discussion of plants that provide food, materials, spices, medicines, drugs and poisons. (Not for credit in the major) [Spring] Natural Sciences core course.


EEES 2150 BIODIVERSITY [3 hours] Examination of the diversity of life on earth and its evolution, systematics and behavior; the structure of ecosystems, and concepts of population and community ecology. [Fall] Natural Sciences core course.