Financing Sources & Assistance
Innovation Fund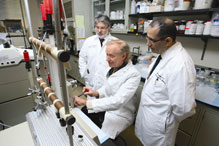 Innovation is happening every day across UT's three campuses and medical center. To harness this opportunity and for the good of the State of Ohio, UT has launched a $10 million dollar fund to spur and support innovation and commercialization.
The innovation Fund was established to invest in technologies discovered at UT and the surrounding area and help bring them to the marketplace. The fund will assist with the translation of these technologies into innovative commercial products and services, as well as the start-up of new technology-based companies to develop them.
All investment opportunities are reviewed by an
Investment Analysis Group
An Investment Committee
Rocket Innovations Board of Directors
If you are interested in applying for financing, we evaluate all projects based on their:
Mission Congruency with the University
Degree of local presence

UT Spin Off Companies
Local Inventions
Businesses from outside the Toledo area, but with validated potential for positive economic benefit to our area

Validation of scientific/technical, educational and charitable merits
Contribution to stability and sustainability
Community development primarily within the northwest Ohio economic region
Rocket Innovations also has many ties to third party funding sources with whom you can work. To take the first step toward applying for financing or assistance in locating funding sources, please contact us or use our Request Assistance Form.