Cadet Testimonials
Cadet Austin Andry, Class of 2023, Mechanical Engineering
After successful completion of Cadet Summer Training (CST), Cadet Austin Andry conducted Cadet Troop Leader Training (CTLT) with Bravo Company, 8th Psychological Operations Battalion at Fort Bragg, NC. Cadet Andry observed mission planning for an upcoming multinational exercise Eager Lion in Jordan, as well as some initial planning for the Company's support to the Special Operations exercise Sage Eagle. While at Fort Bragg, Cadet Andry explored military branches that interested him, shadowing the battalion's Military Intelligence officer. Cadet Andry learned about the complexities of planning for airborne operations, observing the execution of a day jump and follow-on mission alongside an Engineer lieutenant within A Co., 127th Engineer Battalion (Airborne). Additionally, Cadet Andry took part in a digital force protection course, a Survival, Evasion, Resistance and Escape (SERE) refresher course, assisted on an Explosive Ordinance Disposal (EOD) range, and assisted the company in the execution of an Army Combat Fitness Test (ACFT). Throughout CTLT Cadet Andry had the opportunity to talk to and learn from many Officers, Soldiers, and other Cadets at Fort Bragg, NC enriching his personal development as a senior ROTC Cadet.
"I really enjoyed getting the opportunity to talk and learn from other Officers and Non-Commissioned Officers in the PSYOPs community at Fort Bragg. I feel like I learned a lot on how PSYOP units train and had a chance to learn more about military intelligence."  --Cadet Andry
---
Cadet John Hoehn, Class of 2023, Pre-Finance
In summer 2022, prior to his successful completion of Cadet Summer Training (CST), Cadet Hoehn had the privilege of attending the United States Army's Sabalauski Air Assault School, on Fort Campbell, KY.  Focused and determined throughout the physically and mentally demanding course, Cadet Hoehn, excelled by displaying unshakable confidence while rappelling out of a UH-60 Black Hawk Helicopter. After the completion of the course's final requirement, a 12-mile ruck in under 3 hours, Cadet Hoehn attained Air Assault qualification and was awarded the Air Assault Badge. Cadet Hoehn distinguished himself as one of the 95 successful graduates of the course out of the 322 initial candidates who attempted course qualification.
 "I feel very grateful to have had the opportunity to attend Air Assault School. As expected, the school challenged me physically, but was also very challenging mentally with the rigorus tests that were required throughout the course. Air Assault provided me with a deeper understanding of Army operations. I feel that I learned an immense amount from the other Officers and Soldiers in the course. I'm also very thankful to SFC Geary (UT Cadre) for the individualized training and preparation that he gave me prior to the course." –Cadet Hoehn
---
Cadet Mason Babcock, Class of 2024, Criminal Justice
In August 2022, Cadet Babcock reported to the 1st Battalion, 507th Parachute Infantry Regiment at Fort Benning, GA to participate in the Army's Basic Airborne Course. An active and eager student throughout each phase of the school's training, Cadet Babcock completed five successful jumps with a T-11 parachute from a high-performance aircraft. Cadet Babcock completed the course-required night airborne jump approximately 10 miles away from an impressive late-summer thunderstorm, which left a lasting impression on Cadet Babcock. Cadet Babcock excelled while completing all course requirements, and was awarded the Basic Parachutist Badge, commonly referred to as "Airborne Wings" on September 2nd, 2022.   
---
Cadet Julia Wilkinson, Class of 2023, Nursing
After successful completion of Cadet Summer Training (CST), Cadet Julia Wilkinson participated in a Nurse Summer Training Program (NSTP) internship at Ft. Belvoir Army Community Hospital on Ft. Belvoir, VA. Throughout the internship, Cadet Wilkinson participated in a variety of clinical experiences in the intensive care unit as well as on a medical surgical unit, gaining over 100 hours of clinical time. Wilkinson shadowed nurses and participated in multi-faceted patient care, while conducting research and preparing an evidence-based practice project to improve overall patient outcomes at Ft. Belvoir Army Community Hospital. Like Cadet Njeri, Cadet Wilkinson also had an opportunity to visit DiLorenzo Health Clinic in the Pentagon, as well as participate in flight nurse training facilitated by the Maryland Army National Guard. At the conclusion the NSTP internship, CDT Wilkinson was presented with the Ft. Belvoir Army Community Hospital challenge coin for excellence by the hospital's Director of Operations.
---
Cadet Shelomith Njeri, Class of 2022, Nursing
Following Cadet Summer Training (CST), Cadet Shelomith Njeri participated in a Nurse Summer Training Program (NSTP) internship at Fort Belvoir Army Community Hospital, on Fort Belvoir, VA. Cadet Njeri shadowed a Navy medical officer in the Emergency Medicine Department assessing patients, attending to Trauma Codes, and developing care plans for each patient. As the internship progressed, Cadet Njeri was able to shadow medical professionals on other units such as the Intermediate Care Unit, Medical Surgical Unit, and in the Operating Room. Additionally, Cadet Njeri had the opportunity to observe flight nurse training on a HH-60M Black Hawk. While in the National Capital Region Cadet Njeri visited the Pentagon and was briefed on emergency medical preparedness at the Pentagon's DiLorenzo Health Clinic. Upon completion of the internship, Cadet Njeri was individually recognized for excellence by the Fort Belvoir Army Community Hospital Director of Operations with a command challenge coin.    
---
Cadet Marissa Lechlak, Class of 2023, Nursing

After successful completion of Cadet Summer Training (CST), Cadet Marissa Lechlak participated in a Nurse Summer Training Program (NSTP) internship at Madigan Army Medical Center on Joint-Base Lewis-McChord, WA. Cadet Lechlak had the opportunity to work in a diverse spectrum of hospital care units including, labor and delivery, post-partum care, general surgery, pediatric and adult intensive care, and in the emergency room. While working under the supervision of Registered Nurses, Cadet Lechlak exercised her clinical skills by removing and inserting IVs and catheters, administering medications and vaccines, drawing blood samples, and assisting in medical assessments. Cadet Lechlak gained first-hand experience with full twelve-hour nursing shifts common amongst current Army Nurses while building valuable additional clinical experience.
"NSTP was an amazing experience for me as a nursing student. I had wonderful mentors at the hospital who warmly welcomed me with open arms. I learned so much from the hospital staff about how an Army hospital runs and what service is like as an Army Nurse."  --Cadet Lechlak
---
Morgan Wityk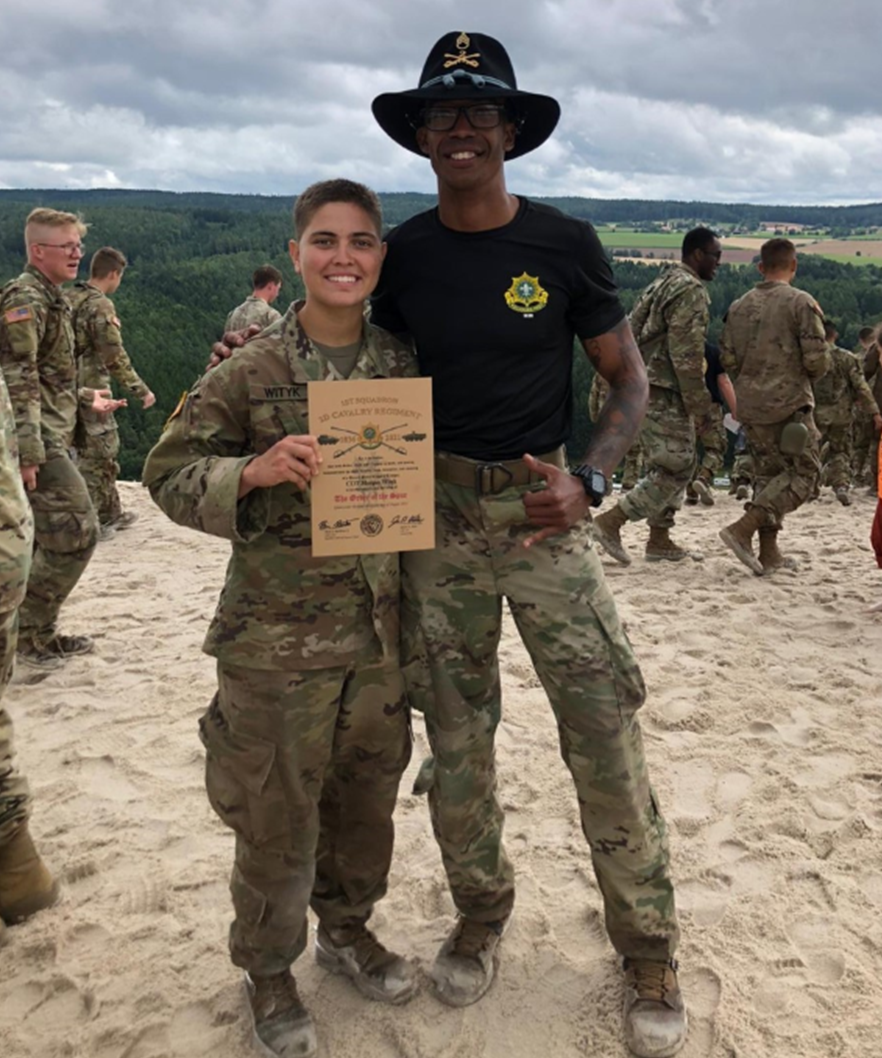 "My time in Germany was pertinent in preparing myself to become a lieutenant in a combat arms atmosphere. I shadowed 1LT Kazmi and he taught me several tricks and tips to be successful, not only in combat, but in a Garrison role as well. I also shadowed 1LT Christensen, a female officer with her Ranger tab, which has been a goal of mine since deciding to join the Army.
I took part in 1st Squadron's Spur Ride. It was a grueling adventure that let me interact with those that were enlisted and other officers. It taught me that I had the ability to push through the dreary two days of rain and ruck 37 miles in about 28 hours. Among having my air assault wings, earning my spurs was an internally prideful moment because it was not something I had expected to do while I was in Germany.
Overall, Cadet Troop Leader Training (CTLT) was a fantastic experience. To see such true operations running at full speed made me feel confident in what I can do in the Infantry environment. I am grateful for seeing the way the Squadron S3 operated. I was able to see two different PL's in action. I also participated in Urban Operations for a week and rode in the Strykers."
---
Fadilla Hassan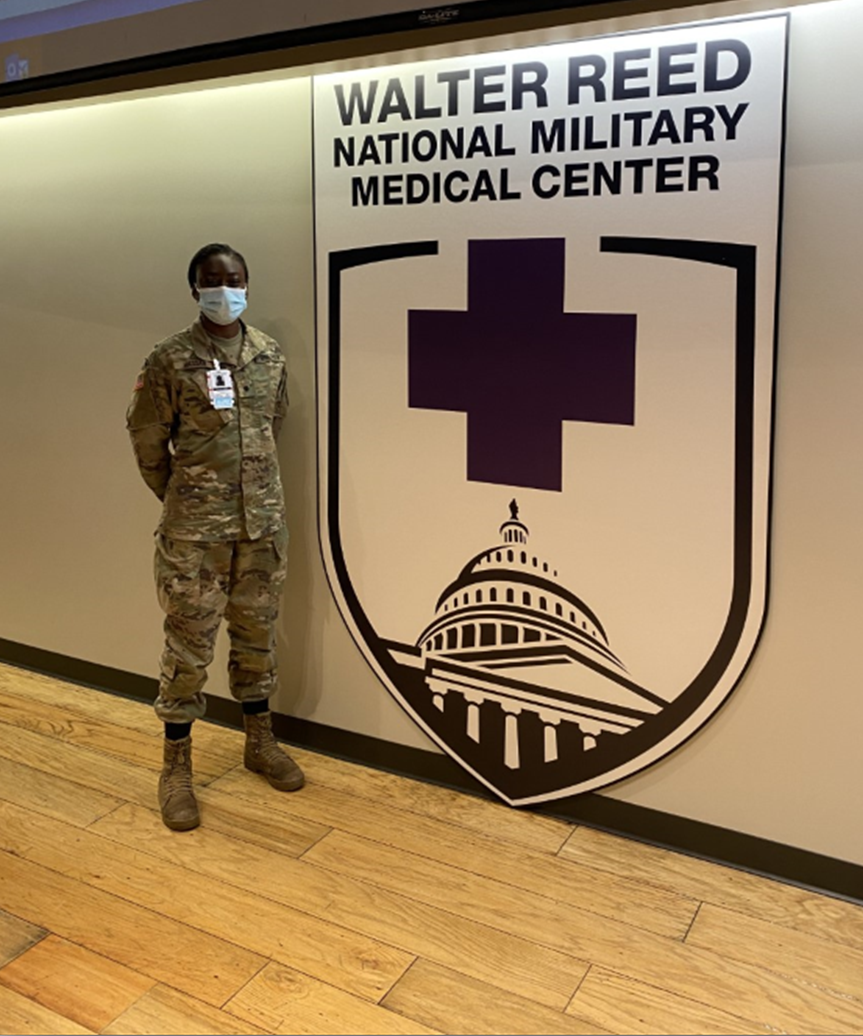 "In the summer of 2021, I was fortunate enough to complete a nursing internship at Walter Reed Medical Center for 28 days, also known as 'The President's Hospital.' This was only possible through the help of the ROTC program. During my time at Walter Reed, I was exposed to many experiences that will be beneficial to me in my Army nursing career. I was able to gain insight on how the chain of command worked in a military hospital and responsibilities of different staff positions. I was able to tour the President suite inside Walter Reeds Medical Center, also known as Ward 71, which is where the president and other high-ranking officials would receive medical care.
During my time in the hospital, I worked in the Surgical Intensive Care Unit. Typically, we would work the same schedule as the nurse officer we shadowed. Some daily duties involved reports, vitals, assessments and blood sugars, if needed. We also had many opportunities to gain experience with giving injections, starting IV's and foley's, and watching surgeries. One of the surgeries I observed was a coronary artery bypass. Overall, I had an extraordinary time and this is an experience I will never forget."
---
Lauryen Smith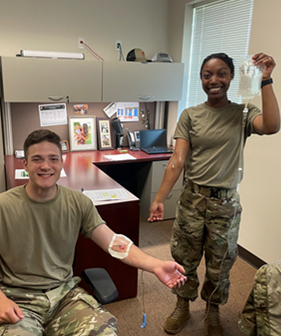 "My first day of training began with physical training at 0700 with a personal trainer who was more intense than the physical trainers at my school. The workout was more difficult than what the Recon Platoon was doing at The University of Toledo, but what was even more exciting was that they were all medical professionals.

It was nice to see how the soldiers of the 528th Sustainment Brigade at Ft. Bragg take pride in their medical knowledge and physical fitness. During the internship I was required to learn the training flow of the Austere Resuscitation Surgical Teams (ARST) and brief their capabilities to the Battalion Commander. The team showed me most of the hands-on training that these teams endured, and were able to train me in medical techniques only shown at the most elite Special Operations Combat Medic school. After long days of teaching and training to prepare for the brief, there was a jump every day and for a couple of them I got to ride in Cessna's to watch the airborne soldiers jump out. The whole experience was priceless and truly made me look forward to an expansive and adventurous career in the military. It made me stronger, wiser, and exposed me to an Army structure that most wouldn't fully understand until they finish BOLC, but more importantly, I created long lasting relationships with the other cadets and the ARST's that will be great assets in the future. I am truly grateful that I receive the CTLT experience."