Office of the Dean of Students 
Meet The Dean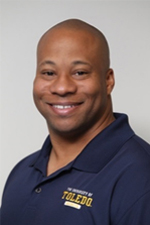 Dear Students,
Welcome back Toledo Rockets! We hope the winter break gave you an opportunity to relax and prepare for Spring semester. Special welcome to our new students; we wish you much success here at The University of Toledo.
It is my pleasure and privilege to serve as your Dean of Students. It is my mission, focus, and passion to enhance student's educational practice with real world experiences and encounters that will change their lives.  The Dean of Students office promotes student development, services to programs, and has implemented policies that support an inclusive environment to all students. I encourage all students to take advantage of the opportunity to engage in our numerous organizations, programs, and faculty members to reach their full potential.
The Dean of Student office is a central location where students, faculty, and parents come to understand and navigate through issues arising in student life. The staff in the Dean of Students office promotes the well-being of all students and the experiences that may affect their life as a University of Toledo Rocket.  We support students by providing inclusiveness which essentially equips our students to be change agents for the future. It is vital for students to continue searching for assistance that will affect their student life unleashing the potential that lies within themselves.
Please feel free to contact me or any member of my staff to be of service to you. Our number one priority is to serve students and make their student experience here at the University of Toledo an exceptional one. Our doors are always open and hope we can create an experience for you that will last a lifetime.
Sincerely,
Sammy J. Spann, Ph.D.