Connect with Us
Meet the Team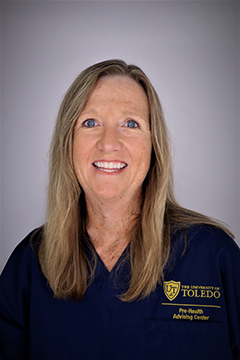 Deborah Hendricks, Ed.D., CFLE
Director, Pre-Health Advising Center, Mindfulness Coach
UH2160A
Shavron Kelley, M.A.
Program Coordinator, Pre-Health Advising Center
UH2160B
In-Office Campus Collaborators
Hillary Hoffman
Secretary 1
hillary.hoffman@utoledo.edu
 
Gena Collier 
Career Consultant 
angena.collier@utoledo.edu 
---
Senior Advisory Board
---
PROfessional advisory board
William J. Davis, D.D.S., M.S.
Professor and Chairman of the Department of Dentistry
Department of Dentistry 
Dr. William J. Davis founded the General Practice Residency at MCO in Toledo in 1978 and has been fundamental in its success for the past 45 years. He also helped start the Pediatric Residency 15 years ago. Today, Dr. Davis serves as the Chairman of the Department of Dentistry, teaching topics including ethics and all things Prosthodontics, his specialty in private practice and education, to residents. You may recognize his work "A Philosophy of the Practice of Dentistry" which he co-authored with L.D. Pankey in 1987 and was recently re-published.
Kimberly D. Jenkins, M.D.
Associate Professor, Anesthesiology
Associate Dean of Diversity and Inclusion 
Dr. Jenkins, Chair of Anesthesiology, serves on the senior leadership team of the College of Medicine and Life Sciences as Associate Dean for Diversity and Inclusion. She did her undergraduate work at the University of Michigan and obtained her M.D. degree at Wayne State University medical school in Detroit. She completed her residency in Anesthesiology at Wayne State University. In her diversity role, she has coordinated multiple programs to support underserved students and incoming medical students. Through her leadership, she has helped foster an academic environment within the College of Medicine and Life Sciences that is welcoming and respectful of all arenas of diversity, equity and inclusion and has developed diversity training and speakers' series for students, residents and faculty throughout the Toledo community.
Steve Reece, D.V.M. 
Medical Director 
Anthony Wayne Animal Hospital 
Dr. Steve Reece grew up on a farm west of Toledo.  He received his Doctor of Veterinary Medicine degree from The Ohio State University in 1992 and co-owned a veterinary hospital in Perrysburg, OH shortly afterwards, then went on to a Chief of Staff position in Scottsdale, AZ.  Longing to relocate back home, he purchased Anthony Wayne Animal Hospital in Maumee, OH where he and his wife ran the practice successfully until 2017 when he sold the hospital to a corporate entity.  He is now the Medical Director of the practice.
Dr. Reece lives in Perrysburg and is an active cyclist, boater and jogger.  He and his wife have 2 daughters, four grandchildren, and two rescue dogs.
Matthew M. Reiner, D.P.M. 
ProMedica Physicians Podiatry
Dr. Reiner completed his undergraduate degree at The University of Toledo and obtained his medical degree from the Kent State University College of Podiatric Medicine. He is a fellowship trained foot and ankle specialist and is board certified in foot and ankle surgery by the American Board of Foot and Ankle Surgery. He completed his fellowship at the Northern Ohio Foot and Ankle Foundation in association with Orthopedic Associates of Lake County in Concord, Ohio. He completed his residency at St. Vincent Charity Medical Center, Cleveland, Ohio where he served as chief resident. Dr. Reiner has specialized training in revision and reconstructive foot and ankle surgery, flatfoot correction, trauma of the foot and ankle, total ankle replacement surgery and arthroscopic surgery of the ankle.
---
2021-22 End of Year REport