Health Science Campus (HSC) Security Officers

The University Office of Public Safety also includes over fifteen (15) Security Officers assigned to the Health Science Campus. Security Officers are uniformed, un-armed individuals who provide an additional layer of safety and customer services. The staff works out of room 007 in the basement of the Mulford Library.

All Security Officers are trained in the use of the departmental Automated Records Management System (ARMS) / Computer Aided Dispatch (CAD).  Additionally, Security Officers are responsible for answering all incoming phone calls to the Health Science Campus communications center [(419)383.2601] and for requesting the appropriate public safety crews.

Security Officers make routine foot patrols of all buildings on the Health Science Campus as well as patrolling the parking lots at HSC. They actively monitor the campus for any suspicious activity, safety hazards, and unsecured areas. Security Officers assist the campus community by providing directions; safety escorts to individuals; assisting police officers; and conducting monthly fire drills and security checks of all buildings on HSC.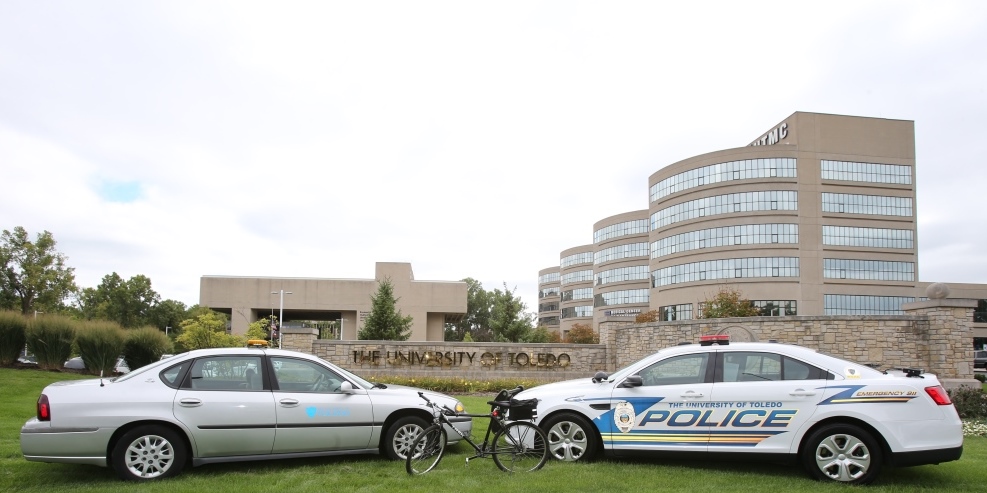 CHECK POSITION OPENING(s): CLICK HERE
HEALTH SCIENCE CAMPUS SECURITY OFFICER (Full-Time & Part-Time)

Questions: 
Questions may be directed to HSC Security at (419)383.2601.
Position Summary:
The Security Officer works closely with The University of Toledo Police to provide a safe and secure environment for all people and property. The Security Officer is always aware of their surroundings, watching for any type of illegal occurrences, fire or other hazardous conditions. The Security Officer is responsible for the dispatch center on the Health Science Campus and to protect and serve the UT/UTMC community. The Security officer at all times must adhere to hospital policies and procedures as well as addresses patient safety, performance improvement, and quality of care issues. The Security Officer must adhere to UTMC's Customer Service values & iCare Standards at all times. The Security Officer must attend and follow all department specific safety education and training in an effort to create a safe work environment. The position has rotating days off every 4 months.  
Job Duties:
Rank
Job Duty
1

Managing and coordinating the duties of the dispatch and command center. Dispatching and communicating with officers and other departmental staff via the radio system; perform the duties of answering the phone, logging all radio and phone traffic; monitoring fire and intrusion alarms; monitoring video/audio surveillance equipment; assist with walk in traffic; recording and documenting all lost and found items; organizing roll call via the computer, tracking keys and other equipment used by officers and other staff.

2

Perform routine foot patrols of all campus buildings and monitor for any suspicious activity. Must be knowledgeable about patient safety and quality of care issues. Able to recognize safety issues in the department and handles incidents per institutional and/or departmental policies and
procedures. If safety issues were identified; all issues were handled timely and appropriately.

Examples of safety issues are:
Frayed Cord:
1. Reports equipment dysfunction in a timely manner.
2. Make sure alternate process is in place and action is taken.
3. Reduces adverse results or impact to patient care and the employee.

Recognize exposure to Blood:
1. Worked as a team to limit exposure and create a safe work environment. 2. Safety concerns;
no safety concerns have been reported this year and the manager has been timely with staff
training and education.

Perform required rounds of the campus with the Morse Watchman System.

The SOI will assist patients with wheelchairs or other medical devices; providing door unlocks;and conducts routine fire drills and safety checks.

3

Respond to unruly patients, visitors, and youth-age patients or students at the Kobacker facility; assist police officers and other staff members; stand-by on problem situations;

4

Perform routine vehicle patrol of outer parking areas; providing safety escorts for individuals to outer parking areas; complete mail runs on and off campus

5

Assist with body donations and transports to the morgue from outside agencies and perform other related duties as assigned.
Working Conditions:

Work is performed inside and outside of the facility. Security Officers will also have to perform in inclement weather at times. During adverse weather conditions the outside portion of the job is still performed in the manner as it is in normal weather conditions. Potential exposure to injury while intercepting or restraining individuals.

Qualifications:

Education/experience/licensing:
1. High school diploma or GED required.
2. Valid driver's license and insurability required. (DRIVING
APPLICATION FORM REQUIRED AT TIME OF APPLICATION/BID)
3. Learn the University of Toledo computer system.
4. Train and become certified in the LEADS/NORIS system.
5. Train and become proficient in the 900 MHz Kenwood and 800 MHz Motorola radio systems, CSI Computer system, ARMS record management system, AIMS parking system, Pro-Watch system, CCTV system, and other computers and or/equipment.
6. Obtain CPR certification within 30 days of hire.
7. Become trained and certified in Professional Assault Crisis
Training(Pro-ACT)
8. Complete training/ become proficient in incident entry into the departmental Automated Records Management System (ARMS) / Computer Aided Dispatch (CAD).

Other Requirements:
1. Successful completion of pre-employment background check & other screenings (human resources pre-employment and department).
2. Completion of pre-employment Psychological exam (offer of employment tentative - department to determine continuation of hire based on results).

Knowledge, Skills & Abilities Required:
Must have proven dependability and consistency.
Must possess the physical ability to walk long distances, perform in inclement weather, and perform daily repetitive duties.
Must be able to function effectively in an organization where services are provided to multiple departments and in multiple locations.
Must posses Honesty, Integrity and Trustworthiness to the highest degree.
Must be an excellent communicator with good listening skills, strong writing skills, and polished oral presentation skills, and who is able to relate effectively with all constituencies.

Physical Requirements:
1) Visual acuity of 20/20 or corrected to 20/20 including color vision when applicable; 2) Ability to hear (with or without aides); 3) Ability to orally communicate; 4) Good manual dexterity; 5) Ability to push, pull, roll, and transfer/lift 200 pounds occasionally; 6) Ability to stand, walk frequently; 7) ability to bend, reach, stoop, kneel frequently; and 8) Ability to perform CPR (if required for the position)