Location
University Location
The University of Toledo's Main Campus is one of the three major campuses that house the University's academic enterprise. It is the largest of the three campuses and is located on Bancroft Street, between Secor Avenue on the west and Douglas Road on the East. The map at left illustrates the footprint of the University's Main Campus.
The Main Campus houses nine (9) colleges, including: 1) College of Adult and Lifelong Learning, 2) College of Business and Innovation, 3) Judith Herb College of Education, Health Science and Human Service, 4) College of Engineering, 5) College of Innovative Learning, 6) College of Languages, Literature and Social Sciences, 7) College of Law, 8) College of Natural Sciences and Mathematics, and the 9) Honors College.
Colleges located on other UT campus include: College of Medicine, College of Nursing, College of Pharmacy and the College of Visual and Performing Arts.
College of Engineering Location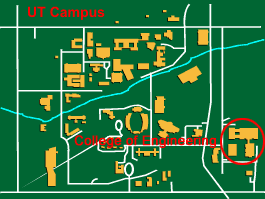 As shown by the diagram at right, the College of Engineering is located in the southeast corner of the University's Main Campus, east of Douglas Road and north of Dorr Street. Commonly known as the Nitschke Engineering Complex, it includes four major buildings:
North Engineering

 (NE) - Offices and instructional labs for Engineering Technology (ET), college computing labs, various research labs

Palmer Hall

 (PL) - General purpose classrooms, college computing labs, Bioengineering Labs

Nitschke Hall

 (NI) - College computing labs, offices for Bioengineering (BIOE), Chemical and Environmental Engineering (CHEE), Civil Engineering (CIVE), Electrical Engineering and Computer Science (EECS), and Mechanical, Industrial and Manufacturing Engineering (MIME).

Nitschke Auditorium

 (NA) - 1000 seat auditorium used for instructional purposes, convocation and community events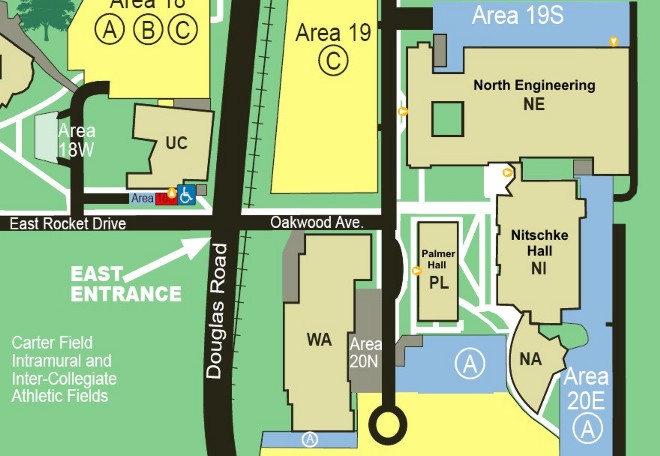 ET Department Location
Situated in the east side of the North Engineering building, the Engineering Technology Center (ETC) houses instructional laboratories and faculty offices. This facility includes three state-of-the-art computer laboratories maintained by Engineering College Computing, as well as instructional laboratories for strength of materials, materials testing, thermodynamics, computer integrated manufacturing and computer networking.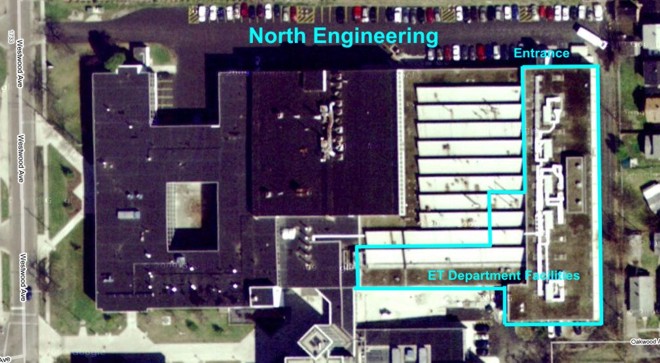 Visitors are encouraged to use the north entrance to NE, located near the northeast corner of the building. This entrance leads immediately to the offices of the Engineering Technology Department.
Renovation of the eastern portion of North Engineering has resulted in completely new and modernized facilities for the Department. We are settled into the new spaces and better integrated into the College. Students, Staff and Faculty are well pleased with the move. Check out the photos below to see the transformation as it progressed.