Ashley Patterson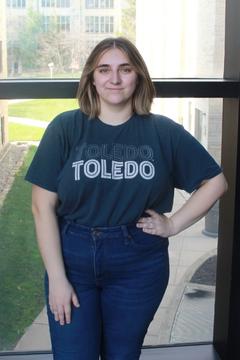 Organizations and Activities
Women in Business Leadership
Klar Leadership Academy
Internships and Job Experience
Human Resources Intern (Summer 2023) | Owens Corning
Human Resources Intern | Ball Metal Corporation
Student Worker | UToledo's Business Career Programs Office
Crew Trainer | McDonald's
---
How Did You Decide to Study Human Resources Management and Marketing?
I chose to pursue HR when I was in high school. I had the opportunity to meet with human resource professionals to learn about career opportunities. I quickly realized that HR was the fit for me with having the people aspect heavily involved along with the leadership elements.
Marketing was a sudden switch; I was a finance minor, however, when I started my senior year, I had the realization that finance was not for me. I decided to switch to marketing because I got to work with a few marketing majors and really liked the work they were doing. So, I switched to marketing as my minor as truly love my minor and the classes I'm taking.
Why Did You Choose the Neff College of Business and Innovation at the University of Toledo?
I chose UToledo because of the master's program and the opportunity that I have to step ahead in getting my M.B.A. in HR. The University of Toledo has a pipeline program where I'm able to start taking graduate-level classes as a senior, so I can knock off roughly one whole semester for my master's. This was a major draw, as I really wanted to get my master's right after my bachelor's, and this gives me the opportunity save money as well as get my M.B.A. quicker.
What On-Campus Activities and Organizations Have You Been a Part of?
I'm involved in two organizations on campus. The first one is Women in Business Leadership, where I'm the treasurer of the organization. The organization is a business/social organization where we do events such as going to companies and touring their facilities as well as having business professionals come into our meetings to give us advice. The other organization is Klar leadership Academy, which is a business organization that you're in for one year and will get to do activities to enhance your business and leadership skills. We also went to the Cherry Street Mission to volunteer and clean their facility and help set up for the winter weather.
What is Your Greatest Piece of Advice for an Incoming Freshman?
First impressions are everything and don't miss out on the opportunity to meet someone new. When I first came to UToledo, I met Alison DeVolder at a Rocket event, and while talking with her I learned that they were hiring for the Business Career Programs Office and through that meeting I got an interview. I now work there and love it!
What's your favorite class you've taken in the business college?
My favorite class I've taken is my Planning, Selecting and Recruitment class with Courtney Williams. The whole class was about a group project and for it we had to find a job we all wanted to write about then make a job analysis/description, then plan a recruitment method and finally turn in a selection method. It was the most realistic HR class I got to be a part of. And the workload for the class was easily managed and expectations were clearly set. Truly the best class I've had at the university!