Cameron Prindle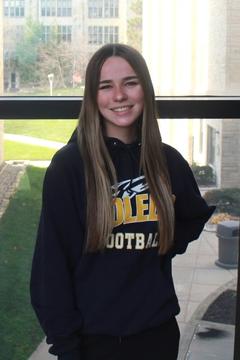 Organizations and Activities
Pi Sigma Epsilon
Alpha Omicron Pi
VSPINK Campus Team
Internships and Job Experience
Marketing/HR Intern | Integrated Talent Strategies
Student Worker | UToledo Business Career Programs Office
Sales Associate | Lush Cosmetics
General Merchandise | Target
---
How did you decide to study marketing and management?
I have always considered myself a creative person and fell in love with the analytical and fast paced aspects of marketing. I paired my major with a Management minor to give me a competitive edge in the job market.
Why did you choose the Neff College of Business and Innovation at The University of Toledo?
Having visited multiple universities, I was very hesitant making a final decision on where to spend my next four years after high school. I had previously visited The University of Toledo and fell in love with the beautiful campus and school spirit, making it one of my top contenders. It wasn't until I attended Experience Day that I got to hear all of the opportunities and passion within the College. A few things that stuck out to me at the time were the individual guidance I would have access to, the modern style classrooms and the internship opportunities.
What on-campus activities and organizations have you been a part of?
During my freshman year at UToledo, I made the decision to go through Greek Life Formal Recruitment where I was able to become a sister of Alpha Omicron Pi. From the start of my membership, I was able to take a leadership position as the VP of Communications and become a part of a group of ambitious individuals.
Seeking more professional development, the following year I committed myself to the professional sales, marketing and management fraternity, Pi Sigma Epsilon.
Starting off my Junior year, I joined the VS PINK Campus Team based on my passion for retail, event planning and social media. These organizations have given me countless opportunities to give back to the community, feel at home on campus and become the best version of myself.
Have you Lived On Campus?
Yes, I lived in Parks Tower my freshman year and I currently live in an off-campus house!
What is your greatest piece of advice for an incoming freshman?
Preparing for your career starts outside of the classroom. Don't be afraid to get involved in organizations right away as they are great opportunities to meet new people and build your resume.