Erin Stephens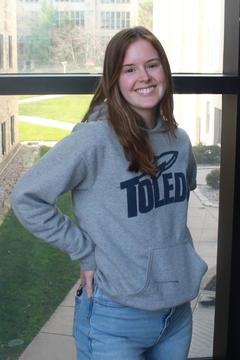 Organizations and Activities
KLAR Leadership Academy
Knits for Charity
Science Book Club
Women in Business Leadership
Internships and Job Experience
Student Worker | UToledo's Business Career Programs Office
Shop Owner | Etsy
Sales Associate | Sherwin Williams (Sales Associate)
---
How Did You Decide to Study Marketing and Art?
I've always loved the arts and I see myself as having a strong creative side. I really wanted to work in graphic design, so I originally came to UToledo as an art major but switched to marketing with an art minor in order to have more job security and better knowledge of business insights. This way I can still work in graphic design, but also be able to look at stats and analytics to make design decisions, instead of just doing freelance work.
Why Did You Choose the Neff College of Business and Innovation at the University of Toledo?
I chose the University of Toledo because it fit exactly what I was looking for in terms of a bigger college where there was plenty of life and excitement, but also somewhere where I felt safe and not in the middle of the city. I also fell in love with the campus the moment I first visited - I knew I could see myself walking around here every day!
What On-Campus Activities and Organizations Have You Been a Part of?
I'm involved in two professional organizations and two social organizations. I'm very glad UToledo has such a wide variety of on-campus opportunities because I'm able to have that leadership and professional experience from the Klar Leadership Academy and Women in Business Leadership, but I also still have time to enjoy my hobbies with Knits for Charity and the Science Book Club!
Where have you lived on campus?
I lived in Parks Tower my freshman year and have also lived in both Ottawa East and Ottawa West my sophomore and junior years!
What is Your Greatest Piece of Advice for an Incoming Freshman?
Be open about trying new things and meeting new people! There's a lot of opportunities that come very quickly when you start college, so don't be scared to try things outside of your comfort zone, you might surprise yourself!