Joshua Mayes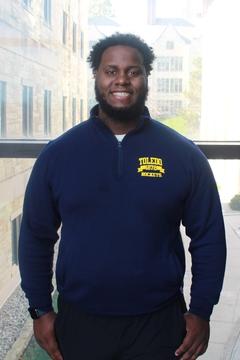 Organizations and Activities
RallyCap
Brother's on the Rise
Klar Leadership Academy
Internships and Job Experience
Intern | Deloitte Risk and Advisory
Tax Intern | Plante Moran
Tax Associate | Ohio Department of Taxation
Risk and Compliance Intern | UHY

---
How Did You Decide to Study Accounting and Information Systems?
I chose accounting because I enjoy working with numbers and using critical thinking to solve problems. Further, accounting is a field that presents great job security in a market that has been consistently unpredictable. I chose information systems to enhance my understanding of technology because in a world where technology is ever evolving, it is important to be knowledgeable of how it works to become more marketable to employers.
Why Did You Choose the Neff College of Business and Innovation at the University of Toledo? 
I chose Toledo because of the beautiful campus and the overwhelming feeling of welcomeness I felt during my campus tour.  
What On-Campus Activities and Organizations Have You Been a Part of? 
My freshman year I joined Brother's on the Rise, which is a faculty and staff mentorship group committed to success of Black and Brown male student that enabled me to make a great connection with my current mentor that remains intact in my senior year. 
During my junior year, I joined the Klar Leadership Academy per the recommendation of my mentor. Klar increased my leadership abilities and understanding of the overall world around me through various leadership workshops and volunteer activities. 
Where have you lived on campus?
Yes, I have lived in the Academic House, International House and Honors Academic Village. Currently, I live off-campus 
What is Your Greatest Piece of Advice for an Incoming Freshman? 
Be sure to talk to your advisors and get involved on campus to make the most of your experience; the connections you make will be fruitful and lasting.
What does your daily routine as a student look like?
My Daily routine includes reviewing my schedule for the day, attending class and studying with friends. I also take time to relax and focus on myself to avoid burning myself out. 
Who's your favorite professor you've had at the Neff College of Business and Innovation?
My favorite professor on campus would be Professor Robert Cox. He taught me a lot about the history of the university and how to become an effective verbal and written communicator in the business world. 
What's your favorite class you've taken in the Neff College of Business and Innovation?
My favorite course was AFST1200:901 – Intro-African Experience because the readings and reports gave me a deeper understanding of the continent's culture and the importance Africa's role in history as a whole.