Russell Chapman III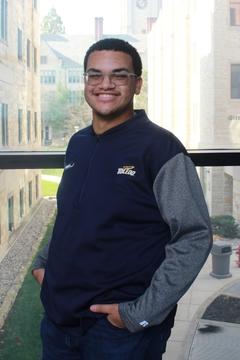 Organizations and Activities
Thai-Lao Student Association
Black Student Union
The National Society of Leadership and Success
Internships and Job Experience
Project Manager Intern
 | Toledo Tomorrow
Audit Intern
 | Plante Moran
---
How Did You Decide to Study Accounting and Marketing? 
I have always been a person who liked solving problems and learning about consumer trends. Taking on both Accounting and marketing allowed me to do both.  
Why Did You Choose the Neff College of Business and Innovation at the University of Toledo?
Honestly, I grew up in Toledo, so I did not think I was going to come here to the University. It was truly during the pandemic that I noticed the great opportunities I would miss if I did not. I had a great network of friends, family and mentors who were willing to help me and build a community with me. Also, there were many internship opportunities which was an added bonus. 
I am happy I continued to stay as I have chosen the career path I see fit for myself and a network that has expanded tenfold, creating memories that will last a lifetime with the people whom I decided to be a part of it.   
What On-Campus Activities and Organizations Have You Been a Part of?
During my sophomore year, I decided to join as many organizations as possible as the 2020 year did hold me back from such opportunities. I immediately knew I wanted to join the Black Student Union; it allowed me to meet other students that grew up in the same culture as mine and create new friends. The National Society of Leadership and Success choose me to be a part and I accepted gracefully, as it taught me leadership skills and allowed me to get advice from powerful people like Gabrielle Union and Bill Clinton, just to name a few.  
As for the Thai-Lao Student Association, I wanted to help my friends bring their culture to campus and when asked to be Treasurer I could not turn them down, and it has been a joy to do so. Please join an organization! There are communities for you on campus and it reminds you that you are not alone here and that you should not be.

What is Your Greatest Piece of Advice for an Incoming Freshman?
The greatest piece of advice could ever give is to put yourself first and think positively. As a new adult, you will find many new stressors in your life, but it is up to you how you deal with them. Making yourself a priority can preserve anything you hold dear by learning your limits and capabilities.  
Thinking positively is a lot easier said than done. I still struggle, but having this new outlook will help you learn that no matter the circumstance there is always a successful conclusion waiting for you, so focus on the now to get there.  
What's your favorite class you've taken in the Neff College of Business and Innovation?
My favorite class was my Principles of Marketing class. My professor was amazing and made it fun to come to a virtual class early in the morning, playing music for us and sending encouraging emails for exams. Also, the coursework in this class made me really want to take marketing as a minor, as it was interesting and challenging.