2022 Pacemaker Awards Honor Local Businesswoman, Exceptional UToledo Business Students
April 26, 2022 | John B. and Lillian E. Neff College of Business and Innovation News
By John Anderson III
---
The University of Toledo's John B. and Lillian E. Neff College of Business and Innovation recognized both business and academic excellence during its annual Pacemaker Awards on Thursday, April 21 at the Savage & Associates Business Learning Complex on the UToledo campus.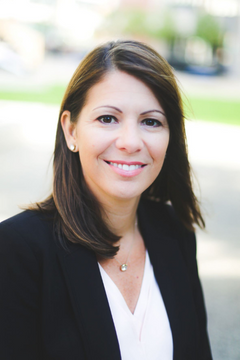 Receiving the 2022 Business Pacemaker Award is Wendy R. Gramza, President and CEO of the Toledo Regional Chamber of Commerce.
She began this role on July 1, 2014, after serving as Executive Vice President for eleven years.
During her over 25 years with the Chamber of Commerce, she has also served as Vice President of Business Development Services and held several other positions within the organization.
Ms. Gramza is a graduate of The University of Toledo's Neff College of Business and Innovation, holding a Bachelor of Business Administration degree in marketing.
"The Pacemaker Award is the College's highest honor, recognizing individuals for outstanding achievement in business, as well as contributions to the community and the University. Wendy Gramza is the perfect personification of what this award means," said Dr. Anne L. Balazs, dean of the Neff College of Business and Innovation. "As an alumna of our College, we are proud to see her continue to thrive and make a positive impact in the Toledo community."
She is also a graduate of the U.S. Chamber of Commerce Institute for Organizational Management and holds the designation of Certified Chamber Executive (CCE) from the Association of Chamber of Commerce Executives.
Wendy is a board member of Junior Achievement, the Boys & Girls Club of Toledo, the Alzheimer's Association, Northwest Ohio Chapter as well as a board member of the Toledo-Lucas County Convention & Visitors Bureau.
She is a member of the Association of Chamber of Commerce Executives. Wendy is a participant in the Chief of Staff of the Air Force's Civic Leadership Program and a member of the Toledo Chapter of Rotary International.
Ms. Gramza received the esteemed 20 Under 40 Award in 2005 which recognizes the professional accomplishments of people in Northwest Ohio under the age of 40.
Student Pacemaker Awards are presented to UToledo Neff College of Business and Innovation graduate and undergraduate students for their outstanding academic achievement, University and community service and leadership.
The 2022 student Pacemakers are: Doctor of Philosophy in Manufacturing And Technology Management (Ph.D.)  — Tianling Xie; Master of Business Administration — Emily Dworczyk and Ryan Chong; Master of Science in Accountancy — Sabrina Cady and Brandon Taylor; Accounting — Aaron Dickman and Mackenzie Stansley; Finance — Alayna Moscinski and Sanat Wagh; Information, Operations and Technology Management — Khoi Ho and Ahmed Yousef; Management — Alyssa Clagg and Payton Beechler; Marketing and International Business — Ricardo Flores and Ali Mavis; Applied Organizational Technology — Sariah Flynn.