Neff College 
of

 Business 

and

 Innovation Hosts Inaugural Innovathon Competition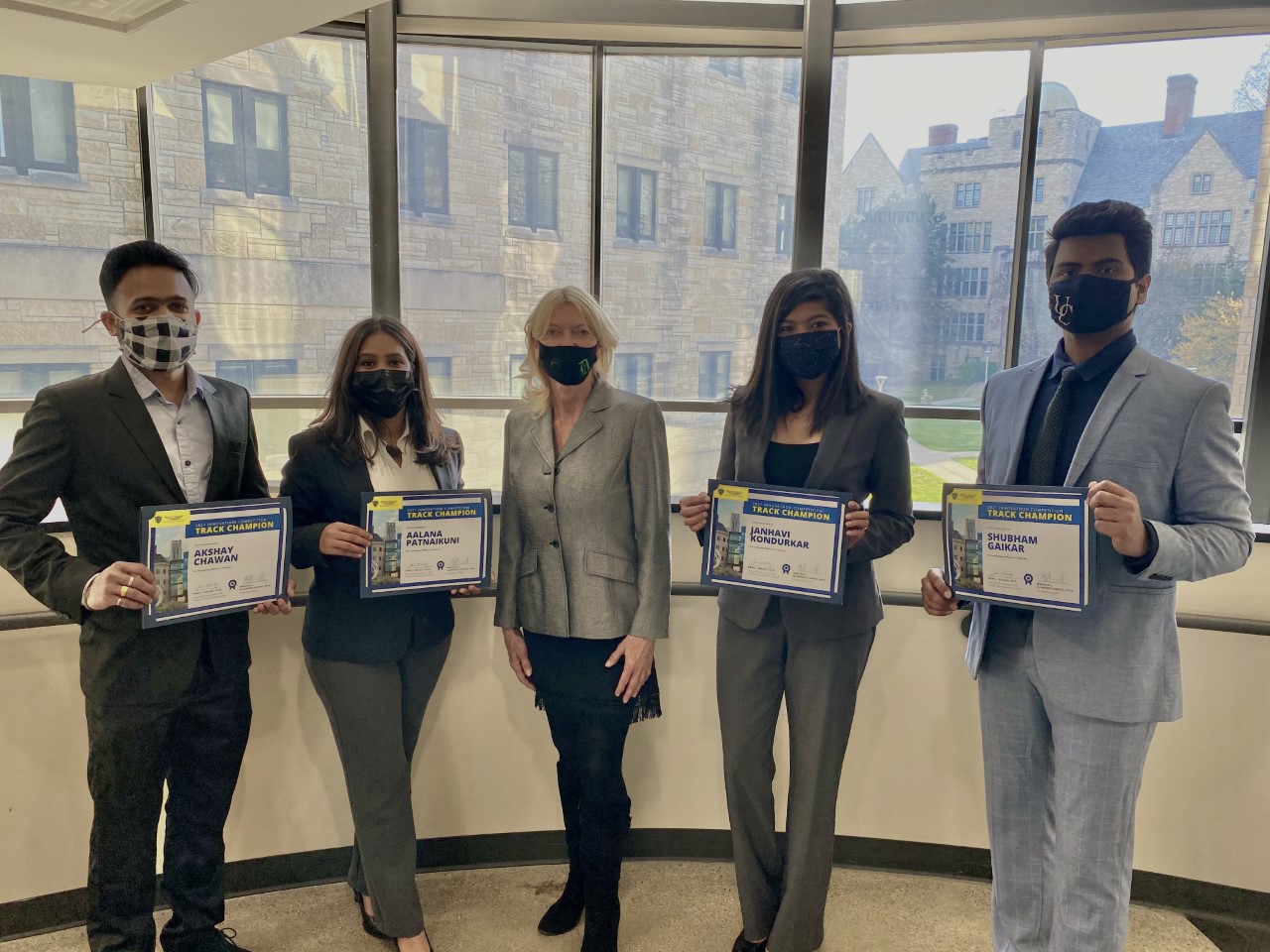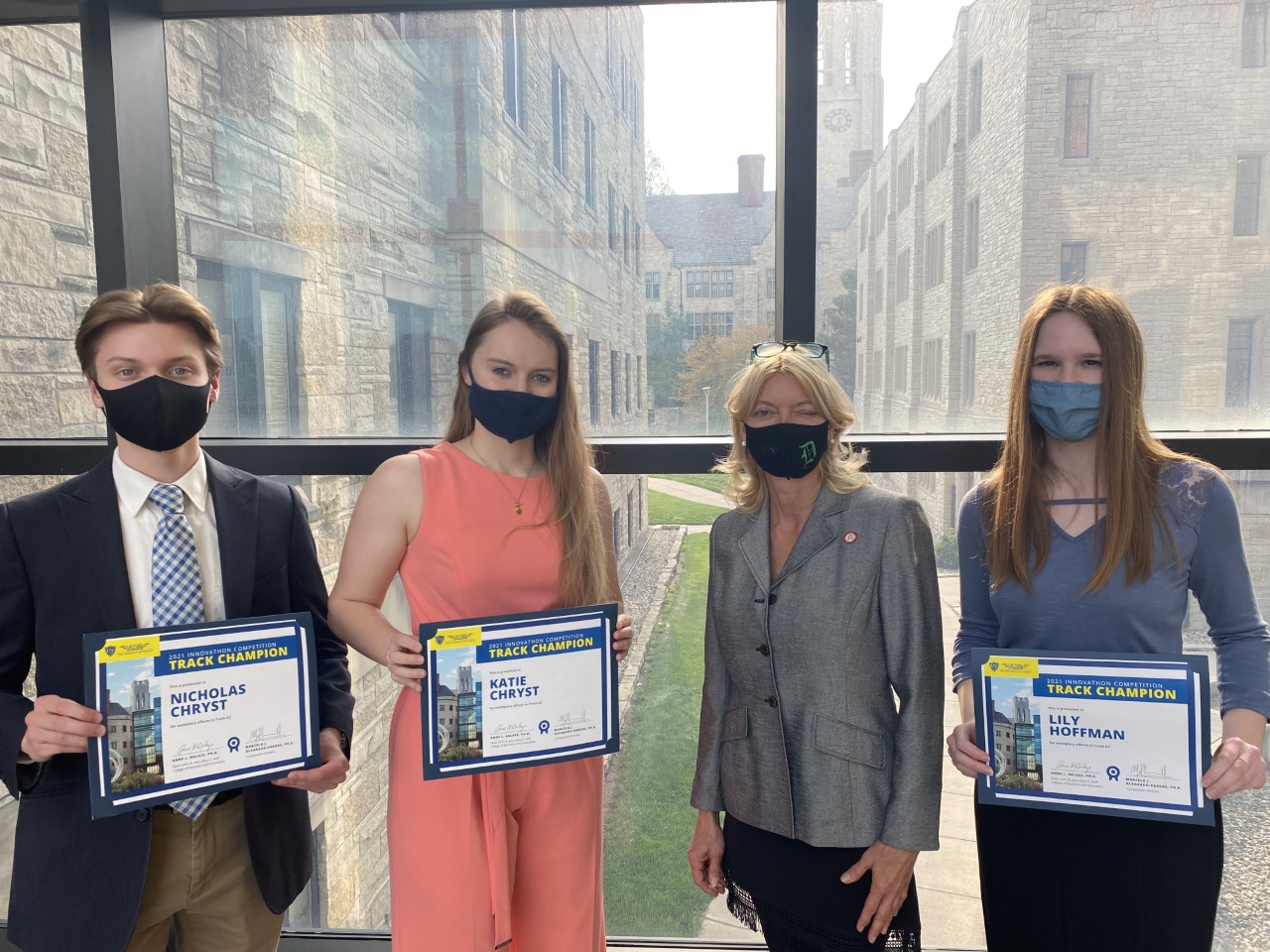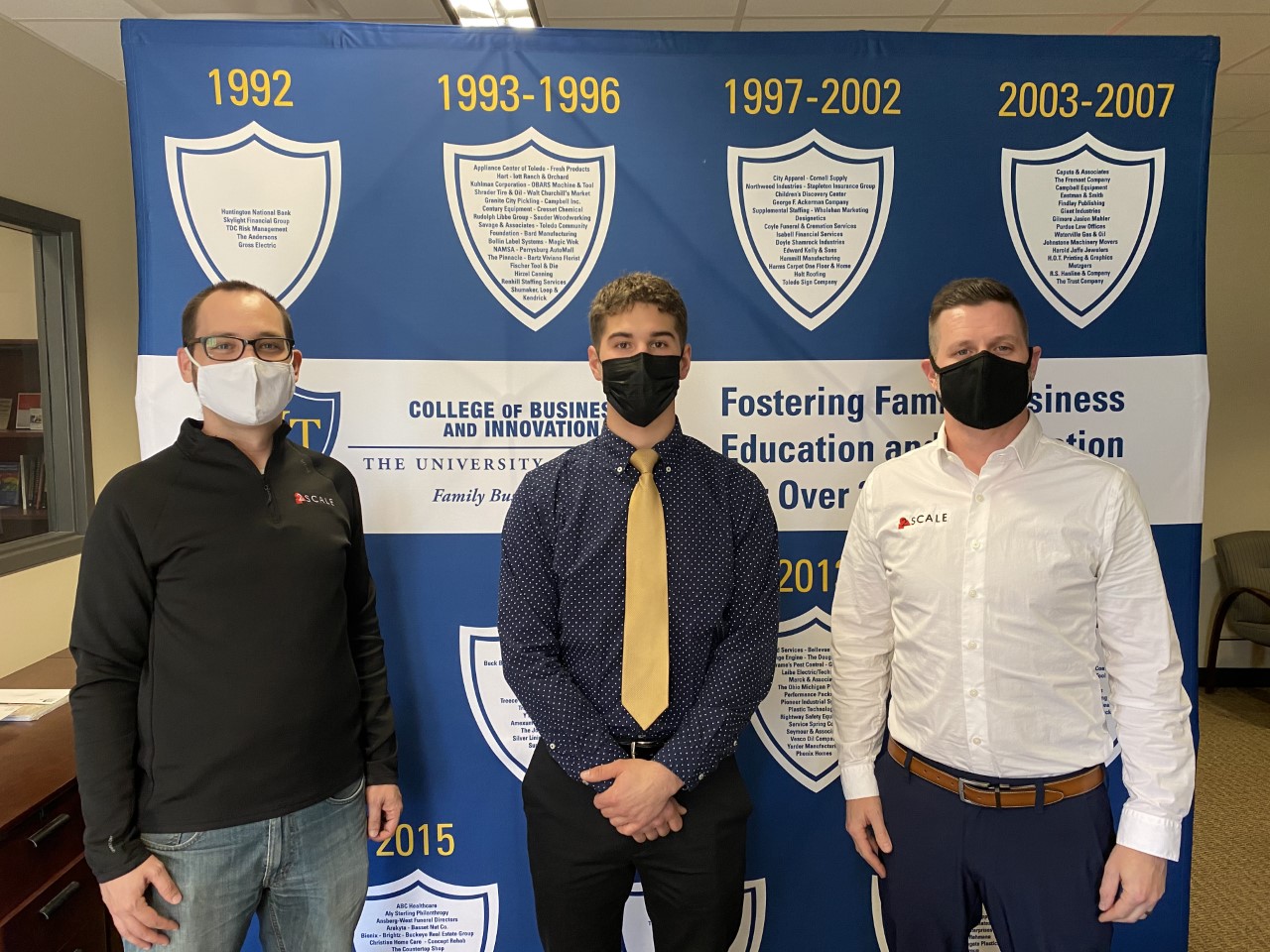 The John B. and Lillian E. Neff College of Business and Innovation hosted its first-ever Innovathon Competition over the course of the month of April. The competition culminated on Friday, April 16th with student groups presenting their solutions to real-world issues that local companies are facing.
The 2021 Innovathon Champions are Janhavi Kondurkar, Akshay Chawan, Shubham Gaikar and Aalana Patnaikuni for their work on Track A1. For Track A2, Katie Chryst, Lily Hoffman and Nicholas Chryst were selected as the winners. Track B1's champion was Jacob Oberski. Due to last-minute circumstances, no winner was selected for Track B2.
Each track had a monetary prize of $1,000 per team for the winner. The runner-up team in each track received a "Runner-up, 2nd place" certificate for their participation in the competition.
In previous years, the College hosted a Business Plan Competition, which centered around students across the University developing a business plan. Within this model, participants would create their own product or service and address questions such as how is the product/service unique and/or innovative compared to existing products/services, what is the cost structure and what is the estimated total size of the initial customer group? Once their business plan was completed and submitted, finalists were selected to present their plan live to a panel of judges. Winners were awarded with prize money to help them bring their business ideas to life.
This year, the director of the competition, Dr. Marcelo Alvarado-Vargas, Ph.D. and the College's Dean Anne L. Balazs Ph.D. decided to pivot and take the competition in a different direction. Instead of the former structure, Alvarado-Vargas and Balazs partnered with Angie Jones and the UToledo Family Business Center to aid local family businesses with real-world issues they are currently facing. The event was designed as a case study competition, where participants were provided with the specific issues each company was confronting as well as additional details on the inner workings of the business.
The competing student groups were required to submit a paper of no more than 3,000 words by April 7th at 11:59 PM. Next, these papers were evaluated by a group of judges, and the top two per track were selected as finalists. These groups then presented live via WebEx to the panel of judges on April 16th, where the champions were subsequently chosen.
"The principal goals for the competition were connecting our students with local businesses by understanding their challenges and proposing solutions, leveraging our UToledo Family Business Center's reach with the local community, and strengthening ties with local businesses by creating synergies and opportunities for collaboration," said Dr. Alvarado-Vargas.
Teams of up to four Neff College of Business and Innovation students collaborated to help two Toledo-area companies specializing in specific fields: (1) Aunt Katrina's Organic Tomatoes and (2) 2-SCALE. The competition was broken down into two "tracks" per company, totaling four separate issues that the participants could choose to address. The competition participants were asked to select their preferred track; Tracks A1 and A2 delved into issues that Aunt Katrina's Organic Tomatoes is facing, while Tracks B1 and B2 discussed 2-SCALE's challenges.
Companies, Tracks and Their Challenges
(1) Aunt Katrina's Organic Tomatoes is in the organic food industry, specializing in locally sourced organic ketchup, jam, preserves, chutneys and mustards.
Track A1:

The company is facing scalability and efficiency challenges. The main question for this track was how to grow and expand the business to higher levels?  Firm and market expansion, new product development, mergers and acquisitions, strategic alliances, were a few of the topics that groups would be analyzing in this track. Sales are reduced compared to the previous year; as a result, cost efficiency was a very important focus for this track.

Track A2:

The company is facing product portfolio and branding challenges. The Aunt Katrina's Organic Tomatoes acquired a company before, and the acquired products and brand have more visibility and brand recognition than the company's original brands. What does the company need to do with both brands? The relevant topics for this track were product and brand portfolio management, brand pricing and profitability analysis and decision making. Strategic marketing and branding knowledge were recommended for this track.
(2) 2-SCALE is a privately held LLC that specializes in the design, development and construction of two- and three-dimensional communications, including custom exhibits and showrooms. They also offer special events and tradeshow planning along with ad and brochure work, signs and model building. They provide full branding for corporate lobbies and commercial interiors, such as restaurants and retail selling environments.
Track B1:

The company faces new product development and market expansion challenges. The company enjoys a stable financial position; as a result, new ideas, projects, and segments of the market are welcomed as recommendations. Topics that were included in this track are new products and services development, product portfolio analysis, product and market innovation and profitability. Familiarity with the Blue Ocean strategy (i.e. searching for new opportunities) was recommended for this track.

Track B2:

The company faces shortcomings on the digital marketing promotion of its products. 2-SCALE believes that improvements on this area will have a positive effect on sales growth, but it requires specific recommendations. The big limitation (but also it brings great opportunities) is the COVID-19 safety regulations for the normal business operation for the company. In this track, students were to recommend specific solutions to this challenge, knowledge and/or familiarity with digital marketing, forecasting, IT, operations management were recommended for this track.
The panel of judges, participating students and businesses all praised the competition for its innovative format and real-world application. Katie Chryst, one of the winners of Track A2, said "The Innovathon Competition was a great opportunity for me and my team to challenge ourselves as aspiring business professionals while also interacting with accomplished individuals from the Toledo community. The knowledge we've gained from our classes helped us solve real-world problems that occur in companies of all sizes. I look forward to participating in next year's competition!"
Alvarado-Vargas, Balazs and Jones will look to learn from this year's competition and carry that momentum into next year. "The success of the first Innovathon has shown us how beneficial a competition like this can be for both our students and the local business community," said Dr. Anne L. Balazs, Dean of the Neff College of Business and Innovation. "We are thrilled to announce that the 2nd Annual Innovathon Competition will occur over the course of the Spring '22 semester."
Next year's competition is slated to begin sometime in February, with the final presentations in early April. More details to come. Stay tuned!
If you have any questions or wish to learn more about the competition, please contact Marcelo Alvarado-Vargas at 419.530.2343 or marcelo.alvaradovargas@utoledo.edu.