Advanced Clinical Simulation Center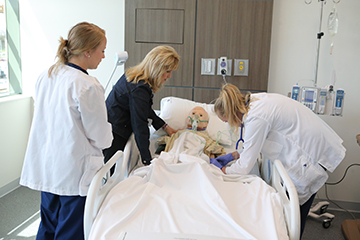 The Advanced Clinical Simulation Center houses a virtual hospital with an ICU, Trauma Suite, OB & Delivery Suite, and Operating Room equipped with human patient simulators, clinical equipment, and debriefing and control rooms. Also included are two patient care rooms, an ultrasound lab, clinical skills area, break out rooms, and interprofessional collaboration rooms designed to be flexible by design. Our Advanced Clinical Simulation Center is the heart of the center and nearly every learner passes through this floor. The focus is on competency based learning and outcomes based training and education. Additionally on the lower level, there is a home care environment that will use advanced simulation models for training.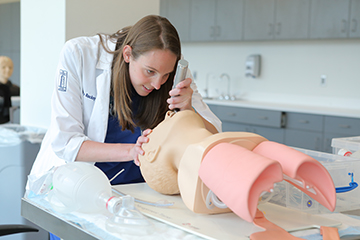 Clinical simulation gives learners an environment to learn and practice with limited consequence and immediate feedback. Our center provides a hands on experience at the point of learning. Students immediately apply concepts, skills, and behaviors acquired in classroom and clinical practice.
This model includes preparation for team training; electronic learning; competency assessment; and outcomes measurement as routine components of training for all health professionals.
Advanced Clinical Skills Resources
---
HomeVirtual realityClinical Simulationsurgical skillsOur TeamFacilitiesDirections Forms3D Printing