Academic Regalia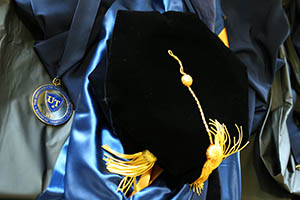 Robes and hoods worn during the commencement are steeped in tradition that dates to the 11th century, when the monks who administered Oxford University in England wore shoulder capes to protect themselves from scratches when they gathered alms, and hoods to protect their shaven heads from the cold. Eventually, the garb was worn daily to serve both as insulation from the damp and cold inside the university's walls, as well as identification that individuals had permission to pass into specific college buildings.
Similar practices were later adopted by the monks who administered Cambridge University in England in the 12th century, and in later years by the other university administered by the Benedictine, Franciscan and Dominican monks across much of western Europe.
In the United States, the academic robes and hoods were first adopted as ceremonial attire for college officials in 1754 at the intuition now known as Columbia University. In 1885, students in many of the country's colleges and universities launched a movement to permit graduation candidates to wear robes and caps during commencement. Eight years later, an intercollegiate commission of university officials adopted the country's first code of color and design for the academic garb.
Faculty soon adopted the custom of wearing gowns at commencement and other academic ceremonies. Although the code has been revised many times, today's academic regalia represent those modifications accepted in 1960 and adopted by nearly 95 percent of the nation's postsecondary institutions. In the United States today, the academic robe is most often black; some institutions, however, sanction the use of specific colors. The length of the robe, the width of the sleeves' borders, and the length of the hood all increase with each advanced degree.
Colors in the hoods identify both the specific field of study in which the degree was earned, as shown by the velvet borders, as well as the institution which granted it, as shown by the lining.