Dr. Liangbo Hu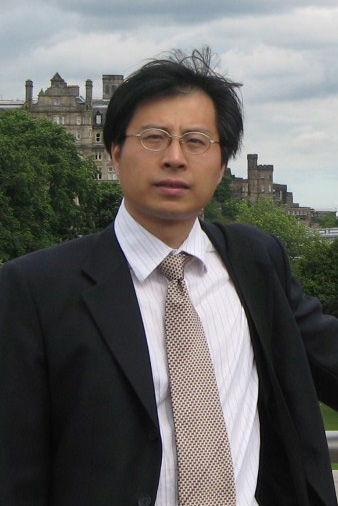 Associate Professor
Department of Civil and Environmental Engineering
University of Toledo
3023 Nitschke Hall
2801 W. Bancroft St
Toledo, OH 43606, USA
Office: (1) 419-530-8124
Fax:     (1) 419-530-8116
Email: Liangbo.Hu@utoledo.edu
Web:  https://www.eng.utoledo.edu/~lihu/
EDUCATION
Ph.D., Civil Engineering, Duke University, Durham, North Carolina, 2008.
M.S., Civil Engineering, Duke University, Durham, North Carolina, 2004.
B.E., Civil Engineering, Tongji University, Shanghai, China, 1999.
RESEARCH INTERESTS 
Fundamentals of geomechanics
Theoretical and computational soil/rock mechanics
Mechanics of partially saturated soils
Coupled thermo-hydro-chemo-mechanical processes
Multi-scale multi-physics approach
Engineering problems/applications
Oil/gas retrieval related land subsidence
Desiccation shrinkage and cracking of soils 
Expansive soil behavior
Geo-environmental system simulation of geohazards (sinkholes, landslides and rockfall) 
Energy geotechnics 
TEACHING EXPERIENCE
Mechanics of Materials with Lab
Civil Engineering Materials with Lab
Advanced Geotechnical Engineering
Environmental and Energy Geotechnology
SELECT RECENT PUBLICATIONS
Wang Z.M., Rawal K., Hu L.B., Yang R.D. and Yang G.L. 2017.  A study of dissolution and water-bearing characteristics of the restricted platform dolomite facies in the karst areas of Guizhou, China.  Environmental Earth Science, 76: 124, doi: 10.1007/s12665-017-6419-x.


Wang Z.M., Yang G.L., Yang R.D., Rawal K. and Hu L.B. 2017.  Evaluating the factors influencing limestone-dissolution characteristics in the karst regions of Guizhou, China.  Journal of Testing and Evaluation, 45(1): 220-229.


Hueckel T., Ciantia M., Mielniczuk B., El Youssoufi M.S. and Hu L.B. 2017.  Modeling physical-chemical degradation of mechanical properties to assess the resilience of geomaterials.  In E. Papamichos, P. Papanastasiou, E. Pasternak and A. Dyskin (eds.), Springer Series in Geomechanics and Geoengineering: Bifurcation and Degradation of Geomaterials with Engineering Applications.  65-79.


Rawal K., Hu L.B. and Wang Z.M. 2017.  Numerical investigation of geomechanics of sinkholes formation and subsidence.  In T.L. Brandon and R.J. Valentine (eds.), ASCE Geotechnical Special Publication 277: Geo-Frontiers 2017:  Transportation Facilities, Structures and Site Investigation.  480-487.


Grover D., Savidge C.R., Townsend L., Rosario O., Hu L.B., Rizzo D.M. and Dewoolkar M.M. 2016.  Surface permeability of natural and engineered porous building materials.  Construction and Building Materials, 112: 1088-1100.


Hueckel T., Hu L.B. and Hu M.M. 2016.  Coupled chemo-mechanics: a comprehensive process modeling for energy geotechnics.  In F. Wuttke, S. Bauer and M. Sanchez (eds.), Energy Geotechnics, 25-34.  CRC Press.