Entrepreneurial Minded Learning
A primary goal of the College of Engineering is to instill an entrepreneurial mindset in our students, allowing them to fully engage with the principles and applications of their classroom lessons, and to motivate them to focus on becoming job market-ready engineers. 
Entrepreneurial minded learning (EML) is not about creating startups.  We begin this mindset with our students as freshmen and continue through their co-op, senior design showcase, and senior design expo. The goal is to understand the bigger picture, recognize opportunities, acquire important professional and business-ready skills, and learn from mistakes.  These skills will add value to engineering education and higher output for employers.  


Two teams from The University of Toledo Biodesign Challenge competed in June at the International Biodesign Challenge Summit in New York.  Biodesign Challenge Winners - Btilix team members are, from left, Tyler Saner, Sarah Mattei, Courtney Kinzel, Timothy Wolf and Sherin Aburidi.  Students on the PlastiGrow team are, from left, McKenzie Dunwald, Michael Socha, Colin Chalmers and Ysabelle Yrad.
Our Entrepreneurial minded learning Initiatives
Through our commercialization space, housed on the engineering campus, students are also able to take advantage of resources such as:
Rocket Innovations - 

In partnership with the College of Engineering, RI provides EML through innovation and entrepreneurial training and mentoring. It can also provide financial support for worthy projects developed by our students. Everyone is eligible to apply for a $20,000 investment in a student led project, to get it started on  the road to market entry and financial success.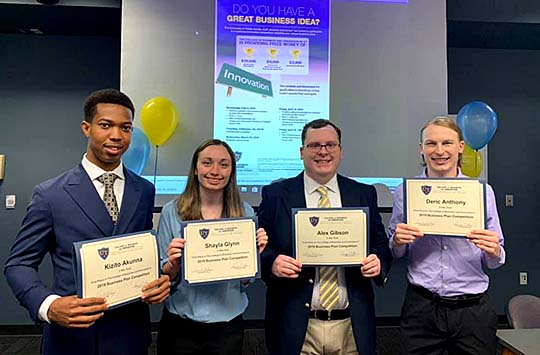 Bioengineering students, from left, Kizito Akunna, Shayla Glynn, Alex Gibson and Deric Anthony won $10,000 for their company, C-See Tech, in the UToledo College of Business and Innovation's Business Innovation Competition.
 
  Engineering students require training, experiences and exposure to concepts that will let them be leaders and innovators contributing to our economic engine, not just technical problem solvers."
         
                                                                                                                                      Mr. Roy Armes (MECE, 1975)
                                                                                                                                      Former Chairman, CEO & President
                                                                                                                                      Cooper Tire & Rubber Co.