The KEEN Program - Senior Design Showcase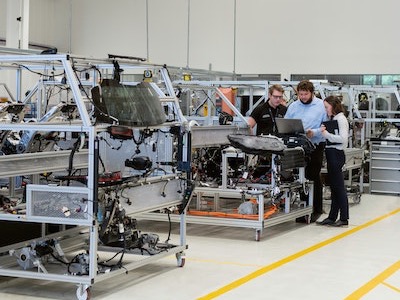 Two student teams are chosen from every senior design class. Selected by their fellow classmates, the participants compete for awards up to $1,000. The projects and presentations created by the students are celebrated in the Senior Design Showcase.
Arriving at that point is quite a journey and all teams adhere to the following process:
Connect with fellow students to form a team.

Develop a solution to a self-discovered need or a problem provided by faculty.

Negotiate with team members to select a solution to develop.

Develop a deliverable that fits the solution chosen by the team.

Create a prototype of the technology.

Develop a professional presentation conforming to the requirements set for the showcase.
 The point of the project is not to just search for a scalable commercial idea, but to use the Three C's of the KEEN program to develop a solution and gain other real-world skills that will help them in their future engineering careers.
 For additional information about the Senior Design Showcase, please contact us today. 
Rocket Innovations is proud to partner with the College of Engineering; together we deliver non-technical professional skills training. We've also worked together to create a Student Incubator, in which participants learn how to take a project from the idea stage to potential market entry.
We teach students both how to be an entrepreneur and also how to bring entrepreneurially-minded learning and other essential skills to all they do in their careers.
We support the College of Engineering as one of a select few partner institutions from the Kern Entrepreneurship Education Network, (KEEN). KEEN is dedicated to preparing undergraduate engineering students for success with the Entrepreneurial Mindset.
Students in our programs are taught to be lifelong learners and obtain the professional skills they will need to use in their careers and personal lives post-graduation.