Digital Initiatives
The Digital Initiatives program coordinates projects across the University of Toledo to support research, teaching, and learning in a digital environment.  It oversees content development and curation on multiple projects sites described below.  We invite all interested in consulting with faculty who wish to submit collections considered suitable for seasonal or permanent virtual exhibits and/or digital archives for long-term preservation.  Such material may include originally created photos, slides, historical manuscripts, oral history interviews, post-prints of scholarly works, student projects, and other unique primary source material with great value for research and teaching.   Contact Arjun Sabharwal, Digital Initiatives Librarian, for more information.
---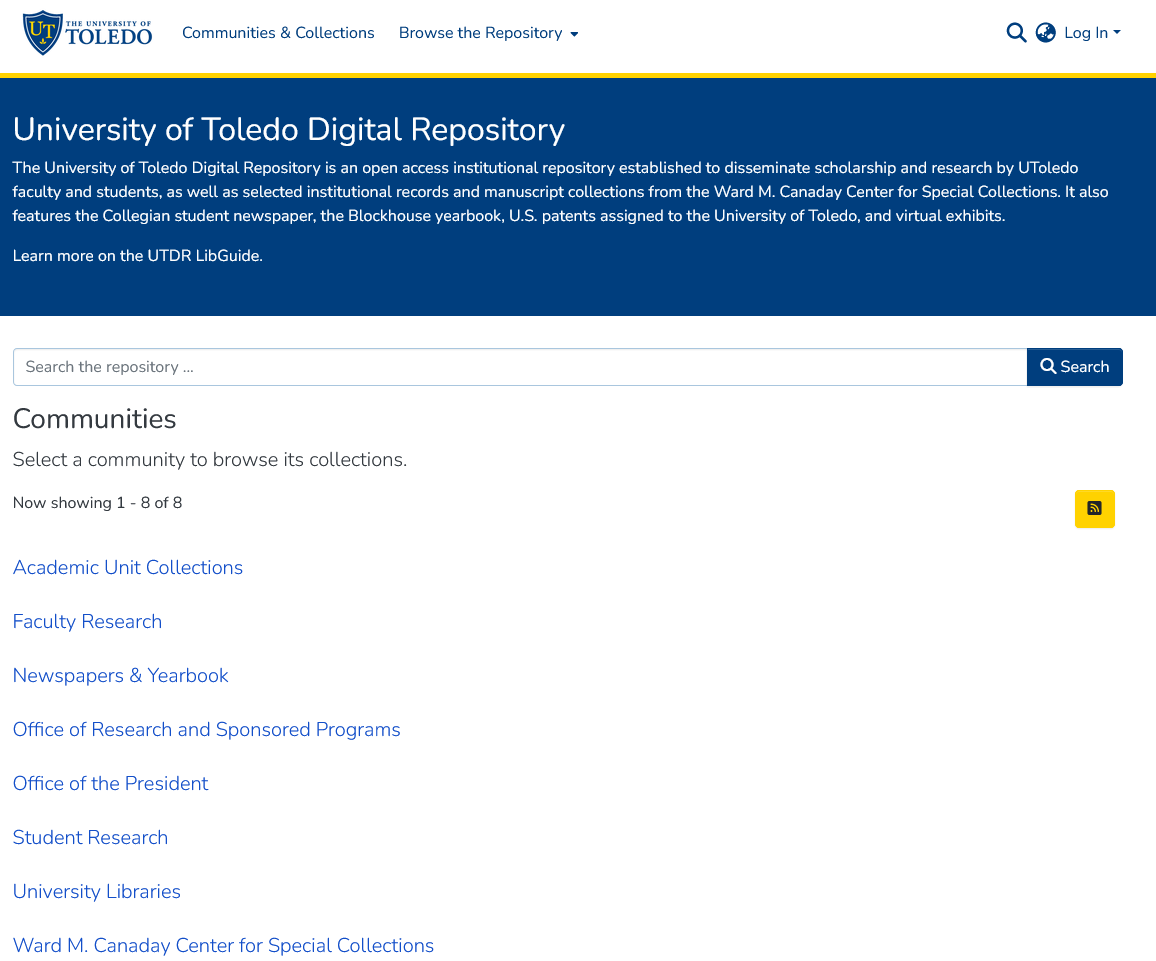 The University of Toledo Digital Repository contains a variety of collections including university archives, manuscript collections, faculty and student research, specialized digital collections, U.S. patents assigned to the University of Toledo, yearbooks, college newspapers (Collegian), and other digital content of interest.
---
As part of the extensive exhibition program at the Ward M. Canaday Center for Special Collections, virtual exhibitions have extended access to the materials exhibited at past exhibitions.  Once the physical exhibitions came down, virtual exhibitions have made it possible for visitors to access the information and materials in digitized form.  Because of changes in technologies, some features may no longer work as intended. 
Virtual Exhibitions - View the Canaday Center Exhibitions page and use the title links
The digitized versions of the exhibition catalogs from 1980 to 2020 are accessible in the digital repository, and you can also access them via this link:  https://utdr.utoledo.edu/islandora/object/utoledo%3Aexhibit-catalogs.
---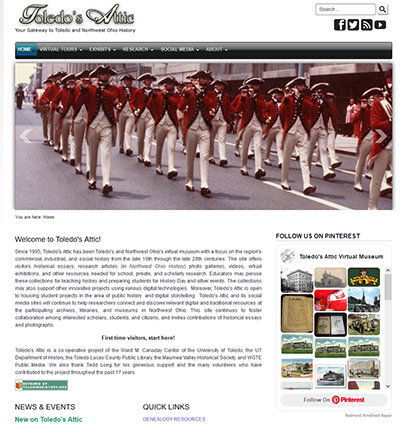 Since 1995, Toledo's Attic has been Toledo's and Northwest Ohio's virtual museum with a focus on the region's commercial, industrial, and social history from the late 19th through the late 20th centuries. Over the years, it has evolved into a public digital humanities project and a digital storytelling site while maintaining its intended virtual museum function. The site offers visitors historical essays, research articles (in Northwest Ohio History) photo galleries, videos, virtual exhibitions, student projects, and other resources needed for school, private, and scholarly research. Educators may peruse these collections for teaching history and preparing students for History Day and other events.
---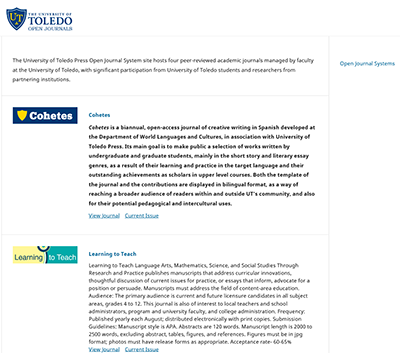 The University of Toledo Open Journal System site hosts four peer-reviewed academic journals managed by faculty at the University of Toledo, with significant participation from University of Toledo students and researchers from partnering institutions and across the globe.