Faculty and Staff Recognition 2020
<< Faculty & Staff Recognition Homepage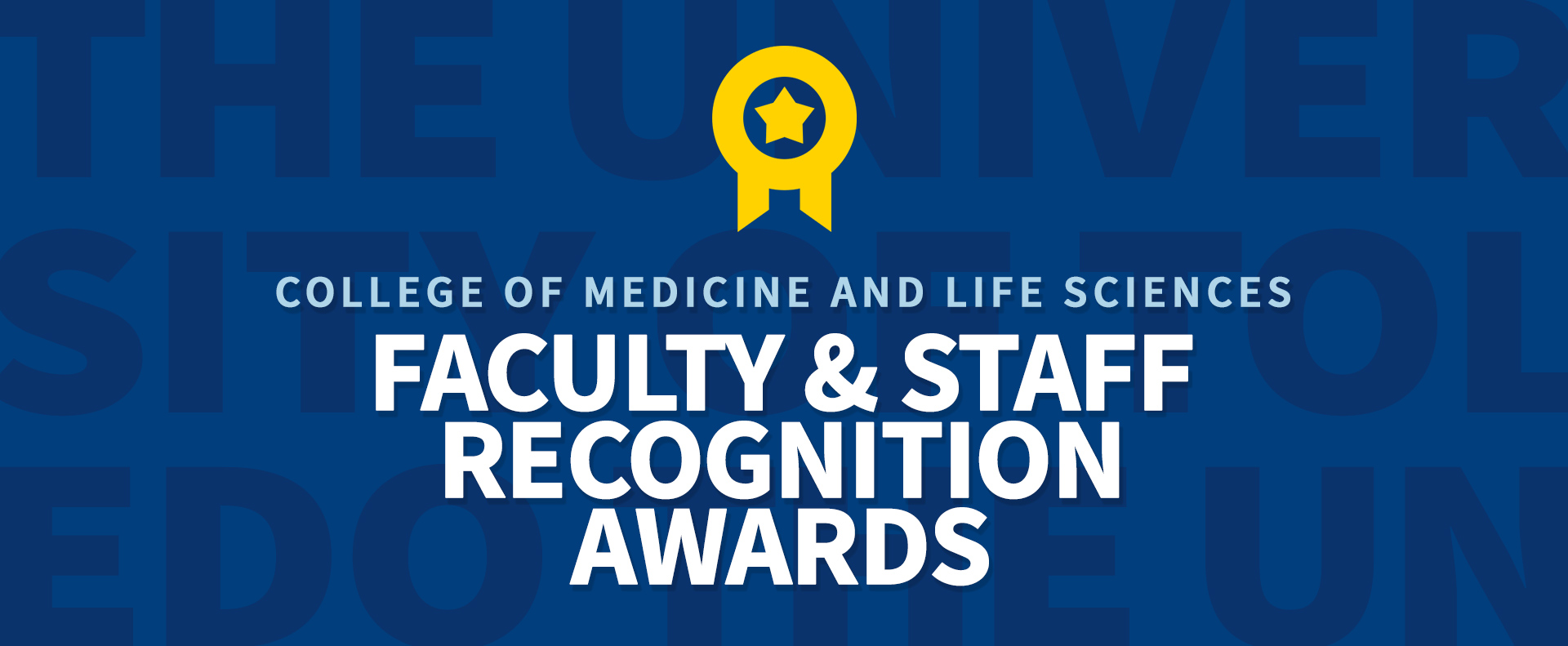 We are honored to present the 2020 College of Medicine & Life Sciences Faculty and Staff Recognition Awards.
Members of the College of Medicine and Life Sciences Faculty and Staff were honored September 25, 2020. In the pre-Covid era, we would have had a dinner to celebrate these exceptional members of our community. This year, we honored the awardees at our virtual Faculty Meeting.
We recognize faculty and staff members for their longtime service, honor individuals who have excelled in their careers and missions of clinical care, teaching, service and research, and acknowledge individuals for their commitment to mentoring our students. We also recognize new emeritus faculty members.
Join us in recognizing these faculty and staff members, presented in alphabetical order:
Dean's Awards 2020
 
 

DEAN'S AWARD FOR MASTER CLINICIAN

Basil Akpunonu, M.D.

Professor, Department of Medicine 

Nominator Note: "Dr. Basil Akpunonu has my unqualified support for the nomination of Master Clinician. Over fifty years in academic medicine at top institutions and world class physicians, I can honestly say that I have never encounted a more outstanding clinician than Basil Akpunonu. Basil excels at every level. He has an encyclopedic knowledge of Internal Medicine that is always expanding through lifelong learning. He never leaves a clinical stone unturned but follows every symptom to a definitive diagnosis."

 
 

DEAN'S AWARD FOR LEADERSHIP STAFF EXCELLENCE

Cristina Alvarado

Director, Interprofessional Immersive Simulation Center

Nominator Note: "Cristina goes above and beyond in all she does. She is knowledgeable, enthusiastic and committed to ensuring our guest have a unique and comprehensive experience. She and her team will work weekends, nights, through their lunch to help others. She has created a team environment that is creative and enthusiastic. The word good is not in Cristina's vocabulary, Outstanding is what she strives for in all she does. She is always seeking new ways to engage with the community and for individuals to support UToledo."

 
 

DEAN'S AWARD FOR ADVISING EXCELLENCE

Ragheb Assaly, M.D.

Professor, Department of Medicine

Nominator Note: "I truly believe that Dr. Assaly is one of the most talented faculty with tremendous contributions to the career of numerous learners and peers as an advisor, as well as an accomplished faculty in the University of Toledo. He is one of the talented faculty that we strive to identify to highlight his leadership capabilities to be an example to others."

 
 

DEAN'S AWARD FOR Outstanding Staff Career Achievement

Holly Burtch

Director, Jacobson Center for Clinical & Translational Research 

Nominator Note: "When I read the description of the Dean's Award for Outstanding Career Achievement one person came to mind, so it is with great pleasure that I would like to nominate Holly Burtch, MS, RN, CCRA . Holly's contribution to The University of Toledo is evident in the impact she has had on every area she has worked in, her passion for research and the University have led to the success of programs, and furthered the reputation of the University. Holly would be an excellent choice for this important award."

 
 

DEAN'S AWARD FOR Faculty Diversity, Equity and Inclusion

Lance Dworkin, M.D.

Professor, Department of Medicine 

Nominator Note: "Dr. Dworkin has promoted an environment here that is welcoming, supportive, and nurturing to all faculty, staff, and learners. Whenever the Department initiates recruitment for new faculty members, he reminds us not just of the University mandated requirement to promote diversity, but of our ethical responsibility and the scientific and academic advantages of broad diversity among our faculty. This approach sends the message not just to faculty, but to all of our learners of his commitment to promote diversity, equity and inclusion at UTCOMLS."

 
 

Dean's Award for STAFF IMPACT

Jessica Faber

Director, Academic Enrichment Center 

Nominator Note: "When I think of Staff Impact, I immediate think of Jessica Faber, who is 100% dedicated to our students. Whether it's to be a supportive ear to our students or a tough mom, Jessica helps our students get through medical school. She helps others within our college, including leadership, know what's happening on the frontline and speaks as an advocate for our students so they are not forgotten in big decisions. She will drop everything for our students and certain goes above and beyond for our students. I believe being the first recipient of the Staff Impact award would show that hard work and being student-focused is encouraged and recognized."

 
 

DEAN'S AWARD FOR NEW INVESTIGATOR RESEARCH EXCELLENCE

Saori Furuta, Ph.D.

Assistant Professor, Department of Cancer Biology

Nominator Note: "Dr. Saori Furuta joined the Department of Cancer Biology as an Assistant Professor over 4 years ago and has emerged as a rising star. She has a record of highly impactful research, receiving national and international recognition and media coverage. Saori is an exceptional colleague who has shared unique scientific perspectives with the department. I feel that Saori is an outstanding new investigator who will continue to make important scientific discoveries."

 
 

DEAN'S AWARD FOR  FACULTY CAREER ACHIEVEMENT

William Gunning, Ph.D.

Professor, Department of Pathology 

Nominator Note: "Dr. Gunning has an outstanding history of being an internationally recognized researcher, mentor and superb teacher, is widely considered to be one of the worlds leading authorities on platelet disorders. In addition, he is quickly becoming one of the world's authorities on the autoimmune basis of autonomic nervous system disorders. He is published over 100 peer-reviewed manuscripts an is the recipient of numerous NIH grants. He has had a truly exemplary career."

 
 

DEAN'S AWARD FOR Community-Based Practitioner TEACHING EXCELLENCE

Prasad Kakarala, M.D.

Clinical Assistant Professor, Department of Pediatrics 

Nominator Note: "Dr. Kakarala has been an AHEC preceptor since September 1999 and owns his own Pediatric practice in Tiffin, Ohio. In 21 years of teaching medical students, Dr. Kakarala has become the most requested AHEC pediatric preceptor; he's incredibly popular with medical students. He has taught over 200 UTCOMLS students and his students always leave the highest marks and personal comments about their time with him. Students consistently comment on his vast amount of knowledge and experience, his emphasis on improving students' clinical skills, and that he is not only a wonderful preceptor, but a role model and mentor. He does all of this while maintaining a warm, open, and welcoming atmosphere in his office that students feel."

 
 

DEAN'S AWARD FOR RESEARCH EXCELLENCE IN BASIC SCIENCE

David Kennedy, Ph.D.

Associate Professor, Department of Medicine 

Nominator Note: "Dr. Kennedy is an outstanding investigator with a highly successful track record in laboratory research. David has been continually funded virtually since joining the faculty at UToledo. Currently he is the PI on an NIH R01 grant focusing on the paroxonase enzyme system and cardiotonic steroid signaling in cardiovascular and renal disease. His other major focus is on water quality ad microcystin related human disease. This line of investigation has been extremely well funded attracting multiple awards from the National Oceanic and Atmospheric Association."

 
 

DEAN'S AWARD FOR TEACHING EXCELLENCE

Jeremy Laukka, Ph.D.

Associate Professor, Department of Medical Education 

Nominator Note: "I believe Dr. Laukka is an exceptional teacher, inspiring colleague, extraordinary mentor and a superb leader. He has proven himself to be deserving of this award through his educational activities in and out of classroom, which include but not limited to interactive teaching sessions in the foundational sciences as well as clinical curriculum, facilitating team teaching sessions, working with basic science and clinical faculty to develop a robust curriculum, overseeing the organization of the curriculum, being a champion for the much needed changes in the educational strategies for molding the physicians of 21st century, advocating for faculty development and promotion of medical education research in UTCOMLS. He has devoted considerable amount of time to promote professional growth for himself and has been an effective mentor for other junior faculty. With his impeccable teaching skills and the adherence to rigorous standards, both of which have proven effective as evidenced by the testimonials from students, faculty and staff (attached) he has proven himself to be an unparalleled educator quite deserving of this award."

 
 

DEAN'S RISING STAR STAFF Award

James A. Molnar

Web and Digital Media Specialist, Dean's Office

Nominator Note: "James Molnar professionally works and collaborates with all different levels of management and many different departments. He is always willing to help even if it is not in the scope of his job description. The passion James shows for his job is inspiring. He gets thrown into committees or tasks all the time and completes the job at hand with no complaints. He was presented with some difficult challenges this year during the pandemic regarding Match Day and Graduation but faced them head on. James is very good at what he does and is an extraordinary asset to UTCOMLS."

 
 

DEAN'S AWARD FOR SUPPORT STAFF EXCELLENCE

Chris Prevette

E-Learning Specialist, Department of Medical Education 

Nominator Note: "Chris Prevette provides educational support to faculty and staff daily with patience and enthusiasm. He seeks new innovations and brainstorms with others to improve delivery of content in the medical school. From the onset of COVID-19, Chris played a critical role ensuring a seamless transition to all-online education for the foundational sciences curriculum."

 
 

DEAN'S AWARD FOR PROMEDICA FACULTY TEACHING EXCELLENCE

Sonyoung Seo-Patel, M.D.

Assistant Professor, Department of OB/GYN

Nominator Note: "Dr. Seo-Patel ('Sunny') is a PPG physician in the department of OBGYN. She is a community physician employed by ProMedica who is a residency core teaching faculty. She is the residency Associate Program Director. This community faculty is mission oriented and has continued to work in support of our educational mission."
---
Emeritus Faculty
Jerzy Jankun, D.Sc, Ph.D., Professor Emeritus, Department of Urology, Years of Service: 7/1/1994 – 6/30/2020
Anand B. Mutgi, M.D., M.Sc., FACP, Professor Emeritus, Department of Medicine, Years of Service: 8/1/1988 – 11/21/2018
Dan E. Olson, M.D., Ph.D., D.I.C., Professor Emeritus, Department of Medicine, Years of Service: 7/19/1993 – 8/31/2018
Theodor Rais, M.D., Professor Emeritus, Department of Psychiatry, Years of Service: 1/10/2000 – 5/14/2018
Gretchen Tietjen, M.D., Professor Emerita, Department of Neurology, Years of Service: 6/1/1996 – 12/31/2019
David Weldy, M.D., Ph.D., Professor Emeritus, Department of Family Medicine, Years of Service: 7/1/2007 – 7/2/2020