Faculty and Staff Recognition 2023
<< Faculty & Staff Recognition Homepage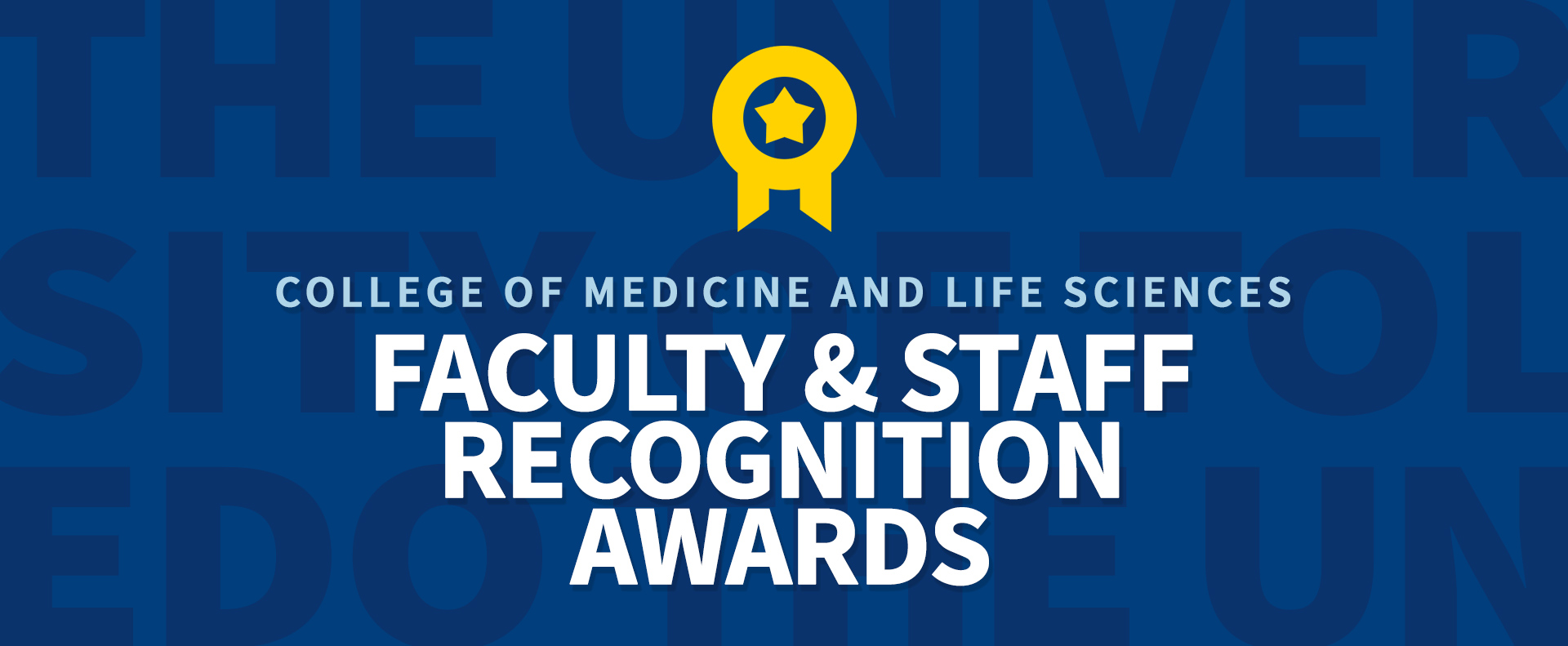 We are honored to present the 2023 College of Medicine & Life Sciences Faculty and Staff Recognition Awards.
Members of the College of Medicine and Life Sciences Faculty and Staff were honored October 20, 2023, at a special virtual meeting. We will host a dinner to celebrate these exceptional members of our community this fall.
We recognize faculty and staff nominees, honor individuals who have excelled in their careers, as well as recognize those who have made exceptional contributions to teaching, research, clinical care and service, and acknowledge individuals for their commitment to mentoring our students.
Join us in recognizing these faculty and staff members, presented in alphabetical order:
Dean's Awards 2023

Dean's Award for Staff Rising Star


Lindsay Ferguson
Education Coordinator
Department of Medical Education


Nominator Note: Lindsay Ferguson joined the Department of Medical Education in 2022 and within a year she has made an indelible mark here with her work ethics, efficiency and promptness.
As a system director, I could closely observe this remarkable young woman at work. Within a few months, I as well as others started noticing how she quickly she grasped the complexities of the system and adapted to it. This work requires not just a competent individual, but someone with a keen enthusiasm and energy since you have to adjust constantly to drastic and often last-minute changes. I have seen her graciously adjusting to the extraordinary demands arising due to the nature of her work, which involves working with a diverse group of stakeholders with different needs.
There is constant need for communication with faculty from different departments including busy clinicians, other staff (from student affairs, AEC etc.), and students who consider Lindsay as their first line of contact. It is a herculean task to meet everybody's demands and rise up to the occasion and I have seen Lindsay perform that miracle. I am amazed by her commitment to actually improving the educational system by providing valuable suggestions during curriculum committee meetings.

Dean's Award for Outstanding Staff Career Achievement
Jennifer Gilmore, R.N., B.S.N., C.R.C.C.
Clinical Research Manager
Department of Medicine
Nominator Note: Jennifer has been an integral part of the research mission for the University Toledo in the Department of medicine. She has been involved in a number of different research projects with a number of different faculty members. I had the pleasure of working with Jenny in the internal medicine department mainly working on diabetes and hypertension research. I feel Jenny deserves the Deans award for outstanding Staff career achievement, as she has been integral in promoting research in the Department of Medicine. Over the years she has done outstanding work and exemplifies thevalues of the mission of the University Toledo College of Medicine.

Dean's Award for Research Best Productivity
Rujun Gong, Ph.D.
Professor
Department of Medicine
Nominator Note: Dr. Gong joined the faculty at UToledo in 2018. Since that time he has been awarded two, independent five-year NIH R01 awards to study glomerular and diabetic renal disease. He has also had two RO1 equivalent type awards from industry sponsors to study the role of melancortin hormones in glomerular diseases. He was recently honored by UToledo as one of the most productive investigators university-wide in obtaining extramural funding for his research. He is internationally known for his work. He is an invited member of national NIH and other grantreview panels. He is a frequently invited speaker at national and international meetings and at other academic medical centers.  He has published over 100 original articles in the literature as well as a number of bookchapters and reviews. This includes 25 top tier publications since coming to UToledo in 2018.

Dean's Award for AHEC Faculty Teaching
Darrel Hotmire, D.O.
Clinical Assistant Professor
Department of Family Medicine
Nominator Note: I have had the opportunity to work with Dr. Hotmire since 2010 when I started as the Executive Director of Lima AHEC, and he exemplifies the AHEC mission. The University of Toledo COMLS is blessed to have him as a preceptor because he is a wonderful teacher and example of a small-town practitioner for our students. He has created a warm, welcoming environment for learners where their education and independence are prioritized, and he truly encourages their integration into his office, but also into the community. 

A past student had this to say about Dr. Hotmire, "Overall great experience with Dr. Hotmire. He created a non-judgmental adult learning environment for me. He was always open for questions and gave great explanations. Genuinely showed an interest in my learning. Did a great job of emphasizing evidence-based medicine with me. We went over multiple papers and talked about them together throughout the rotation so that I would be able to critically evaluate research on my own. I had even begun reading papers on my own time because of this. In addition, he spent a great deal of time teaching me about the hidden curriculum of medicine and how to interact with patients in a way that would create better rapport. He let me see returning patients multiple times so that I could establish a relationship with them during my short time in Bluffton. Evidence based medicine and small-town vibes really demonstrated how to go above and beyond for patients. Really respected the way clinic was run and enjoyed experiencing how integral his clinic was to the community. Great role model to learn from and is someone that made me a better doctor. Is definitely someone to look up to in medicine."

Dean's Award for Faculty Diversity & Inclusion
James Kleshinski, M.D.
Professor
Department of Medicine
Nominator Note: His prominence started with the DEI initiative in 2005, when he was appointed the Dean of Admissions following an LCME citation noted only one minority student in the entire medical school. He brought holistic admission process to the instruction following the Supreme Court ruling at the University of Michigan admission policies. He went to work, involved the community, and traveled to predominately black institution with aim to bend the curve and achieve success. He was also occupied with issues affecting the Latino population. Success with the achievement of 15% improvement followed in the next few years culminating in being honored by The University of Toledo Chapter Student National Medical Association in 2007.

Dean's Award for Staff Impact
Tiffany Lopez
IM Residency Director
Department of Medicine
Nominator Note: Tiffany goes above and beyond what is needed from her to fulfill her role successfully. Each year, through GME coordinator mentorship program, she mentors new coordinators and help existing coordinators to establish their roles.She has tremendous experience and many coordinators view her as a role model and go back to her when they are havingan issue for solutions.

Tiffany is highly appreciated by our residents and faculty for her devotion and enthusiasm for residents training andeducation. In fact, since she joined us 10 years ago, we had zero citations by ACGME and we had continuedaccreditation status. Her devotion and contribution to our residency program had significant impact on our localmedical community where some of our trainees stay. She even maintains contact with the trainees who leave and helpin recruiting them back. This is really vital connection that facilitates recruitment of faculty, and she master it.

Dean's Award for Faculty Career Achievement
Deepak Malhotra, M.D., Ph.D.
Professor
Department of Medicine
Nominator Note: Chico built a strong Nephrology Fellowship Program and participated in the set-up and function of Greenfield Health System / DaVita Dialysis and ended up being the Medical Director of Dialysis Partners.  This investment resulted in over a $6 million enterprise dispersed equally to his endowed Chair Fund, the University of Toledo Physicians and the Department of Medicine when it was divested in August 2014.

He embraced the Continuous Renal Replacement Therapy (CRRT), and was the first in NW Ohio.  It should be noted that his push for this type of therapy was finally introduced at ProMedica Toledo Hospital after the affiliation formalized the training of Residents and Fellows at Toledo Hospital.  

He is also well-known as a great transplant nephrologist and has been the Director of Transplant Nephrology from 1997 until now.  He has maintained active leadership at the State level with Ohio Solid Organ Consortium and was the Chair of Board of Directors from 2005-2006.

Chico has been here for over 25 years, has brought innovative programs and processes to the University, shepherded many University Quality Programs, provided excellent teaching, and above all is a good and decent human being.

Dean's Award for Teaching Excellence
Bindu Menon, Ph.D.
Associate Professor
Department of Medical Education
Nominator Note: She has demonstrated commitment to the teaching mission through didactic activity, curriculum oversight and planning, developing innovative approaches to education, and education scholarship. Her success in the classroom is evidenced by outstanding student evaluations. Her current teaching responsibilities for the medical studentsspan their entire four years delivering didactic, team-based, and small group sessions.
In addition, Dr. Menon makes substantial contributions delivering physiology instruction to students in the MSBS-MS, Physician Assistant (PA), Medical Physics, and Transplantation and Donation Sciences programs. She chairs or holdsmembership on important education committees that provide quality control over the curriculum. Moreover, she has mentored students in medical education research to success in published abstracts, manuscripts and national conference presentations. Given her passion and engagement, the outstanding student and peer evaluations, and her broad and substantive contributions to the education programs in the college, clear that Dr. Menon exemplifies teaching excellence.

Dean's Award for Advising Excellence
Mohamad Moussa, M.D.
Associate Professor
Department of Emergency Medicine
Nominator Note: Routinely gives his time to help guide students not only in the field of Emergency Medicine, but also in various other clubs and interests. He organized an "empathy webinar" to encourage discussion on the important topic of demonstrating compassion in the clinical setting. He is frequently willing to spend time after 'normal' business hours assistant with ultrasound workshops or other events which enrich the education of our students. I have heard from several students that Dr. Moussa provides outstanding counseling and mentorship to students in the clinical realm.

Dean's Award for Leadership Staff Excellence
Ann Murphy
Department Administrator
Department of Neurology
Nominator Note: Ann joined the department in 2003 and has been instrumental in the success of the department and has contributed immensely to its growth. Ann is an extremely competent and efficient administrator. She is extremely hard working and can accomplish more in her current role which in other situations would require multiple FTEs! Her workload is immense with a very modest but efficient support staff the department successfully navigate all the challenges that it faces. She has very strong work ethics and steps in to help others when needed. She has at times overseen the clerkship or residency responsibilities without any hesitation and the programs have been successfully maintained at their highest level due to her commitment and dedication. She truly cares for her staff and colleagues and is always ready to lend a helping hand when needed.

Dean's Award for Support Staff Excellence
Kari Neifer
Research Associate
Department of Neurosciences
Nominator Note: Kari has served our institution for 18 years. In that time, she has been the single most important factor leading to success in all of the laboratories she has served, and certainly in my own. My laboratory research program was established immediately before the 2020 pandemic. While I stayed home to care for my son, Kari was able to independently design, order, install, validate and maintain an entire biochemical laboratory, a large behavioral testing facility (now the Behavior Core), and an animal colony of wild prairie voles of four different strains, which is an absolutely unique resource to the University of Toledo. Since that time, Kari's positive problem-solving approach, her famous organizational skills, her strong relationships with the dozens of studentsshe has trained and mentored, and her commitment to ethical scientific practices dramatically elevated my work and allowed me to build a large nationally funded research program. She has done this not only for me, but for many others over the years, making her an unrecognized deserves to be honored by our Dean.

Dean's Award for Community-Based Faculty Teaching
Marsha Paul, M.D.
Clinical Assistant Professor
Department of Medicine
Nominator Note: All COMLS medical students have hospice rotations with her, where she takes them into rooms of dying patients and discusses the changes that the body is going through, what symptoms may arise and how to treat them. They converse with the patients about what it feels like to be on hospice and coming to the end of their life. They may ask, "Are you afraid to die" or "Do you believe in an afterlife." Causes of delirium and how to assess it and treat it in the terminally ill patient are discussed. She also reviews Substance Abuse Disorder, Palliative Sedation, Pain Management.
 
As a physician and teacher, she shares with them her personal guide to success. Honesty, humility, and hard work. For over 20 years, Dr. Paul has filled a critical niche in the teaching of our students as well as residents and fellows and think of no one more deserving of this award.

Dean's Award for Master Clinician


Kevin Phelps, D.O.
Associate Professor
Department of Family Medicine
Nominator Note: Throughout his career, Dr. Phelps has distinguished himself through his reputation as a competent and caring physician, and a role model clinical teacher. While he spent two periods as our Family Medicine Residency Program Director, he always made it known that he considered himself to be primarily a family doctor for his patients as his highest calling.He excels in establishing a relationship of trust with his patients as reflected consistently in his patient satisfaction ratings.

 As a corollary to Dr. Phelps excellence in direct clinical care, he has established a sterling reputation as a clinical teacher, as can be seen in his consistently high marks from students as a teacher an role model. In February 2019, he stepped down from his role as Program Director to dedicate himself more fully to direct patient care. The residents felt so strongly about his value as a clinical educator that they established a faculty teaching award in his honor.

Dr. Phelps was our physician champion for practice transformation toward a more accessible, comprehensive, andintegrated primary care practice from February 2019 until January 2021. In that role, he was our physician representative in the Rona process improvement project, selected because of his commitment to that transformation and the widespread high regard in which his colleagues hold him.

Dr. Phelps always has a kind word for each person that he encounters, including support staff personnel who also hold him in high regard. For the last stage of his career, Dr. Phelps is focusing most of his energy on clinical practice.

Dean's Award for Basic Science Research Excellence 
Dayanidhi Raman, Ph.D.
Associate Professor
Department of Cell & Cancer Biology
Nominator Note: He has 42 publications, and currently has four active grants. His research is at the forefront of breast cancer research, utilizes innovative approaches for improving therapeutics and touches upon important topics such as health disparities that are characteristic of this disease. His highly innovative and impactful research is recognized both nationally and internationally.

Dean's Award for Early Career Clinical Excellence
Fadi Safi, M.D
Associate Professor
Department of Medicine
Nominator Note: Dr. Safi serves as the Program Director for Pulmonary and Critical Care fellowship since 2019. He is the Medical Director of the ICU and Respiratory Care. Over the last nine years, since he joined University as a faculty member, he has had a significant impact on the career of many UToledo students, residents, and fellows. He is highly appreciated by learners, peers, and colleagues. 

Dean's Award for ProMedica Faculty Teaching Excellence 
Richard Simman, M.D
Clinical Professor
Department of Surgery
Nominator Note: Dr. Simman's outstanding mentorship serves to excite and motivate learners to strive for excellence and reveal that plastic surgery training is within their reach. He helps them to become better candidates for residency. One of his mentees recently matched into an integrated plastic surgery residency at Yale.
 
Evaluations from medical students are outstanding. He is on the editorial board of the Annals of Plastic Surgery and has been a national leader in wound care training and education. Several students have independently come to me with high praise of his contributions to their education. Dr. Simman is always available for impromptu teaching sessions and willing to deliver lectures to our learners.

Dean's Award for New Investigator Research Excellence
Tao Yang, Ph.D.
Assistant Professor
Department of Physiology & Pharmacology
Nominator Note: Has demonstrated significant grantsmanship by securing an R21 grant from the NIH in his first attempt and the American Heart Association Career Development award; demonstrated excellence in scholarship by publishing original senior authored publications in Circulation Research along with others in Hypertension. In 2023, he was awarded the internationally competitive Young Investigator Award by the Physiological Genomics Group of the American Physiological Society. The NIH Division of Aging Biology invited Dr. Yang to their New Investigators Forum held in June 2023.  To attest to his ability to train our students, recently his Postdoctoral fellow won the first prize at the poster competition held in the Pharmacology Research Colloquium held at Michigan State University.
---
Watch the Virtual Reception
We honored faculty and staff members on Oct. 20, 2023, at a virtual reception for their dedication and commitment to the mission and goals of the College of Medicine and Life Sciences and the University.
---