Division of Dentistry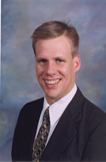 Charles R. Fahncke, D.D.S., M.S. is the program director of the General Practice Residency at the University of Toledo Medical Center.
Dr. Fahncke graduated from The Ohio State University College of Dentistry in 1989. Upon graduation, he served as a commissioned dental corps officer in the United States Navy for 13 years. In 1996, he graduated from the Naval Postgraduate School of Dentistry, receiving a certificate in prosthodontics. At the same time he received a Masters Degree in Oral Biology from George Washington University. In 2000 he became certified by the American Board of Prosthodontics.
In 2002, he left the active duty navy and worked in private practice. In 2008 he joined the faculty at the University of Toledo, serving as an assistant professor. In 2014 Dr. Fahncke became the program director of the General Practice residency program.
Dr. Fahncke practices dentistry at UTMC. His interests include fixed and removable prosthodontics along with placing and restoring implants in his practice. He is active in the Seattle Study Club and maintains memberships in the American College of Prosthodontists and the Academy of Osseointegration as well.