MEDICAL STUDENT MENTORED RESEARCH PROGRAM
Prerequisites:
Permission of faculty mentor. CITI training is required for clinical projects. Laboratory Safety training, Biosafety training, and CITI training specific to animal models may be required for basic research projects. Please verify training requirements with the mentor before beginning a project.
This program is designed to introduce medical students to current clinical and biomedical research at the University of Toledo College of Medicine and Life Sciences in the Department of Medicine. The program is designed to help medical students gain real insight into specific human health science research as well as introduce them to faculty mentors who will help medical students develop an understanding of the career pathways, critical thinking skills, and application of the basic skill sets and techniques which are used in the various health science professions. An emphasis will be placed on the complementary nature of the various health science professions and the unique contributions which each discipline can offer in solving important unresolved problems in human health science. This program is a partnership with the University of Toledo's Biomedical Research Society medical student organization, and works in collaboration with this student group to match motivated medical students with exceptional mentors and research projects in the Department of Medicine.
TIPS FOR STARTING RESEARCH PROJECTS:
Mentors should consider the students research experience and available time commitment when designing a project. Be open-minded. Research projects can encompass a wide variety of experiences including basic translational science projects using in vitro and in vivo model systems, novel case reports or case series, in-depth review articles, bioinformatics, retrospective studies or clinical trials. Students are highly encouraged to attend the seminar series for the Division of interest. These weekly seminars provide an excellent opportunity for students to interact with faculty, residents, and fellows in addition to learning about new and ongoing research projects within the Divisions. Participating in Division weekly journal clubs will also provide exceptional opportunities to learn about novel cases and the latest therapeutic approaches in the student's specialty of interest. Where the project permits, team-based science can be an encouraging and important component for successful research experiences. Mentors should encourage students to work in groups with faculty members, graduate students, residents, and fellows.
LEARNING OBJECTIVES:
describe the scientific method and how it is applied to research as it relates to the specific chosen project in the faculty member's discipline and area of expertise
develop and implement an original question or idea for a research or creative project
explain the rationale for the project, which should be founded in the literature or a clear
description of the inspiration or connection to scholarly work.
describe how research is conducted, evaluated, explained to patients and applied to patient care
describe and explain the ethical and/or legal implications of the research project.
develop methods for conducting clinical and translational research
describe how biomedical statistics are applied to patient care
demonstrate communication skills as assessed by completion of a research report, presentation, performance, or display of the project for public review.
PROGRAM EXPECTATIONS:
Medical students will be expected to present the findings of their research at our annual Department of Medicine Research Conference and are encouraged to submit their research findings. Students are also expected to attend and present their findings at the Department of Medicine Research-in-progress weekly meetings and attend the monthly Department of Medicine Research Grand Rounds as their schedules permit. In addition, students are highly encouraged to summarize and present their research at national and international meetings and publish their research in peer-reviewed journals. The mentor is responsible for reporting all abstracts, presentations and/or publications resulting from the research experience to the Department of Medicine Research Project Center (DOMResearch@UToledo.Edu).
Student Request For Research ProjectRequest Students for a Research Project (For Faculty, Fellows, and Residents)
Biomedical research society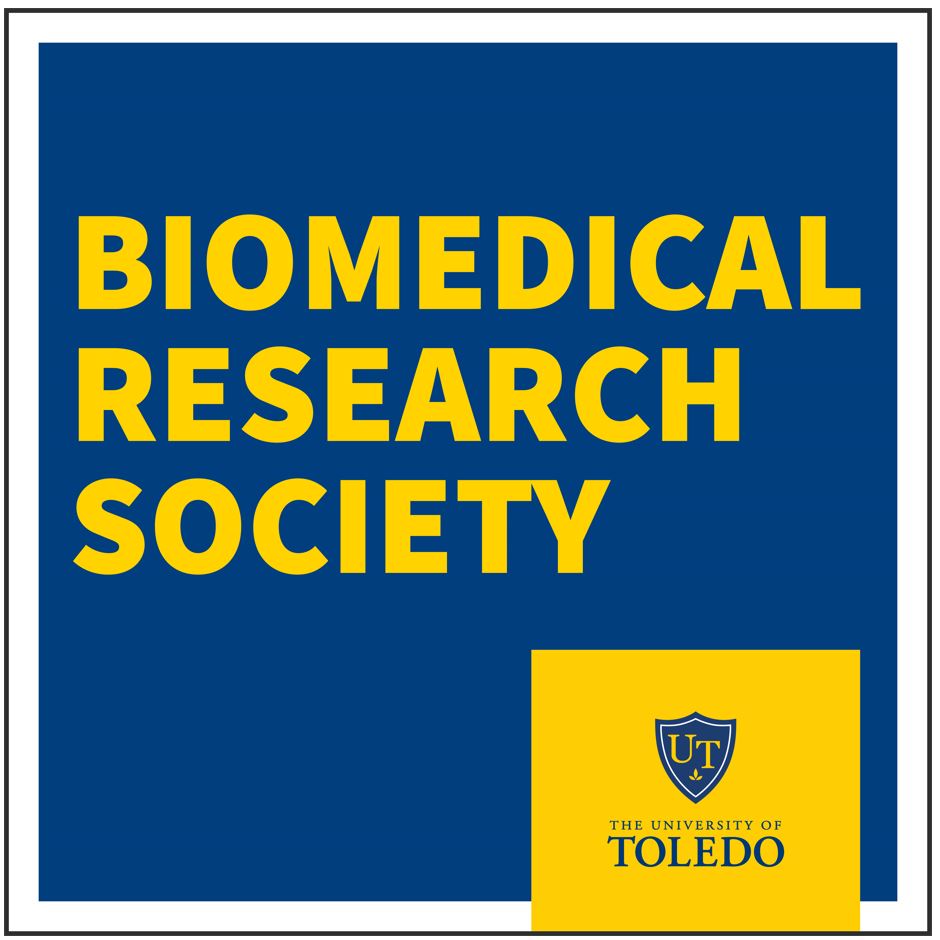 As part of our Mentored Research Program, we partner with student organizations such as The Biomedical Research Society to coordinate and facilitate medical student participation in clinical and translational research projects mentored by faculty throughout our Department. To connect with the Biomedical Research Society, please use the link below: