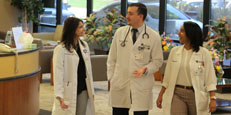 Our residents receive hands-on experience in a variety of medical specialties staffed by our world-class teaching faculty. Learn more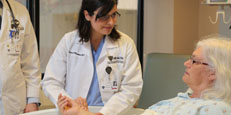 A majority of our residents have matched into the fellowships of their choice. Learn more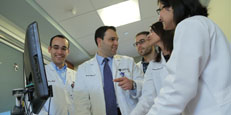 Many of our residents have been published in peer-reviewed journals and have presented at local and national conferences. Learn more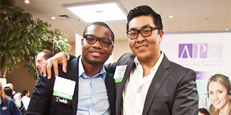 ---
Top Reasons to Choose UToledo Internal Medicine
University-quality training.
Wide variety of complex patients.
Stable, deeply experienced faculty with a commitment to teaching.
Dynamic curriculum.
Fellowships available in Cardiology, Gastroenterology, Infectious Diseases, Nephrology, Endocrinology, Rheumatology, Oncology, Pulmonary Critical Care and Sleep Medicine.
Practice in high quality clinical sites:
The Toledo Hospital is among the Top 100 Hospitals nationwide per the 2017 Healthgrades ranking. UTMC has been recognized by U.S. News & World Report as a best regional hospital for 2015.
Scored in the 90th percentile on the ACP In-Training Exam among IM programs nationwide. 
High number of residents pursuing tuition-free Masters in Public Health or Graduate Certificates in Epidemiology and Public Health. 
High publication to resident ratio.
Excellent cultural diversity among residents. 
Video: Hear from our Residents
"You can really tell how genuine everyone was and how happy they were to be here."
Our residents share their experience with the program and why they chose The University of Toledo.
Take a look:
How to Apply
Our program accepts applications only via the Electronic Residency Application System (ERAS). For more information on
How to Apply
please follow the link.
The University of Toledo understands the importance of having a diverse student body, faculty, residents and staff and has a number of diversity initiatives to support these efforts. Please find further information about these initiatives on our Office of Diversity, Equity and Inclusion website.
The Mission of the Department of Medicine at the University of Toledo is to instruct students and residents in the science and art of medical practice. This is accomplished by faculty skilled in the latest knowledge and techniques of medicine.