Flow Cytometry Core Facility
As one of the University of Toledo's core laboratories, the Flow Cytometry Core Facility provides access to instrumentation, assistance, and guidance, and offer information on current cytometric methods and applications as well as on dyes, cytometric bead arrays, multi-color panel kits, and other reagents. We welcoming UT investigators from all campuses and industrial researchers, technicians, and students from the surrounding community.
Services
The Flow Core provides high-speed cell analysis for
Immunophenotyping
Cell Tracking and Proliferation DNA Cell Cycle/Tumour Ploidy
DNA Synthesis/Degradation
Chromatin Structure
Gene Expression
Cell Membrane Potential
Surface Charge
Membrane Fusion/Runover
Ion Flux
Redox State
Oxidative Metabolism
Cellular pH Change
Cell Viability/Apoptosis/Necrosis
Intracellular Protein Staining
Total Protein
Enzyme Activity
Lipids
Sulfhydryl Groups/Glutathione
Intracellular Cytokine/Chemokine Expression
ELISA
In addition the Flow Core also offers high-speed cell sorting. This can be used to isolate/separate cell types (or vesicular bodies), rare populations, as well as specific clones post-transfection for further cell culture or analysis/experimentation—if a population can be labeled, distinguished, and gated, it can be sorted.

Samples are prepared by individual investigators who then deliver them to the Core for flow cytometric analysis or sorting. The core will not prepare cells but can provide assistance, guidance, and/or generation of publication-quality graphics and experimental design (Example).
The Core Facility provides the following equipment:
BD Biosciences FACSCalibur (Cell Analysis Only)
Features

Lasers:

Argon Blue- 488nm Excitation
Red Diode- 635nm Excitation

6 Detectors

FSC- 488/10
SSC- 488/10
FL-1- 530/30
FL-2- 585/42
FL-4- 661/16
FL-3- 670LP

Aggregate Discrimination by BD Doublet Discrimination Module

More information is available at BD Biosciences website

 
BD FACSAria IIu High-Speed Cell Sorter
Features

Lasers

Violet- 407nm Excitation
Argon Blue- 488nm Excitation
Helium Neon Red- 633nm Excitation

12 Detectors

488nm Excitation

FSC
SSC- 488/10
530/30- 515 to 545nm

FITC
Alexa Fluor 488
GFP
CFSE
Annexin V
eYFP

575/26- 562 to 588nm
610/20- 600 to 620nm

PE-Texas Red
Propidium Iodide (PI)
Alexa Fluor 610-PE
Nile Red
mCherry

695/40- 675 to 715nm

PE-Cy5
PerCP
PerCP-Cy5
7AAD

780/60- 750 to 810nm

633nm Excitation

660/20- 650 to 670nm Emission

730/45- 707 to 752nm Emission


Alexa 700
APC-Cy5.5
Alexa Fluor 680
Alexa Fluor 700
DRAQ5
DRAQ7

780/60- 750 to 810nm Emission


407nm Excitation

450/40- 430 to 470nm

Alexa Fluor 405
Pacific Blue
Cascade Blue
DAPI
BD Horizon V450
Brilliant Violet 421

530/30- 515 to 545nm

Alexa Fluor 430
AmCyan
CFP
Qdot 525
BD Horizon V500
Cascade Yellow
mTurquoise

High-Speed Sort Rate up to ~25,000 events(cells)/second
Aggregate Discrimination by BD Doublet Discrimination Module
Multi-well Plate Sorter
Aerosol Management System- for use with viral samples
Temperature Controlled Sample and Sorting Receptacles
Hours of Operation, Fees, and Scheduling
The Flow Cytometry Core Facility will be staffed from 8:00 a.m. until 4:00 p.m., Monday through Friday. Any inquiries can be made by phone at 419.383.3402 or by email.

The Core Facility operates on a Fee-for-Service basis which will include data acquisition, analysis and consultation if needed.
Current Flow Rates

 
Assisted
Self-Operation
UT Investigators
$30/hr
$30/hr
Outside Users
$30/hr
$30/hr
Cancellations with less than a 24-hour notice are billed for the scheduled time. Investigators are not billed for cancellations with at least 24 hour notice. Exceptions will be determined by the Core Facility.

Scheduling can be done by calling 419.383.3402 or by email.
The Core Facility is located on the University of Toledo Health Science Campus.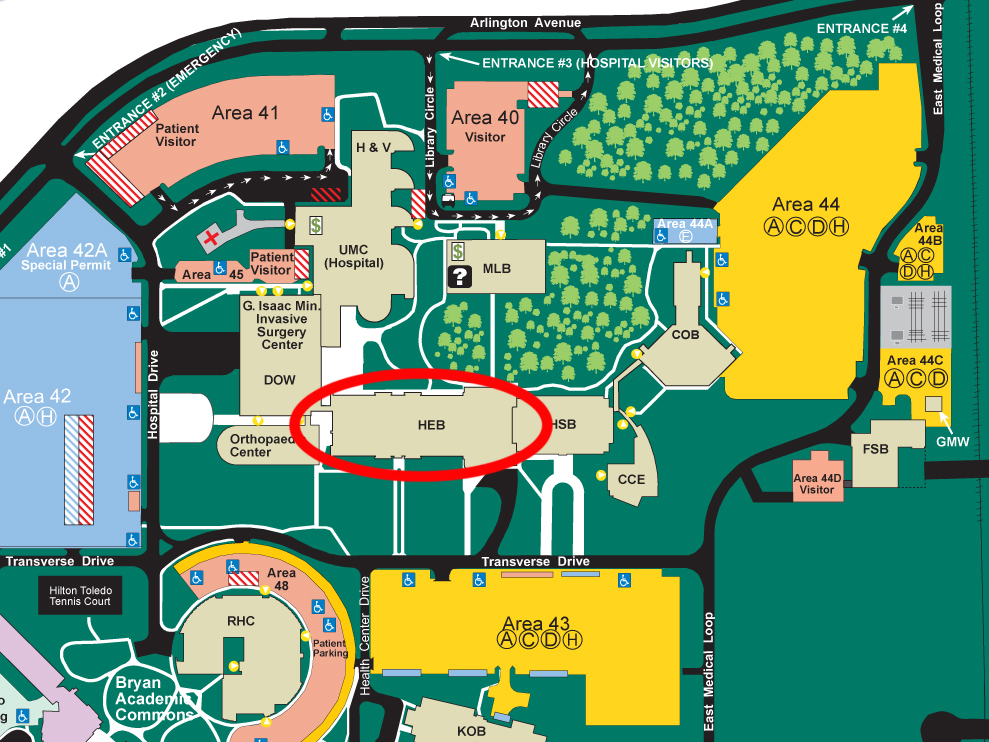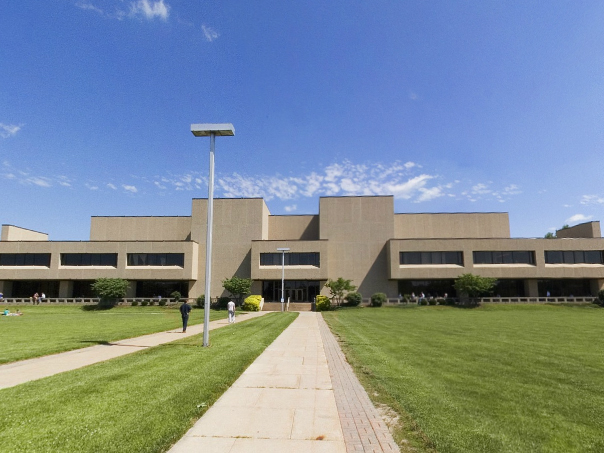 Located on the second floor of the Health Education Building in Room 253, the lab is directly accessible from the second floor hallway of the Pharmacy Building and Dowling Hall.

Parking is located in the front of the Health Education Building in Area 43. Alternate parking is available in Areas 44, 46 (not pictured above), and 48 with access to Health Education through the adjoining buildings or basement tunnel.

A full campus map is available for download.
Still have questions?
Check out our other basics or hit-up the contact link.