Imaging Services Available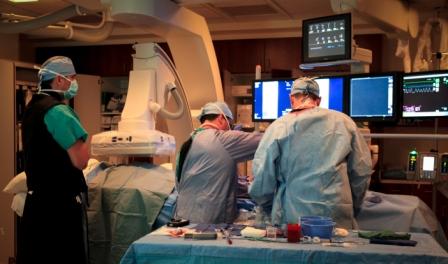 We offer comprehensive imaging options, including:
Breast Exams/Mammograms 
These exams are performed through our digital mammography units, which is a technique that uses a computer, rather than x-ray film to record x-ray images of the breast.

CT Scanning
This is computer-assisted imaging of all parts of the body utilizing a CT scanner. Some of the applications of CT scanning are brain/head, chest, heart, abdominal, guided biopsies, abscess drainage, bone-density scans and CT angiography using multi detector technology. UTMC offers imaging from the Toshiba Aquilion ONE 320.

CT Angiograms
Helps diagnose blood vessel blockages, identify blood-rich tumors or help locate where a blood vessel may be bleeding.  Blocked blood vessels can be treated by cardiologists or vascular surgeons as soon as the diagnosis is made.
Diagnostic Services
Includes general x-ray work such as chest and bone x-rays, as well as a full spectrum of upper GI and lower GI studies.
Epidural injections and nerve blocks
Some of the most effective treatments for relieving back pain and treating pinched or irritated nerves. Nerve blocks are similar to epidural injections, although they inject the medication outside of the spinal canal instead of inside the canal near the nerve root. Advanced imaging allows the interventionalist to treat intracranial aneurysms, remove obstructions in acute stroke, and repair vascular malformations.
Interventional Neuro-Radiology
The UT Medical Center has the only interventional neuro-radiology program in northwest Ohio. We have a comprehensive spine care team to treat patients with the latest techniques and treatments. There are several interventions for back pain resulting from compression fractures and nerve damage.
Kyphoplasty and Vertebroplasty
Two procedures recommended for compression fractures. Both procedures use bone cement to improve stability and treat pain by raising collapsed bones or filling hairline cracks in bone.
Magnetic Resonance Imaging
Utilizes a high strength magnetic field and radio-frequency waves to assess central nervous system disorders, musculoskeletal disease, sports medicine injuries, heart and great vessel disorders, abdominal/pelvic masses and vascular disease, among others. The UT Medical Center is home to both a 3.0T MRI unit and a 1.5T open MRI unit.

Nuclear Medicine
Images the human body by injecting radiopharmaceuticals (isotopes) typically into the patient's vein and creating an image of the path that they make. These images are used to determine function or flow of organs/systems. Typical exams are bone, lung and liver scans. Molecular medicine routinely utilizes two different imaging techniques (SPECT and PET). When combined, the images show details of an organ's anatomy as well as how it's functioning. These studies help surgeons treat cancer and sometimes prevent the need for invasive surgery. Exposure to radiation is low, quick and carefully controlled.

Ultrasound
Images the internal structures of the human body by sending high-frequency sound waves through the skin which sends back echoes, producing an image. Exam times vary from 15 minutes to an hour. Ultrasound has become the premier technology for fetal (pregnancy) scans, gallbladders, kidney scans, peripheral vessels and breast (cysts). Doppler ultrasound allows the radiologist to evaluate the function of the patient's carotid arteries and risk of developing stroke or cerebral vascular disease.