Master of Science in Biomedical Science - Human Donation Science
Summary
Read a summary about the Human Donation Science Program in the printable
Fast Fact Sheet
Welcome
The University of Toledo developed the nation's first and only academic program designed to prepare people to coordinate and oversee the organ donation and transplantation process. The program is designed to provide entry-level professional preparation for individuals who wish to become an organ and tissue procurement transplant coordinator.
What does an organ procurement coordinator do?
Organ procurement coordinators facilitate the organ donation process from the beginning to end. They are the liaisons between the donor's family, the coroner, the medical and nursing staff, the organ procurement organization and ultimately the transplant surgeon. As a result, coordinators must skillfully and diplomatically deal with a number of issues, agendas and personalities in order to achieve a successful organ transplant. Starting salaries range from $50,000 to $60,000.
Curriculum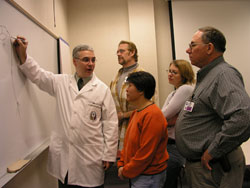 The curriculum consists of nine courses offered in a three-semester sequence over one calendar year. Basic science and medical science provide a foundation for professional coursework and supervised clinical experience. In addition, courses also focus upon the legal, ethical, socio-cultural and behavioral dimensions associated with death, organ donation and transplantation. The courses include didactic and experiential learning, and culminate in a capstone seminar. Faculty in this innovative program include basic scientists and clinical faculty, including transplant surgeons from UTMC, and others who are leaders within organ procurement and donation.
The program is full-time and prospective students should plan on devoting substantial time to their studies.
Scholarships may be awarded to students who qualify.
The University of Toledo is accredited by the North Central Association of Colleges and Schools. Graduates of the Master of Science in Biomedical Science - Human Donation Science will be prepared to take national certification examinations offered by the American Board for Transplant Certification after working in the field for one year.
Internet Sites of Interest