UToledo-ACS Project SEED 2023!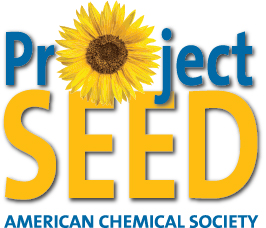 Do you like science?
Are you interested in learning what scientists really do in their laboratories?
UToledo-ACS Project SEED Summer Research is a paid, summer internship program for high school students!
Yes - you can work on Cool Chemistry this Summer ... and Get Paid!
---
What types of projects can you work on? Click on the button below to learn more!
Faculty/Disciplines/Projects

Application Submission for
Summer 2023 is closed.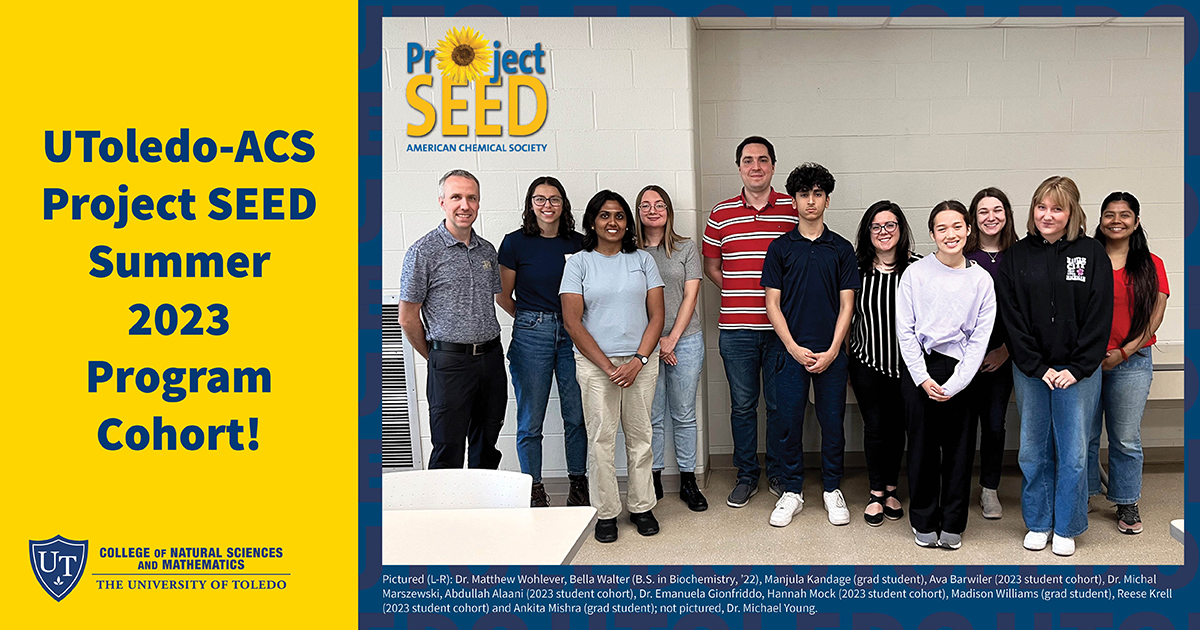 Pictured (L-R): Dr. Matthew Wohlever, Bella Walter (B.S. in Biochemistry, '22), Manjula Kandage (grad student), Ava Barwiler (2023 student cohort), Dr. Michal Marszewski, Abdullah Alaani (2023 student cohort), Dr. Emanuela Gionfriddo, Hannah Mock (2023 student cohort), Madison Williams (grad student), Reese Krell (2023 student cohort) and Ankita Mishra (grad student); not pictured, Dr. Michael Young.
---
Once accepted, students commute daily to a research lab (typically about 8 hours per weekday, Monday through Friday), from 8 to 10 weeks.
Students do meaningful research - meaning you won't just wash lab dishes, or press a button on a machine all day.
You get to work on a project independently or with other students, and write a report or prepare a poster at the end of the summer.
Participating students earn a stipend amount of $3,200!
Project SEED Qualifications:
Student should have completed a one-year introductory high school chemistry course.
Student must be recognized as economically disadvantaged. Preference will be given to students whose maximum family income does not exceed 200% of the current *Federal Poverty Guidelines based on family size; for 2023 guidelines visit: https://aspe.hhs.gov/poverty-guidelines.
*Example: Family income below $60,000 for a family of four, or close to this limit if a secondary factor is present, such as: first generation in college, single parent, or a member of underrepresented minority.
Student Eligibility Requirements: 
Interested in chemistry/science 
Qualify as low-income based on program criteria 
Successfully completed at least one course of high school chemistry
Please note that the application to the program does not guarantee an internship
What to Expect:
Work on a scientific research project under supervision of a mentor
Mentors will help students meet research objectives, give feedback and foster growth
Students must be able to commute to the lab site daily (no overnight/sleep-away accommodations)
Opportunities to present research poster at local and national ACS meetings
Opportunity to return for a second summer of research and receive stipend amount of $3,800
College Scholarships:
Students must complete at least one summer of Project SEED and submit an application
Students must intend to pursue a chemistry-related major and career to be eligible
One year and multi-year scholarships worth up to $20,000 over 4 years
For more information or to participate, please contact:
Program Coordinator, Dr. Emanuela Gionfriddo | emanuela.gionfriddo@utoledo.edu
Program Co-Coordinator, Dr. Natasha Johnson | natasha.johnson@utoledo.edu
Program Co-Coordinator, Dr. Michal Marszewski | michal.marszewski@utoledo.edu
---

Project SEED is supported by the American Chemical Society, The University of Toledo faculty grants, the Department of Chemistry and Biochemistry, the College of Natural Sciences and Mathematics and other contributions.