Native Plant Gardens on Campus
 Like Us on Facebook Follow Us on Twitter
GUTS currently has 3 garden location on campus that we own and maintain ourselves. We also assist 4 other native plant gardens on campus by providing plants, labor, guidance and help in any way we can.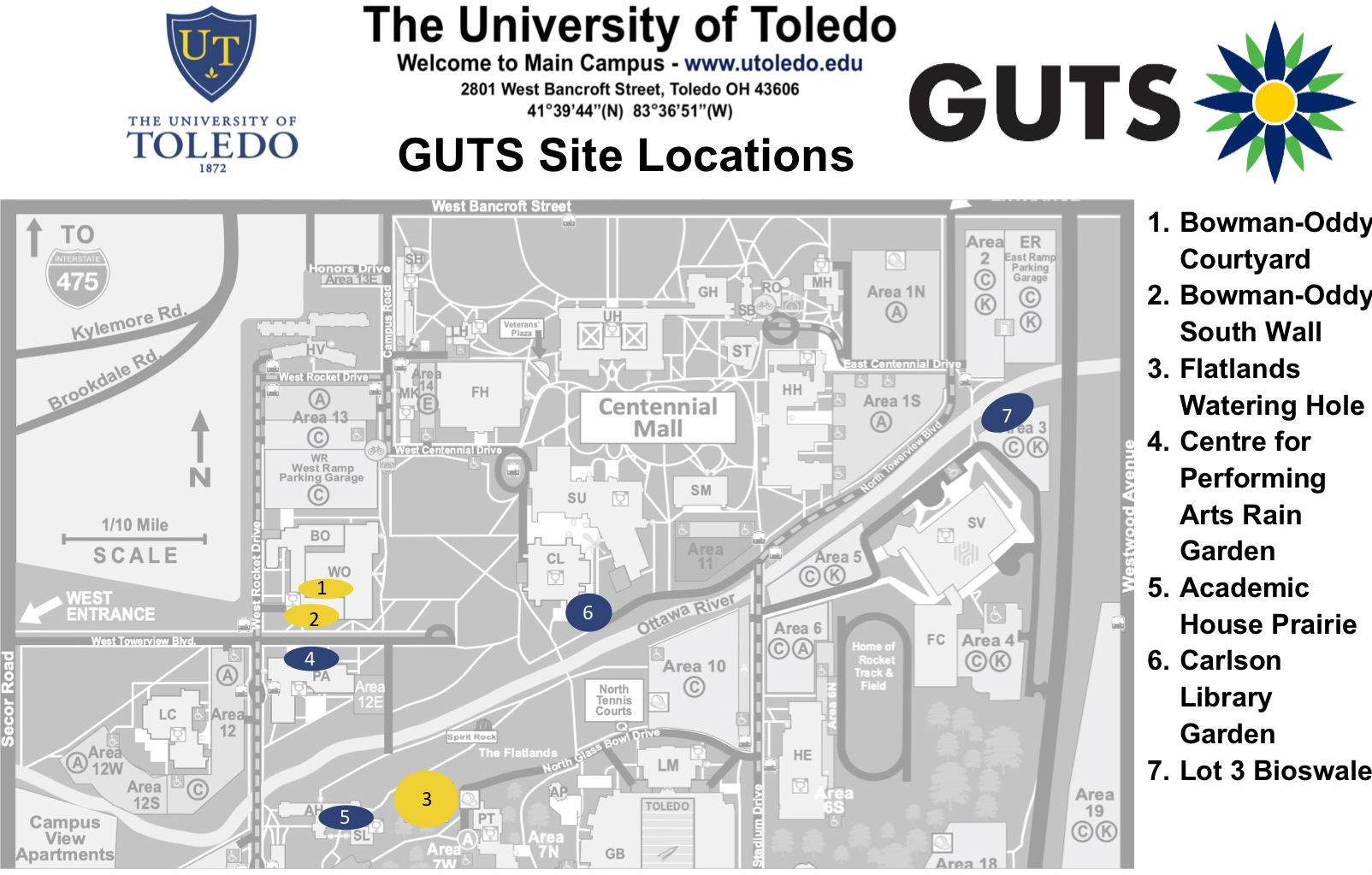 1. Bowman Oddy South Courtyard - Maintained by GUTS
The southern interior courtyard of Bowman Oddy provides a unique garden location as it is visible by multiple people, but wildlife visitation is limited to only those with the ability to fly - therefore the garden was designed to attract pollinators. The surrounding building can also prevent sunshine from entering so the garden was designed as a shade garden, rain garden, and sun garden depending on the location within the courtyard. This garden was also created as a Department of Environmental Sciences Senior Capstone project with funding through the Student Green Fund.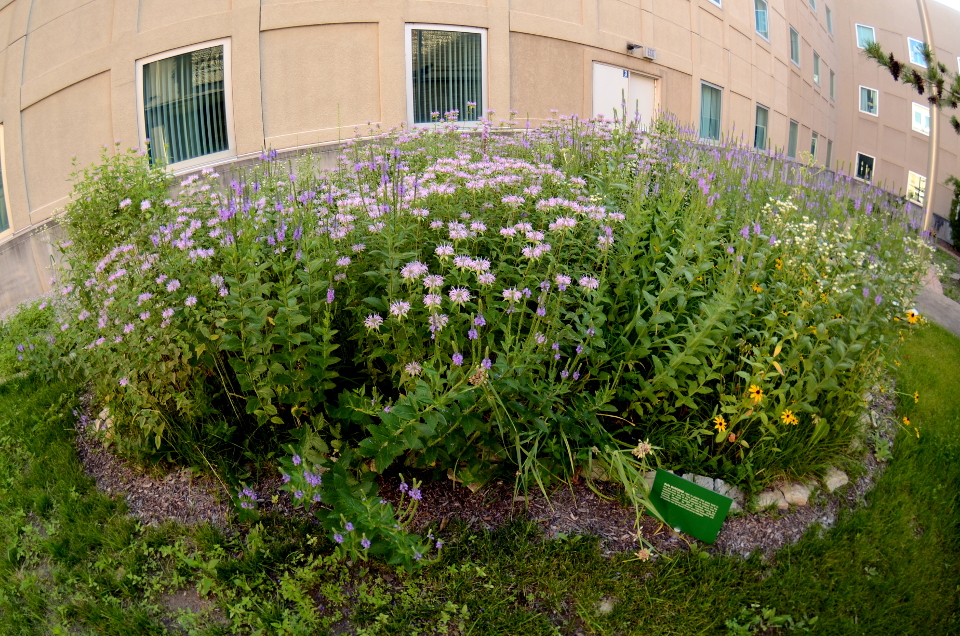 2. Bowman Oddy South Prairie - Maintained by GUTS
The largest native planting on campus by size, the Bowman Oddy South Prairie is a short prairie mix with a formal perimeter to transition from grass to prairie. Also included in this planting is a sculpture "Current Forces" created by Judith Greavu, Professor Emeritus at Ohio Northern University.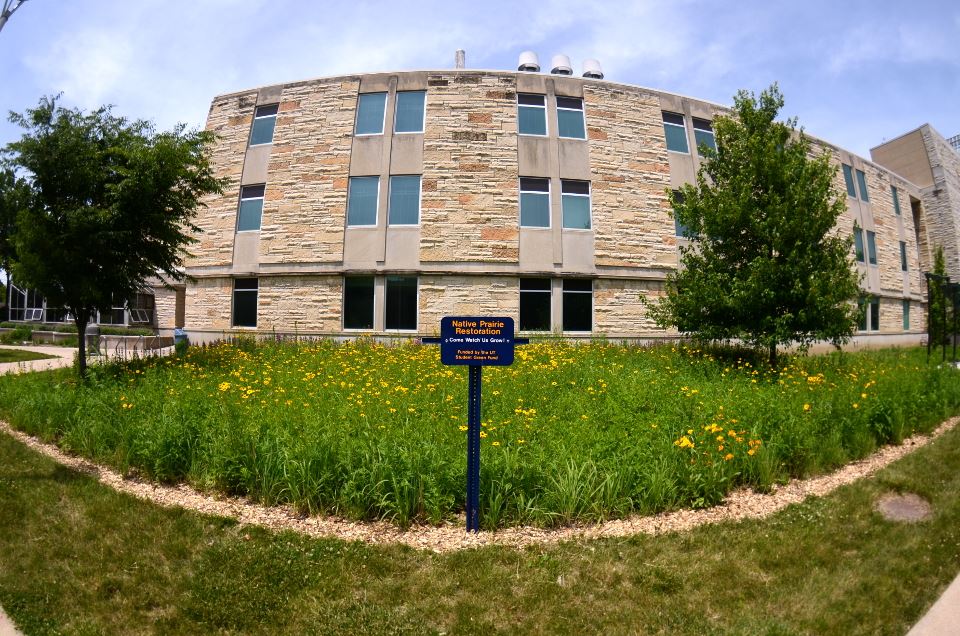 3. Flatlands Watering Hole - Maintained by GUTS
Located between Parks Tower and Academic house, this naturally occurring low spot is where a basketball court used to be located. Currently a floodplain, the pollinator garden was planted to break up the soil compaction and plans to expand the garden are in progress. This prairie is still a work in process and there has not been a full flowering bloom at this location but the students who worked hard to create this garden are patiently waiting for its first bloom.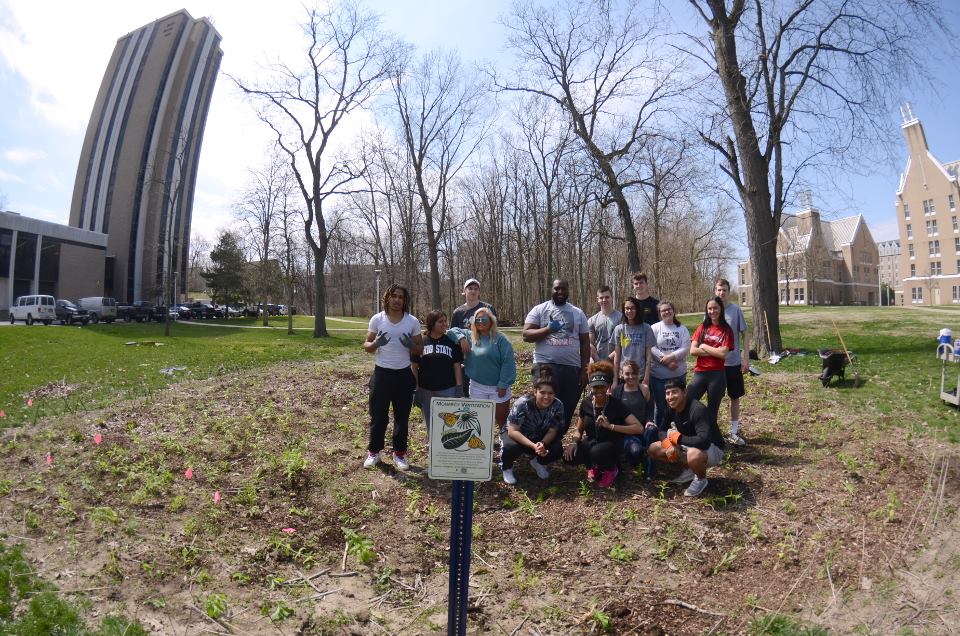 4. Center for Performing Arts Rain Garden - Owner: Dr. Crail with assistance from GUTS
A rain garden is meant to collect water during a rain event to allow the water to soak in, instead of running off directly into the nearest storm drain or body of water. Rain gardens are planted with plants that can handle flood events but do not require standing water all the time. This location is also focused on plants that pollinators use for food and shelter.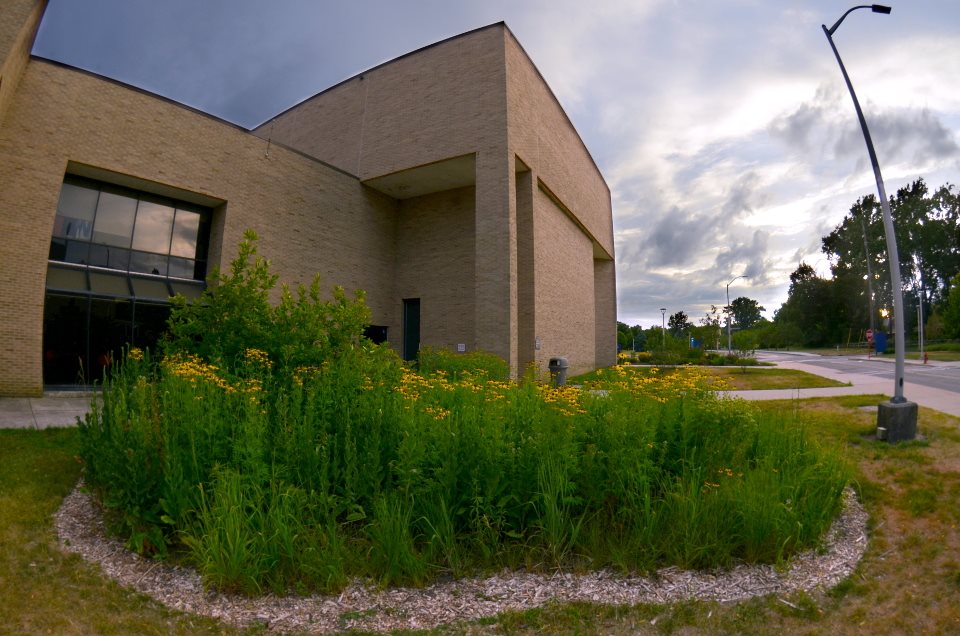 5. Academic House Prairie - Owner: Dr. Krantz with assistance from GUTS
The academic house prairie is a mix of a formal planting, while also having more natural growing areas. This prairie is classified as a mixed type and favors pollinators and the plants they need.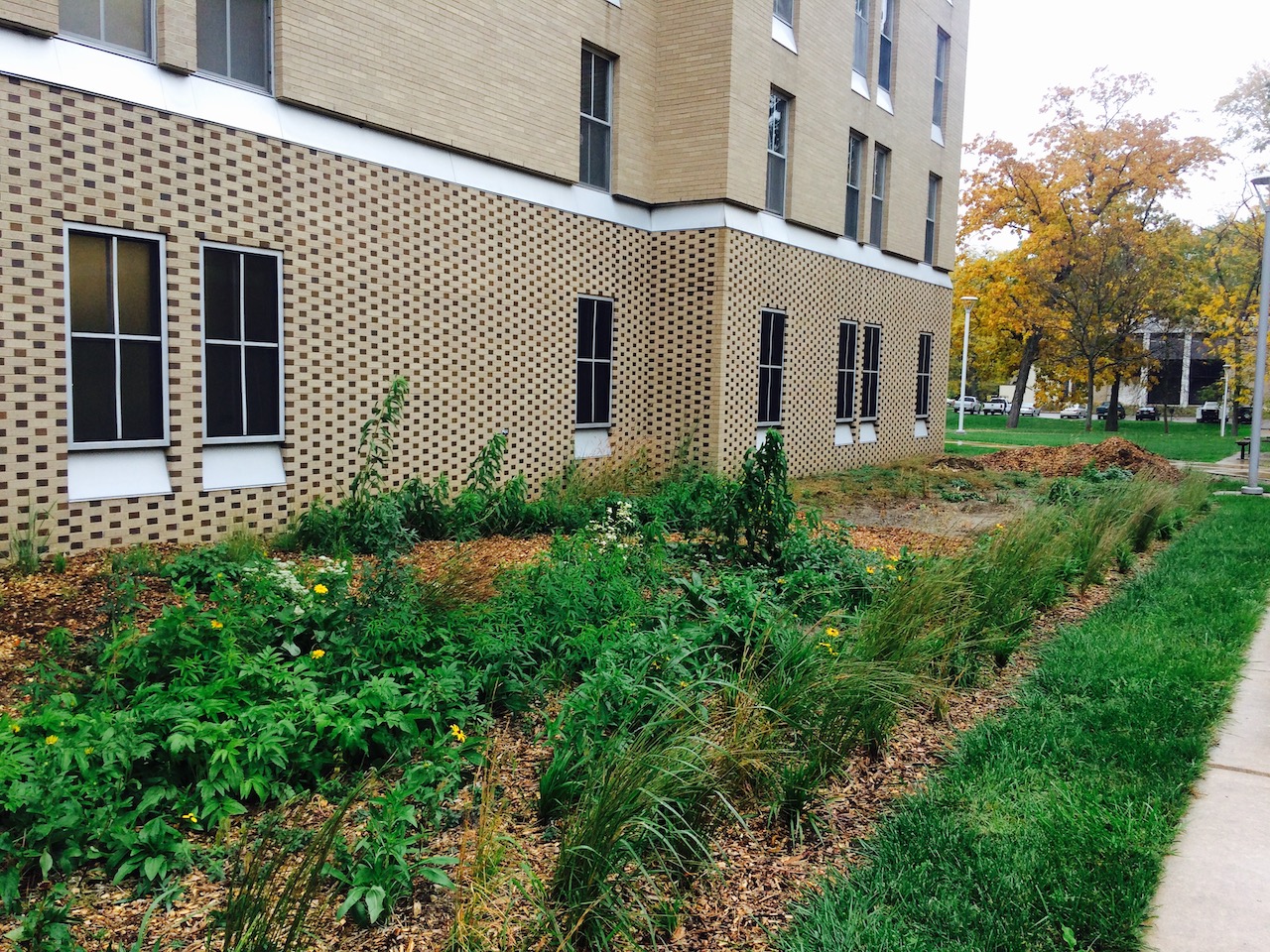 6. Carlson Library Garden - Owned by Carlson Library with assistance from GUTS
The garden at Carlson Library is in the planning stages and will be installed in the Spring and Summer of 2019. It is being designed as a mixed height pollinator garden with more formal landscaping elements. The picture below shows the location of the garden and the blank slate that we started with to create this garden.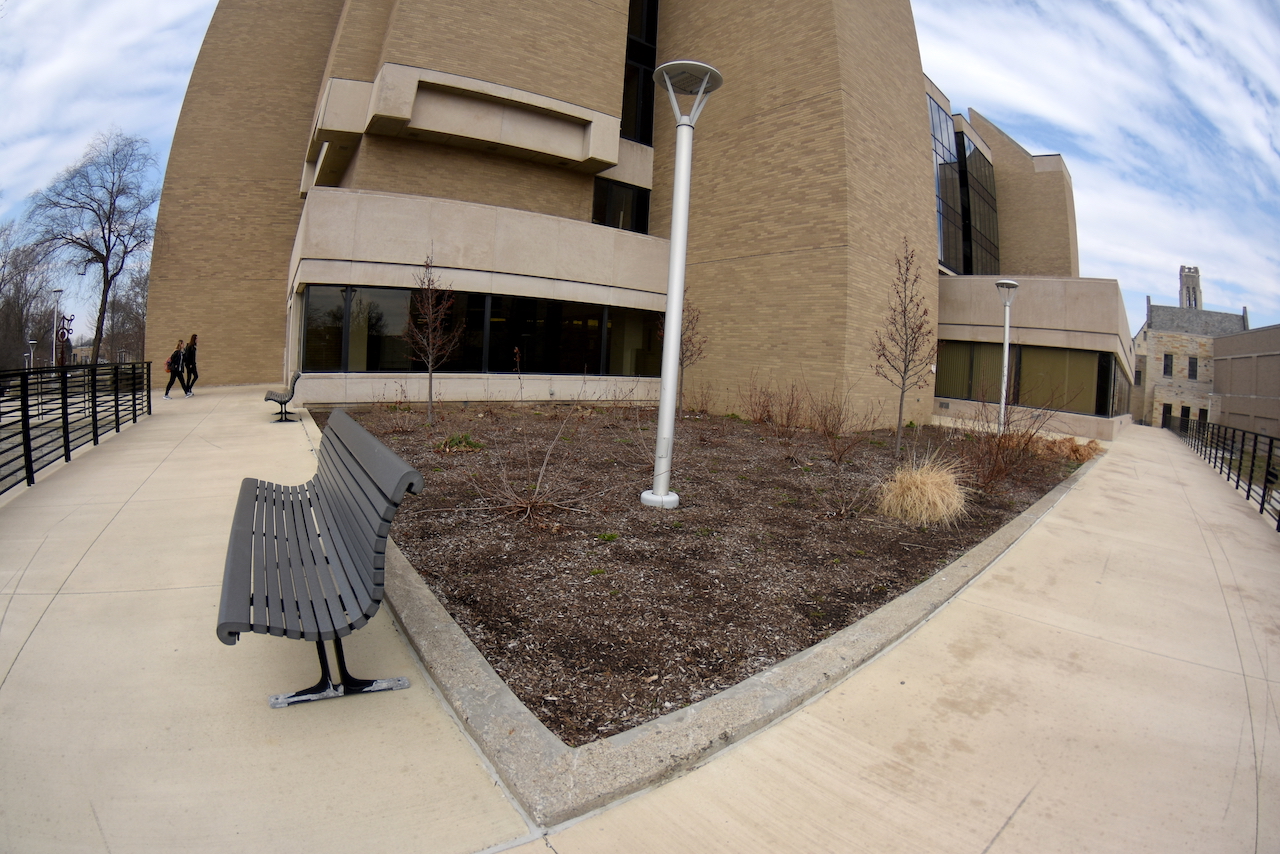 7. Lot 3 Bioswale - Owned by BOSEF with assistance from GUTS
A bioswale is a landscape area designed to retain water and filter out pollutants and remove debris before entering the water and are most commonly used in conjunction with parking lots. The Lot 3 Bioswale is located between Parking Lot 3 and the Ottawa River and has a focus on using pollinator plants and common rain garden plants.