Master of Science in Pharmaceutical Sciences, Industrial Pharmacy
About the Program
The Master of Science in pharmaceutical sciences degree is designed to prepare an individual for responsibilities in professional practice, the pharmaceutical industry and scientific research beyond those possible with a baccalaureate degree.
The Industrial Pharmacy program at The University of Toledo prepares students to assume pharmaceutical manufacturing positions performing a variety of specialized tasks including pre-formulation evaluation, dosage form design, and stability testing. Graduates of the program go on to prestigious PhD programs throughout the United States as well as entry-level scientist positions in the pharmaceutical industry across the world.
Learning Outcomes
Develop a basic understanding of five functional areas of pharmaceutics: chemistry, computer science, engineering, pharmaceutical manufacturing and data analysis.
Apply knowledge from these five functional areas to a contemporary industrial pharmacy project.
Apply this knowledge within a specific manufacturing setting. This can be likened to an internship-type experience.
Program Objectives
Develop the student's ability to work effectively with colleagues, other scientists and industrial professionals and administrators.
Develop the student's ability to search for and interpret information applicable to specific projects in pharmaceutical manufacturing.
Foster problem-solving and decision-making skills that may be applied to the development, testing and production of pharmaceutical dosage forms.
Encourage the student to become involved in professional associations at national and regional levels where applicable.
Develop the student's ability to determine the drug delivery designs for the future and the ability to meet these needs.
Provide a focus on industrial pharmacy and drug dosage design that will provide a competitive edge in the pharmaceutical industry job market.
About the Curriculum
The Industrial Pharmacy program requires 30-32 credits of coursework, which includes at least six thesis credit hours electives. Download the curriculum requirements.
Funding
Funding for graduate students is accomplished in one of two ways:
Teaching Assistantships - this funding includes a waiver of tuition, but not student fees, and a stipend provided by the graduate school for approximately 20 hours per week of specialized service to the College of Pharmacy & Pharmaceutical Sciences and the Pharmacy Practice department. There are only 2-3 of these positions allocated per year. This funding is only given to entering graduate students for a maximum of five (5) semesters. The awarding of assistantships is based on the competitiveness of the entire application; however, special attention is given to GRE scores, GPA, and Statement of Purpose.
Research Assistantships - to date this category of funding has not been available to master's students.
Contact Us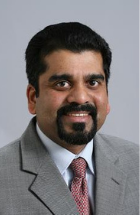 Jerry Nesamony, Ph.D.
Associate Professor of Pharmaceutics
  Phone: 419.383.1938
  E-mail: 
jerry.nesamony@utoledo.edu