An English degree from The University of Toledo offers flexibility in today's quickly changing job market. UToledo educates creative readers and writers who use language effectively and communicate clearly. Employers, no matter what field, value these skills.
UToledo's English majors read great literature and think hard about the complicated circumstances of the human condition.  
CONCENTRATIONS
There is considerable integration between the two concentrations we offer. Literature is a standard part of the creative writing curriculum and vice versa.
Literature

 

— Provides a solid background in literary history, critical thinking, and persuasive writing. 
Creative writing

 

— Focused around three writing workshops. Students engage in peer review and rigorous revision.
Top Reasons to Study English at UToledo
Flexibility.

Students and advisers collaborate on an ideal program for each student.

Internationally known faculty members.

English faculty specialize in a wide variety of fields and draw in on their cutting-edge research in the classroom.

UToledo's unique typography lab.

The Typography lab is home to Aureole Press

, a literary fine-press that publishes established and up-and-coming writers. Students can work on these publications, as well as take classes in how to create and produce fine-press books.  

Practical writing experience.

Edit and publish the

 

The Mill, UToledo's literary magazine.
Work for

 

The Collegian, UToledo's student newspaper.
Through internships, gain experience applying your writing skills in real world environments.

Learn from alumni and visiting scholars.

Renowned writers lecture and present their work on campus and visit classes. Annual panels feature UToledo alumni who share how their English degrees have led to professional success and personal satisfaction.

Great second major for teachers.
Meet Roma Lucarelli
'20, Bachelor of Arts in English
"As a student-athlete, flexibility and understanding are key. My professors have often shown a personal interest in me as a student and as a future educator. One of the best parts of my college experience has been the one-on-one attention that I have received from my professors."
Read More
What jobs can I get with an english degree?
The door is wide open for UToledo English majors in any number of careers. English courses enhance and enable essential career skills, including:  
Clear, precise writing
Logical critical-thinking
Accurate interpretation of texts, facts and events
Persuasive oral articulation of ideas and concepts
Proficiency in research
Graduates find jobs as editors, teachers, journalists, public relations professionals, speech writers and ad writers. Or they use their skills in communication and analysis to venture into mass media, entertainment, politics, business and government.
The major also provides a solid background for students considering law or medical school, as well as graduate study in English or other fields.
UToledo English majors have found jobs as:
Learning consultant, Pearson Corporation, London
Learning Resource Center, Toledo Museum of Art
Director of the Educational Resource Center, WGTE Public Media, Toledo
Creative editorial materials coordinator, Amazon.com affiliate Brilliance Audio, Grand Haven, Mich.
Editor of American English Language Teaching series, Oxford University Press, Manhattan
Copywriter, Sandbox Agency, Chicago
English teacher, Toledo School for the Arts
Ohio House of Representatives, Columbus, Ohio
Editor and reporter, Toledo City Paper
Performing & literary arts coordinator, Arts Commission in Toledo
Community library manager, Queens Borough Public Library, New York
Hands-On Learning Opportunities
At UToledo, we take you beyond the textbooks and the four walls of a classroom. These real-world experiences are what help our graduates gain professional skills and land jobs.
Internships
Finding an internship is easy thanks to UToledo's robust community partnerships with companies and organizations around the region. Dive into unique opportunities that prepare you to launch your career.
English majors have completed internships for credit at:
Local organizations, such as Aurora House, Bethany House, Kingston Assisted Living and Kids Unlimited
Metzger's Printing
The (Toledo) Blade
The Toledo City Paper
The University of Toledo's UT Press and Canaday Center
Research
UToledo is known for its undergraduate research opportunities. Start as early as your freshman year. Work with faculty who enjoy collaborating with students.
99
undergraduates received research funding (2022)
21,000+
hours spent by undergraduates on research
Faculty work with students who have been awarded funding through the UToledo Undergraduate Summer Research and Creative Activity Program. Funds also are available for students to present their research at conferences.
Study Abroad
Travel, experience new cultures and meet new people — all while earning college credit.
UToledo's Education Abroad Office can help you find the perfect opportunity. You can apply for grants, scholarships and financial aid to help fund study abroad.
Semester at Sea
Short-term, summer and faculty-led trips
Direct exchange programs with other universities
Teach English abroad
Global health program (med student clerkships)
Rocket Kids (work with youth around the world)
Rocket Kids Semester
The Rocket Kids program offers University students a fall, spring or summer semester internship providing recreational programming to U.S. military youth while experiencing the world in locations such as Germany, Italy, Belgium and The Netherlands.
Rocket Kids interns will gain practical experience in programming, leadership, health and wellness, creative arts, performing arts, cultural and literary arts, team and individual sports, adventure and outdoor recreation and STEM education.
On-campus and Part-time Jobs
Learn skills that prepare you for a career after graduation.
Build your resume.
Earn money.
If you want to work, there are plenty of opportunities on campus and at businesses near campus. If you demonstrate financial need, you may qualify for the federal work-study program.
Student Organizations
Our most successful students get involved.
UToledo has 400+ student organizations that will help you:
Make friends.
Build your resume.
Network.
Be a leader.
Serve your community.
Have fun!
Tuition and Scholarships
Most new students don't pay full price. 94% of new UToledo students receive scholarships or other state and federal aid.
Keep in mind: Your cost will vary by college, program and a host of other options. This is the average amount full-time students pay per year.
---
How to pay for collegeInternational Student - How to Pay for College
Choose Ohio First scholarship
Ohio residents who have been accepted into this STEM program are eligible for the Choose Ohio First scholarship — a four-year, renewable scholarship.

Honors College
The Jesup Scott Honors College at The University of Toledo offer our best and brightest the resources and opportunities needed to unlock your fullest potential. Whether you aspire following graduation to cure disease, innovate technology, advance statecraft, redefine markets, or express creatively, together we can fuel vibrant and promising tomorrows.
Honors students come from a variety of countries, backgrounds and cultures. While we may bond over a tough class, our differences make us blossom.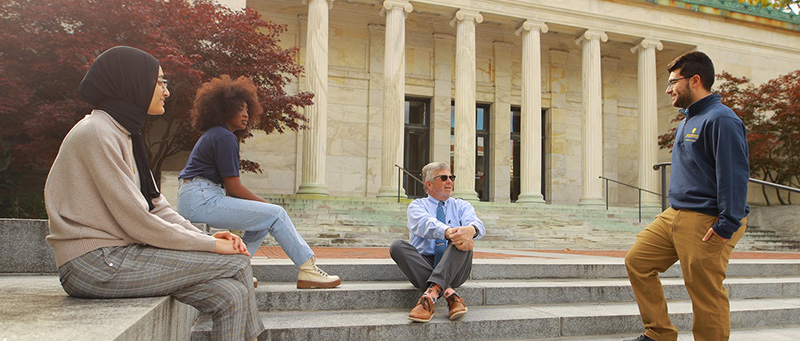 Benefits of Honors
The Honors College is a community of academically gifted students from all majors on campus. Students take unique Honors classes taught by dedicated Honors faculty and complete an Honors thesis or capstone project in their major, earning the Honors medallion at graduation within their normal program of study. Honors students are challenged to think more deeply and broadly about what they learn. With special academic, cultural, and professional development opportunities, their education extends beyond the classroom.
Honors students can also choose exclusive housing in the Honors Academic Village or the historic McKinnon, Scott and Tucker Halls.
Explore more about what the Honors College can offer you as a budding professional, inquisitive scholar, and engaged person.
Visit Campus
A campus visit is the best way to figure out if UToledo is a great fit for you.
Learn More and Register