Psychology Clinic FAQs
Below are the answers to many frequently asked questions (FAQs) about our clinic and its services. If you don't find the information you are looking for here, please reach out to our office at (419) 530-2721 or email us at psychologyclinic@utoledo.edu.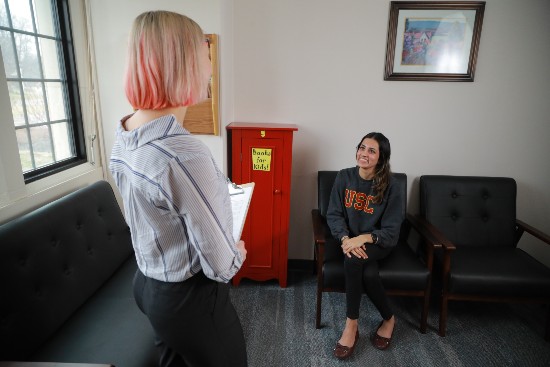 What is a training clinic?
Being a training clinic means that the clinicians at our clinic are Ph.D. clinical psychology students who work under the supervision of licensed clinical faculty. Student clinicians are working toward their Ph.D. but are not independent practicing psychologists. All sessions conducted at UTPC are recorded for the purpose of supervision.
When do you see clients?
We are open from 9 a.m. to 5 p.m. for in-person appointments on Monday, Wednesday, Thursday, and Friday. On Tuesday, we are open until 7 p.m. for in-person appointments. Virtual appointments can be scheduled between 9 a.m. and 7 p.m. from Monday through Friday. The clinic is closed on the weekends and holidays.
where do i park?
The closest parking lots are Areas 1N and 1S. To request a parking permit for in-person sessions, please stop by the Clinic Admin Assistant's office at the front of the clinic (Room 1600) or send an email to psychologyclinic@utoledo.edu. We will need your name, license plate information, and valid email address to add you to the parking portal.
Do you provide telehealth services?
We offer virtual therapy sessions, but all assessment appointments must be in-person due to the involved nature of testing.
Where is UTPC located?
We are in University Hall on the University of Toledo Main Campus, Room 1600. Please refer to the Contact Us page for directions.
What client populations do you work with?
We work with clients who present with a range of concerns, including generalized anxiety, worry, depression, OCD, social anxiety, specific phobias, difficulty coping with stress, and relationship problems. We primarily work with adults (18+ years old) but are accepting children and adolescent clients who struggle with phobias or OCD. Psychological services are provided to individuals affiliated with UToledo and Toledo-area community members. We also serve Ohio residents via telepsychology. We do not provide couples or family therapy.
what Services do you provide?
treatment
Generally, student clinicians will use elements from cognitive-behavioral therapy (CBT), acceptance and commitment therapy (ACT), dialectical behavior therapy (DBT), emotion regulation group therapy (ERGT), and mindfulness-based interventions. Treatment typically involves learning evidence-based coping strategies and skills to reduce symptoms and improve well-being. These skills may include scheduling pleasant activities, mindfulness, and identifying and reframing thoughts.
The length of treatment depends on several factors, including your presenting concern, your treatment goals, and the clinician's availability. We offer a limited number of sessions focused on skills-based treatment for specific problems. Treatment can be expected to range from 12 to 24 sessions. Because we are a training clinic, clinicians are most active in the fall and spring semesters (September to April), and therapy duration tends to follow this cycle.
Assessment
We conduct assessments that test cognitive and intellectual functioning, including ADHD and learning disabilities. We do not provide assessment services for ASD. For ASD assessments, please refer to the list below.
The University of Toledo Medical Center (UTMC) Psychiatry
3120 Transverse Drive, Toledo, OH 43614
Phone: (419) 383-5695
Fax: (419) 383-3183

Center for Solutions
5600 Monroe St., Suite 103B
Sylvania, OH
Phone: (419) 885-5952
Fax: (419) 885-7630

Drescher & Associates
3454 Oak Alley Court Suite 510
Toledo, OH 43606
Phone: (567) 218-0185
Fax: (419) 930-6721
Email: dacstoledo@gmail.com

Oasis Mental Health
3454 Oak Alley Court, Suite 306
Toledo, OH 43606
Phone: (419) 482-8585
Email: oasismh.anthony@gmail.com

Psychological Resources of Toledo
4841 Monroe Street, Suite 301
Toledo, OH 43623
Phone: (419) 475-2535
Fax: (419) 475-0881
Email: info@psychresources.com

How much Do sessions Cost?
We offer an income-based sliding scale fee, which ranges from $15–60 for an intake session, $10–50 for a therapy session, and $150–650 for integrated assessments (e.g., ADHD testing). The Clinic Assistant will let you know your estimated fee during the phone screen. You can also call (419) 530-2721 during regular business hours to obtain a specific rate. We do not accept insurance.
what should i expect on my first visit?
During your intake visit, you will meet with a student clinician who will conduct a 2-hour assessment interview to gather information about your mental health history, current symptoms, and treatment goals. They may also ask you to complete some online questionnaires to help guide your treatment. Typically, no "treatment" is done in this session, as the student clinician will primarily be identifying the problem you would like to work on and what you want to achieve by the end of treatment.
If you need to cancel or reschedule your intake session, please contact your therapist as soon as possible and at least 24 hours before your appointment time.
is UTPC the same as the University Counseling Center (UCC)?
No, UCC is a free resource provided to UToledo students and is not open to the community. UTPC charges for sessions using a sliding scale and sees community members as well as UToledo students. Typically, UCC clinicians see clients every other week, whereas we most commonly see clients weekly.