Joelle Meilink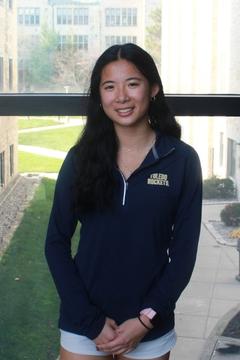 Organizations and Activities
Women in Business Leadership
Levis Leadership
League of LeadHers
Chinese American Student Association
Internships and Job Experience
Value Chain Intern | Michigan State University's The Axia Institute
Resident Assistant | Parks Tower Business LLC
Student Worker | The University of Toledo's Marketing & Communications Department
Dance Instructor | Greater Midland Community Center
Entertainment & Promotions Team | Great Lakes Loons
---
How Did You Decide to Study Marketing, Supply Chain Management and Spanish?
I have always had a passion for storytelling and both of my majors (marketing and supply chain management) allow me to fully understand the background of a product or service, one focused more on the technical side and the other on the creative side. There are so many different areas of focus within Marketing that it allows me to explore my strategic, analytical and innovative side all at once.
I chose a Spanish minor as I have studied Spanish since middle school and hope to reach a proficiency where I can use it in my line of work in the future. Having a Spanish minor has also allowed me to have the opportunity to spend a semester abroad in Spain, however you do not need to study a language to study abroad.
What On-Campus Activities and Organizations Have You Been a Part of?
I am highly involved in the student organization Women in Business Leadership. This is a great way to meet other students with similar goals and network with business leaders within the Greater Toledo Area. I would also highly recommend applying for the Levis Leadership Program, as a freshmen I was able to meet some of my closest friends before classes even started. The program also comes with a 4-year scholarship and will keep you involved throughout your entire college career at Toledo.
Where have you lived on campus?
I have lived in Parks Tower as a resident and I currently live there as a Resident Assistant for the Business Living Learning Community. You can find what a typical day is like in Parks Tower in the following video!
View Joelle's Student Blog Here
What is Your Greatest Piece of Advice for an Incoming Freshman?
Be involved on campus and be passionate about the organizations and activities you pursue. Don't just go through the motions of class and attending organization meetings, really apply yourself! There are so many opportunities and resources to help you grow personally and professionally.
Who's your favorite professor you've had at the Neff College of Business and Innovation?
My favorite professor was Dr. Gary Insch from my Introduction to Business course. I would highly recommend taking his class! His personal stories and sense of humor makes him easily relatable and he keeps his class engaged.