Dr. Michael Mallin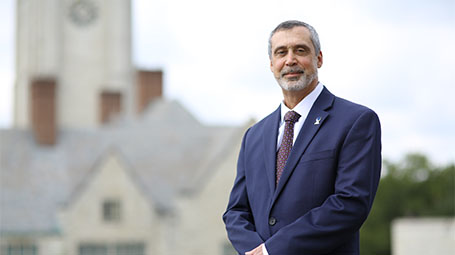 Professor of Marking
419.530.4737
Michael.Mallin@utoledo.edu
Curriculum Vita 



Dr. Michael Mallin joined the University of Toledo, College of Business & Innovation in the Edward H. Schmidt School of Professional Sales in August 2005.
He holds a Ph.D. in Marketing from Kent State University, a MBA from The University of Dayton, and a BS in Computer & Information Sciences from The Ohio State University.
Prior to joining the University of Toledo, Dr. Mallin enjoyed a 16-year career as an industry practitioner.  His industry experience began as an Account Manager selling telecommunications business solutions for AT&T to major market business customers in the Northwest Ohio region. After a 5 year assignment as a District Marketing & Sales Manager at AT&T in New Jersey, he returned to Ohio as a Sales Director for SBC Communications in Northeast Ohio.  Here, he led a team of Global Account salespeople serving key accounts such as BP, Eaton Corp., Sherwin Williams, Office Max, KeyCorp, and Huntington Bank (to mention a few).
Currently as an academic, Dr. Mallin teaches primarily in the area of sales, salesforce leadership, and strategic marketing management.  His research interests include studying contemporary problems and issues in salesforce leadership, motivation, and performance.  His research has appeared in the Journal of Personal Selling & Sales Management, Journal of Business and Industrial Marketing, Industrial Marketing Management, Journal of Marketing Theory and Practice, Journal of Selling & Major Account Management, and The American Marketing Association Educators Conference Proceedings, among others. He is the recipient of several faculty teaching and research awards at The University of Toledo and for outstanding teaching as a doctoral fellow at Kent State University.