UToledo Graduate Students Partner with ProMedica to Build Leadership Skills
April 14, 2022 | John B. and Lillian E. Neff College of Business and Innovation News
By John Anderson III
---
The University of Toledo John B. and Lillian E. Neff College of Business and Innovation's Advanced Leadership Academy (ALA) completed its spring semester curriculum with an event filled with wisdom, guidance and fire. Yes, fire.
A select group of 13 ALA students was chosen to participate in the ProMedica Track of the ALA Program. This additional requirement was reserved for this special cohort of participants that wished to learn more about ProMedica and both the business and medical side of the healthcare field.
The Track culminated in a special event at the Imagination Station in downtown Toledo. Prior to this event, the group also visited Flower Hospital and the ProMedica headquarters.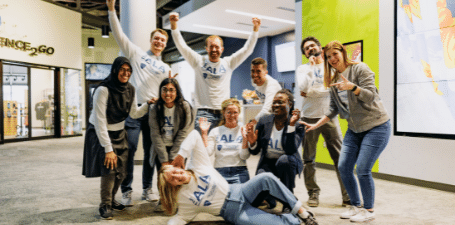 "ProMedica has generously funded the ALA this year," said program director, Dr. Jenell Wittmer. "With their investment, we are able to grow the program and offer graduate students additional learning opportunities. ProMedica also has invested their time and expertise in the ProMedica Track program by providing these select students with access to networking and learning opportunities with ProMedica executives - an invaluable experience."
During the Imagination Station function, members of the ProMedica executive team spoke to the group of students about the challenging and rewarding aspects of leadership and shared personal anecdotes of their journey to success within the healthcare organization.
The speakers included John P. Pigott, MD, FACS, Chief Innovations Officer/Strategic Business Development for ProMedica and ProMedica Innovations, Greg Braylock Jr., Vice President and Chief Diversity, Equity & Inclusion Officer and Les Thompson, Chief Human Resources Officer.
Master of Business Administration candidate Ayla Beaussejour revered her ALA experience, but it was the ProMedica Track, specifically, that stood out most to her.
"It's been a great experience. I've been really grateful to be involved and to have made the connections that I've made. Having access to decision-makers within ProMedica has been one of the most valuable aspects of this wonderful endeavor," she said.
The event capped off in spectacular fashion, as ALA students literally held fire in their hands. After dipping their hand in water, a member of the Imagination Station staff assisted each student with lighting bubbles of methane gas within their palms.
What followed was a flame lifting feet into the air.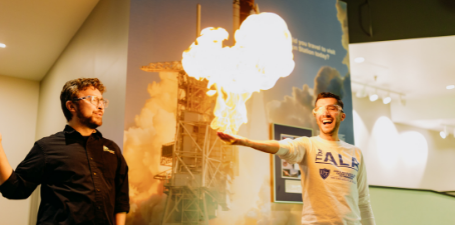 To view a behind-the-scenes video of this spectacle, click here.  
The Advanced Leadership Academy strives to expand and further develop the best Neff College of Business and Innovation and UToledo graduate students' leadership thinking, talents and acumen.