Ashley Kaptur - Human Resource Generalist (Sunrise Windows Ltd.)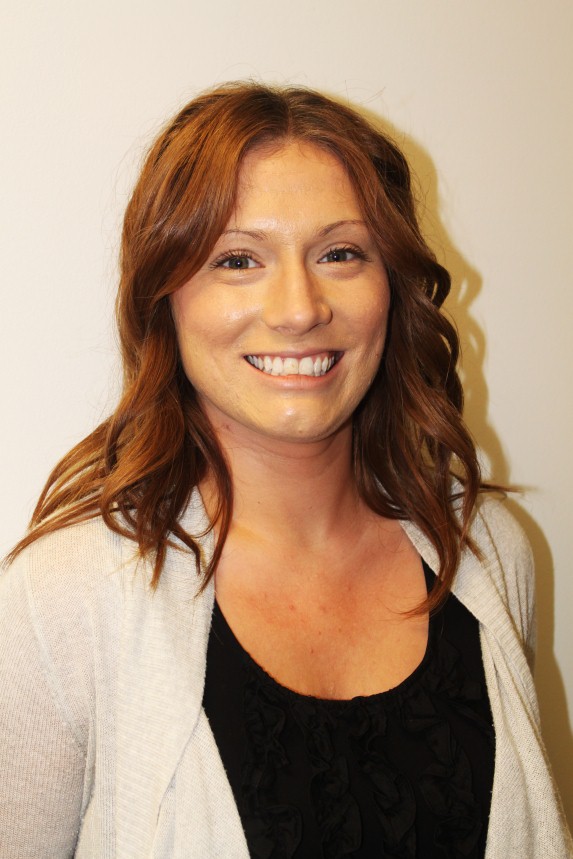 "I work directly under the director of human resources on a variety of HR related functions. Here at Sunrise we hire production workers through a temporary staffing agency, so I manage the interview correspondence, interview potential production/shipping candidates and provide feedback on our temporary staffing selections. I work with our HR assistant to create new hire packets and onboarding packets. I am in the process of working with our marketing department and our third party vendor to create and get up-to-speed on our applicant tracking system.
I work with hiring managers throughout the office and plant to fill open positions, screen resumes, schedule and conduct interviews and evaluate candidates through external assessments, background and reference checks. Once employees have been with Sunrise for 60 days, I orient them to our benefits package. I work directly with payroll to set up direct deposit information. Additionally, I am responsible for handling workers' compensation claims, ensure compliance with FMLA, FLSA, etc., process leave of absence requests, plan employee activities to promote a positive company culture and maintain strong employee relations.
My current project is to take the results from our 2013 Wellness Team Survey and create a wellness plan that will be implemented by the end of 2014 and into 2015. This includes working with our third party vendor to develop relative and exciting events and programs to get employees involved in our wellness program and dedicated to a healthy work/life balance.
I stay up to date on current HR topics by attending local seminars, TAHRA (Toledo Area Human Resource Association Meetings) and Greater Southeast Michigan Society for Human Resource Management (SHRM) meetings.
The thing that I love most about my job is meeting all of the hardworking production workers. Production and manufacturing have always held a place close to my heart because of their strong work ethic and dedication. Without employees like that, businesses would not be successful.
When I saw this position open at Sunrise I knew it would be the best choice for me. I quickly fell in love with the fast paced environment, the culture and the work ethic of each and every employee. Working in HR allows me to give back to the hard working individuals by creating a safe and comfortable work environment that they can come to everyday. We focus on Teamwork, Humility, Respect, Integrity, Values and Entrepreneurial Spirit (THRIVE). I truly enjoy watching employees THRIVE in their work environment.
Without the UT College of Business and Innovation (COBI) I am not sure I would be where I am today. I first heard about the job posting via Dr. Terribeth Gordon-Moore's emails. I knew about Sunrise Windows, Ltd. because they had previously won The University of Toledo College of Business and Innovation's Human Resource Management Award for Excellence. Sunrise is also a growing company and they are local. Dr. Dale Dwyer mentioned the posting to me, because they were asking for 1-2 years of recruiting experience and he knew I would be the best fit for the job. All of the COBI management professors spoke nothing but great things about Sunrise Windows I want to give a big thanks to Amy O'Donnell and her career development courses in the college. The amount of information that you learn in that condensed time can be applied to any field of study. I had the pleasure of working with her as a peer career assistant. The HR courses are tough but really give you a sneak peak as to what your roles and responsibilities will be as an HR professional, and I apply those skills every day.
I started my college career in nursing and over the course of two years realized that was not the field for me. I took about a year off to concentrate on full-time employment, during which I realized that I was interested in the different ways a business operates. I decided to take a couple of classes at Owens Community College to decide which direction I wanted to go and quickly realized that my niche was human resource management. At that time, my fiancé was studying finance and accounting at UT and I knew how much he enjoyed COBI and I knew UT was great from my previous experience in nursing. I quickly realized how important HR was to businesses both small and large. I wanted to be the person that people could turn to with their employment questions, employee relations, benefits questions, etc. I realized that it takes a certain type of person to work in that field, and even a more niche market for human resource management.
I graduated in May, 2014 with my bachelor's degree in business administration with a major in human resource management and additional coursework in finance. I was honored to receive the Outstanding Senior in Human Resources award. During my last semester at UT, I was the student chapter president of UT SHRM. This really helped bring all of the classroom material and apply it to real world situations. I would recruit HR professionals in the Toledo area to come and speak to our group on current HR topics, their background in HR, interviewing techniques, etc.
Completing my degree program through UT COBI was one of the best decisions that I have ever made.
I have made some lifelong friendships and have established my career mentors in the management program professors. The information I have learned is truly invaluable. All of the HR courses have really prepared me for my current position with Sunrise Windows.
Go Rockets!!"