Josh White - Sales Team Supervisor (University Directories)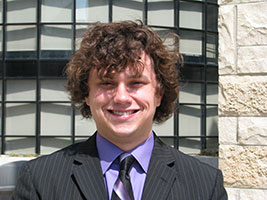 "I'm from Norwalk, Ohio and came up with some friends for a campus visit at The University of Toledo. I chose the College of Business and Innovation because I was always interested in business - - although I didn't know what area of business - -and I heard good things about it. I was leaning toward marketing, then got involved with Pi Sigma Epsilon, the national sales and marketing organization.
Last year I met someone from University Directories, a company based in North Carolina that sells advertising space in campus directories across the country. I learned some great things about the company and jumped in full-time last summer in a sales internship, selling ad space for UT's student planner. Our Toledo team hit our sales goals early.
I declared my major in sales after that internship, and I know that the Edward H. Schmidt School of Professional Sales in the College of Business is one of the top sales schools in the country.
This year I am one of 25 students asked to come back to University Directories. I will be living in Chicago this summer where I will supervise four sales teams of four students each who will sell advertising for the University of Illinois at Chicago, Northwestern, DePaul and Notre Dame.    
I've volunteered at and attended career days organized by COBI's Business Career Programs office, and I know its services will definitely help me out.   I was amazed at the high job and internship placement rate of the College of Business and Innovation. I'll be graduating in Spring, 2014, and I want to keep my options open…you never know where things will lead.
Sales appeals to me because I like meeting and working with different people. My ultimate goal is to have different career options. I'm in it for the adventure."