Kathryn Schneider - Advertising Specialist (Marathon Petroleum Corporation)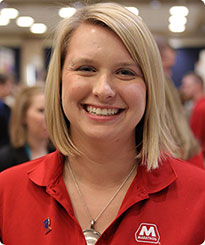 "As the Advertising Specialist for Marathon Petroleum Corporation, I manage our brand advertising efforts. Our small team provides strategic direction for marketing plans, media planning, sponsorships, and customer focused campaigns.

COBI courses such as Advertising and Promotions, Consumer Behavior, and Principles in Marketing helped me prepare for my marketing role. However, the finance and accounting courses have also come in very handy since I manage our Brand Advertising budget.

Selecting the College of Business and Innovation at The University of Toledo was an easy decision for me. The College of Business was like a family; the faculty and staff that I encountered were always willing to help. COBI classes and staff assisted me in developing a polished resume, completing mock interviews, and offering networking opportunities.

My undergrad major was Marketing and Organizational Development & Leadership. After graduating from UT in 2008 with my bachelors degree I continued on with my MBA specializing in Marketing.

I think The University of Toledo's business program is one of the best in the area. I am also on the recruiting team for Marathon and we have been very pleased with the interns and full-time hires that have come from The University of Toledo.

I think the best part of my job is watching our strategy executed throughout the year. I love seeing our ideas in print at the Marathon stations, on a scoreboard at an NFL game, or our commercial on TV and know that I was a part of the process!"