Military/Veteran Services
Developing your career path can be difficult, and being a veteran or service member can add additional challenges. Our office has an on staff veteran to help you navigate to a successful career. Below are some excellent tips to get you started.
Ohio Means Jobs – Veterans Career Resources
The state of Ohio provides a wealth of services that are specifically for veterans and military services members. Visit the link below to view what they offer.
Ohio Means Jobs - Military Occupation Search
Learn how your MOS code/title translates to careers in Ohio. Use your MOS, Ratings or AFCS in the Keyword Search to find jobs related to your Military Occupation.
Working for the federal government is a great way to use your military skills in conjunction with the knowledge that you have gained here as the University of Toledo. Below is a guild to help you through the process.
Federal Hiring Process
Applying for a federal position can be difficult. Use the link below to learn more about the federal hiring process.
USAJob.gov
USAJobs is the best place to start looking for positions that relate to your military experiences and more.
Writing a Federal Resume
Start your federal job search with a "squared away" resume. After visiting the site below and using the tips, stop by the Career Services office to have your federal resume reviewed.
Questions?
For UToledo military/veterans assistance contact:
The Military Service Center
Location: Rocket Hall Room 1350
msc@utoledo.edu
utoledo.edu/military/
For additional career assistance contact: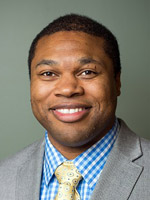 Davlon Miller – OIF III Veteran
Assistant Director of Career Development
davlon.miller@utoledo.edu
419.530.4456
Davlon is a native of Hernando, MS, where he joined the Mississippi Army National Guard on November 17th, 2000. He enrolled at Delta State University in 2002 after completing training for military service. While pursuing his undergraduate degree, Davlon was activated in June of 2004 in preparation for deployment to Iraq in support of Operation Iraqi Freedom III in 2005. Miller returned to Delta State after his deployment and completed a Bachelors of Business and Administration degree in 2008, and a Master of Education degree with an emphasis in community counseling in 2010. Shortly before graduating, Davlon completed nine years of military services with the Mississippi Army National Guard. During his years of service, Miller received several services ribbons and medals. Davlon served as the Director of Career Services at Delta State University for five years before moving to Ohio and becoming the Assistant Director of Career Development in the office of Career Services.