UToledoChemE in the news
2020 NEWS ITEMS
Professor Alba-Rubio named influential researcher
November 2020: Ana Alba-Rubio was named to the 2020 Class of Influential Researchers by the editors of Industrial and Engineering Chemistry Research, a journal published by the American Chemical Society. Details are found in the UToledo News.
Undergraduate student earns national AIChE scholarship - only 1 in the world
November 2020: Daniel Reichenbach earned the John J. McKetta Undergraduate Scholarship, which is awarded to a chemical engineering undergraduate student (incoming junior or senior only) planning a career in the chemical engineering process industries (CPI). The award includes $5,000. Dan will graduate in December 2020.
Undergraduate student earns national AIChE scholarship
November 2020: Kevin Fruth earned the Donald F. & Mildred Topp Othmer Scholarship, one of only 15 in the world. The award includes $1,000.
Undergraduate students earn awards for AIChE Conference
November 2020: Dane Michael and Diego Gamboa Pabon were awarded the Freshman Recognition Award and Donald F. Othmer Sophomore Academic Excellence Award, respectively. They get free registration to attend the Virtual AIChE Student Conference and a small stipend.
UToledo ChemE alumnus helping to bring solar projects to Toledo
October 2020:  Evan Nichols, BS 2018, is Glass City Community Solar's Vice President, and their work was recently profiled in the Toledo Blade.
Undergraduate student earns national scholarship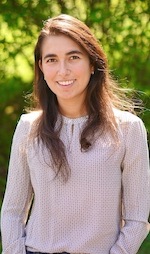 October 2020: Carolina (Dos Santos Barbosa) Mather was awarded a scholarship from the engineering honor society Tau Beta Pi. Carolina will graduate in December 2020.
Undergraduate student earns 2nd place at regional AIChE meeting for research presentation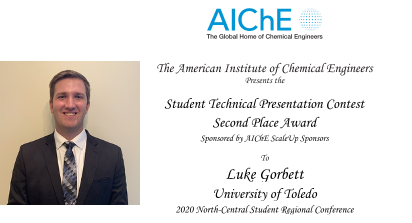 October 2020:  Delaying the regional AIChE meeting from March to October did not deter senior Luke Gorbett from earning 2nd place in the research presentation category as part of a virtual meeting. His talk was titled "Effects of Crosslinker Concentration and Reaction Time on the Creation of Solvent-Free Anion Exchange Membranes".  Luke is advised by Professor Matthew Liberatore and will graduate in December 2020.
Professor Liberatore earns national award in chemical engineering education
June 2020: Professor Matthew Liberatore earns the Thomas and Donna Edgar CACHE Award for Excellence in Computing in Chemical Engineering Education.  He received his award as part of the American Society of Engineering Education's Virtual Annual Meeting. The citation read: Two innovative, computer-based techniques for educating 21st century chemical engineering students makes Professor Matthew Liberatore a worthy recipient of the Thomas and Donna Edgar CACHE Award. First, a technique where students reverse engineer YouTube videos to create new and engaging course content engages students and has led to improved exam scores. Second, a fully interactive web-based textbook has shown reading rates over 90% for large classes of material and energy balance students. Matthew developed these new methods, studied their efficacy, and disseminated findings in peer-reviewed publications and presentations.
Professor Coleman earns Faculty Mentoring Award
April 2020: Professor Maria Coleman earns the inaugural, university-level award for mentoring. 
Professor Viamajala earns Outstanding faculty research and scholarship award
April 2020: Professor Sridhar Viamajala earns a university-level award for his research related to algal and lignocellulose-derived biofuels. 
Professor Lipscomb earns Edith Rathbun Outreach and Engagement Excellence Award
April 2020: Professor Glenn Lipscomb earns a university-level award. The award cites his efforts to engage students in projects to provide clean water to communities in need, specifically in El Salvador and Guatemala, in cooperation with the non-profit Clean Water for the World.
Undergraduate program earns top 25 national ranking for high starting salaries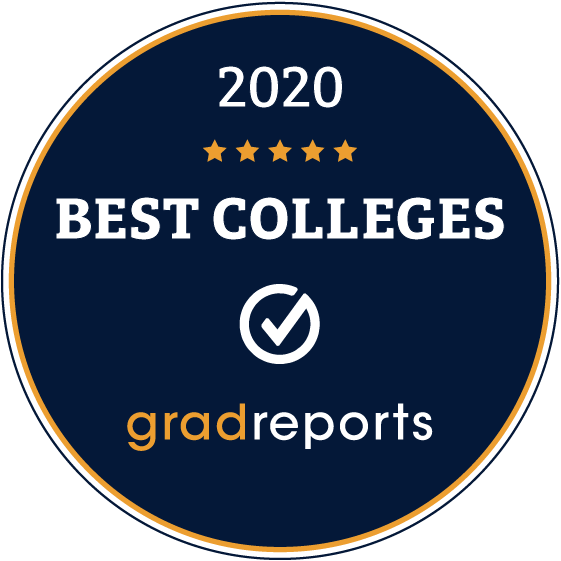 February 2020: Our undergraduate earn great starting salaries earning the department a top 25 ranking as well as the top salaries for chemical engineering graduates from the state of Ohio.  UToledo ChemE charges the third lowest tuition of these top 25 schools.
Undergraduate students earn national recognition for work on clean water
January 2020: Lelia Kerschbaum and Kevin Decato earned 3rd place in the 2019 AIChE Chemical Engineering for Good Challenge. Their project title "The development of an LED UV-C Water Purification System" proposed a practical low cost means to disinfect drinking water using LED UV light bars. 
Past NEWS ITEMS