Chemical Engineering Undergraduate Curriculum
Chemical Engineers take materials from the land, water, or air and transform them into something else to improve the human condition. This transformation typically requires a chemical reaction and must be done without adverse environmental effects and in a cost-effective manner.
The Chemical Engineering Bachelor of Science program is accredited by the Engineering Accreditation Commission (EAC) of ABET, www.abet.org, under the General Criteria and the EAC Program Criteria. Our curriculum provides students with the comprehensive academic foundation required of the chemical engineering profession that combines traditional class instruction, laboratory experiences, and required co-operative educational experiences in industry.
UToledo ChemE is one of ~10 programs in the country that offers an integrated co-op program.
The Department of Chemical Engineering is proud of its award-winning faculty and staff and its outstanding students.
Many Curricular Options
Many students take 4.5 years and complete 3 or 4 semesters of co-op following these curricula. 
Transfer students, community college students, and other experienced students can earn their chemical engineering degree even faster.
The undergraduate handbook has all of the details here, and our degree requirements are summarized here.
Chemical engineering courses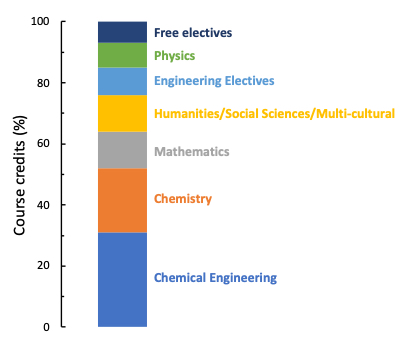 Our students take their chemical engineering courses with our faculty with many courses offered more than once a year. A course listing is available here.