Cannon Lecture Series
"Ferguson Five Years Later: A Look at the Legal & Social Reverberations in Ferguson and Around the Nation"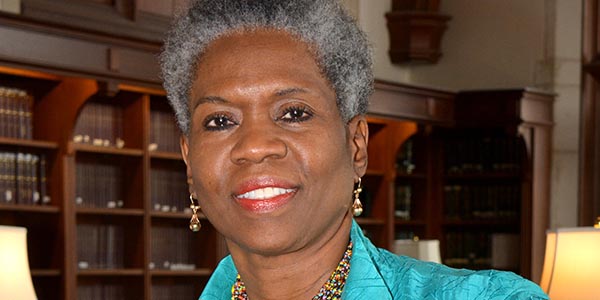 On Thursday, Sept. 26, 2019, the college hosted Professor Kimberly Norwood for its annual Cannon Lecture Series. The session was followed by a book sale and signing.
In August 2014, events in small-town Ferguson, Mo., sparked an international debate on the struggle for equal justice and equal treatment. Norwood published "Ferguson's Fault Lines: The Race Quake that Rocked a Nation" in 2016. In the book, she used Ferguson as the foundation for a study on how various laws, social conditions, and economic and political policies may negatively impact the lives of Black and Brown people in America — contributing to racial and socioeconomic conflict. Now five years later, Norwood will examine the institutional, systemic, and cultural structures that resulted in racially disparate treatment in Ferguson.
"We are honored to host a scholar and advocate of Professor Norwood's stature," says Geoffrey Rapp, senior associate dean for academic affairs and Harold A. Anderson Professor of Law and Values at Toledo Law. "Her insights into the limitations of the legal system for addressing persistent racial discrimination have had a profound impact on how we think about lasting and difficult questions."
Norwood's research focuses on colorism, implicit bias, and the intersection of race, class, and public education in America. She is a commissioner on the American Bar Association's Commission on Racial and Ethnic Diversity in the Profession, a commissioner on the Missouri Supreme Court Commission on Racial and Ethnic Fairness, and a member of the Monitoring Team for the U.S. v. Ferguson Consent Decree. Norwood is the first Black woman in Washington University's history to receive tenure. She was recently named the 2019 Woman of the Year by the Missouri Lawyers Media. Norwood is a graduate of Fordham University (B.A.) and the University of Missouri-Columbia (J.D.).
This free, public lecture was part of the Cannon Lecture Series that was established in 1980 to honor former Toledo attorney Joseph A. Cannon. The series hosts nationally known individuals who explore both the humanistic dimensions and limitations of our legal system.
---
PHOTOS
For photos from the lecture, review the Flickr album.
---
Past Speakers
Explore guest speakers and lecture videos from previous Cannon Lectures.