Stranahan Lecture Series - Past Speakers
The Stranahan Lecture Series is part of the Stranahan National Issues Forum and is sponsored by the College of Law and its chapter of the Federalist Society for Law and Public Policy Studies. Below is an outline of previous lectures, including links to event recordings.
---
2022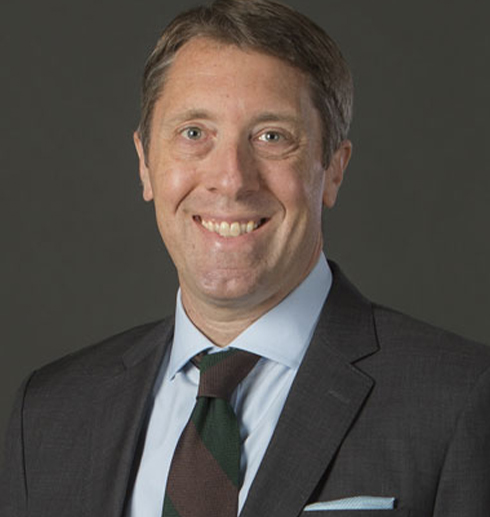 Eric R. Claeys
Professor of Law, George Mason University Antonin Scalia Law School
"Natural Rights and Property"
April 4, 2022
Professor Eric R. Claeys made the case for protecting private property as a natural right in American law and public policy. He illustrated with the recent case, Campo v. United States, in which a federal court consulted many authorities - including John Locke and James Madison - to hold that fishermen have constitutionally protected property in rights to harvest oysters.
A prolific scholar, Claeys's lecture introduced material from his forthcoming book "Natural Property Rights" (Cambridge Univ. Press, forthcoming 2023). He publishes widely on natural rights and property law. He is a member of the American Law Institute (ALI) and is involved in ongoing projects of the ALI on property and copyright. Professor Claeys received his A.B. from Princeton University and his J.D. from the University of Southern California Law School. After law school, Professor Claeys clerked for the Hon. Melvin Brunetti, U.S. Court of Appeals for the Ninth Circuit, and the Hon. William H. Rehnquist, Chief Justice of the United States. He has also taught at Saint Louis University School of Law, the University of Chicago Law School, and Harvard Law School.
---
2021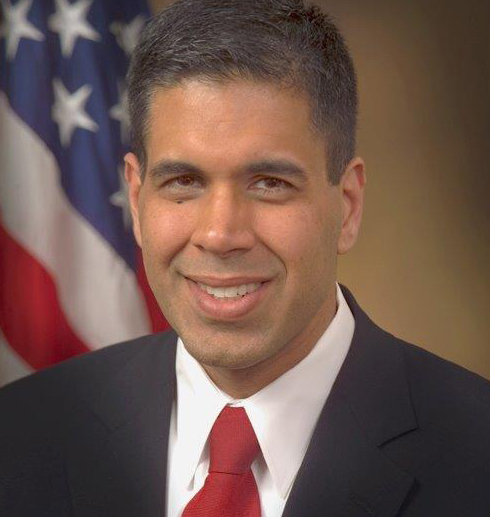 Judge Amul Thapar
United States Court of Appeals for the Sixth Circuit
"Innovative Ideas for Criminal Justice Reform"
Sept. 28, 2021
Judge Amul Thapar discussed proposals for criminal justice reform based on his experiences as a United States attorney and a district court judge. His ideas aimed to promote public safety, reduce recidivism, and give defendants more agency over the criminal process.
Thapar is a U.S. Court of Appeals for the Sixth Circuit Judge and is the first South Asian Article III judge. President George W. Bush nominated him to the district court on May 24, 2007, and President Donald J. Trump nominated him to the Sixth Circuit on March 21, 2017. Before becoming a judge, Thapar served as the U.S. attorney for the Eastern District of Kentucky. He was appointed to the Attorney General's Advisory Committee (AGAC) and chaired the AGAC's Controlled Substances and Asset Forfeiture subcommittee. He also served on the Terrorism and National Security subcommittee, the Violent Crime subcommittee, and the Child Exploitation working group. In 2015, Judge Thapar received the Daniel K. Inouye Trailblazer Award from the National Asian Pacific American Bar Association. That same year, he received a Green Bag award for his opinion in Wagner v. Sherwin-Williams Co. Civil No. 14-178-ART (E.D. Ky. Apr. 29, 2015). He teaches at the University of Virginia School of Law, Vanderbilt Law School, and Notre Dame Law School. Judge Thapar received his B.S. from Boston College and his J.D. from the University of California, Berkeley. He grew up in Sylvania and Ottawa Hills, Ohio.
---
 2019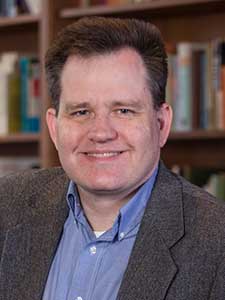 Keith Whittington
William Nelson Cromwell Professor of Politics, Princeton University
"Why We Should Value Campus Free Speech"
March 20, 2019
Professor Keith Whittington spoke on the importance of free speech at universities as argued in his award-winning recent book, Speak Freely: Why Universities Must Defend Free Speech. Whittington will explained the need to protect free speech at universities to enhance the mission of assembling and nurturing an open and diverse community of scholars, teachers, and students. Whittington examined how relationships between the critical functions of the university and the principles of free speech can help resolve difficult challenges that confront modern universities.
A prolific scholar, his publications include nine books and dozens of articles and essays on constitutional law, politics, and history, and American political thought. He is a fellow with the National Center for Free Speech and Civic Engagement, and is a member of the American Academy of the Arts and Sciences. The winner of numerous book, scholarly, and teaching awards, Whittington completed his undergraduate degree at The University of Texas at Austin, and earned his PhD in political science at Yale University.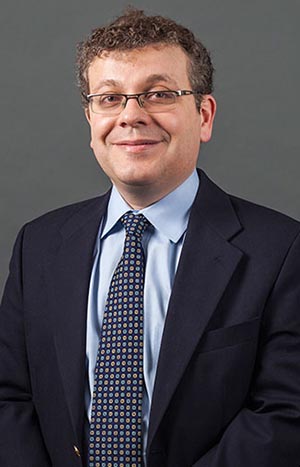 Ilya Somin
Professor of Law, George Mason University
"Free to Move: Foot Voting and Political Freedom"
Sept. 12, 2019
Most Americans think of ballot box voting as the essence of political freedom. However, Professor Ilya Somin explained how we can best empower ordinary people by expanding opportunities for them to "vote with their feet," whether it be in the private sector, between jurisdictions in a federal system, or even by moving to a new nation. We can greatly enhance both liberty and happiness by limiting and decentralizing political power, and by reducing barriers to both domestic and international migration.
Professor Somin is a Professor of Law at George Mason University. His research focuses on constitutional law, property law, and the study of popular political participation. A prolific scholar, Somin is the author of a number of books including Democracy and Political Ignorance: Why Smaller Government is Smarter (Stanford University Press, rev. ed., 2016), as well as dozens of scholarly articles and essays in a variety of popular press outlets, including the Washington Post, Wall Street Journal, and the New York Times. He has been quoted or interviewed in Time, CBS, MSNBC, and NPR, among other media. Somin is a graduate of Amherst College, Harvard University, and Yale Law School.
---
 2018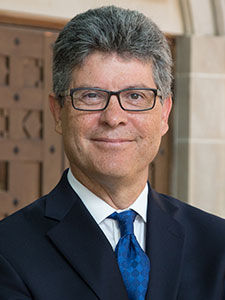 Kurt T. Lash
E. Claiborne Robins Distinguished Chair in Law, The University of Richmond
"A Troubled Birth of Freedom: The Fourteenth Amendment and the Struggle to Secure the Victory of the Civil War"
March 20, 2018

Professor Kurt Lash discussed the Fourteenth Amendment's historical context, the legal thinking behind its drafting, the struggle to reach agreement in the 39th Congress, challenges during ratification, questions over whether the ratification votes of the southern states should be counted, and the (partial) revolution in constitutional structure effected by the Amendment.
Lash is one of the nation's leading scholars on constitutional law and history. He is the founder and director of the Richmond Program on the American Constitution. Professor Lash's books include The Reconstruction Amendments: Essential Documents (two volumes) (under contract with University of Chicago Press), The American First Amend­ment in the Twenty-first Century: Cases and Materials (Foundation Press, 2014) (with Van Alstyne), The Fourteenth Amendment and the Privileges or Immunities of American Citizenship (Cambridge University Press, 2014), and The Lost History of the Ninth Amendment (Oxford University Press, 2009).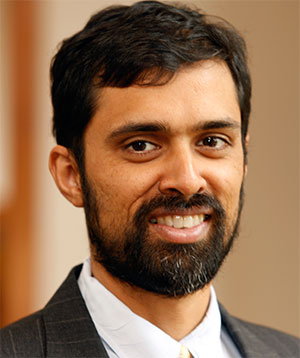 Saikrishna B. Prakash
James Monroe Distinguished Professor of Law and Paul G. Mahoney Research Professor of Law, The University of Virginia
"Executive Power in the Age of Trump"
Aug. 30, 2018

Professor Saikrishna Prakash discussed why modern executives claim the ability to alter constitutional and statutory law through the alchemy of repeated transgressions of existing law. He argued this ability has contributed to President Trump's dominant role in constitutional and statutory interpretation.
The author of over 60 articles, Professor Prakash is a leading scholar of constitutional law and legal history. His recent publications include "50 States, 50 Attorneys General and 50 Approaches to the Duty to Defend" (Yale Law Journal, 2015), "The Imbecilic Executive" (Virginia Law Review, 2013), "The Sweeping Domestic War Powers of Congress" (Michigan Law Review, 2015), and Imperial from the Beginning: The Constitution of the Original Executive (Yale University Press, 2015). Prakash teaches constitutional law, foreign relations law, and presidential powers. He is a graduate of Stanford University and Yale Law School, and he clerked for Justice Clarence Thomas.
---
2017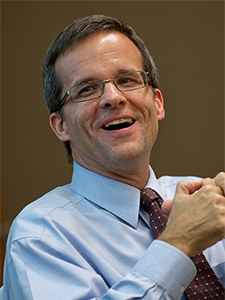 David Skeel
S. Samuel Arsht Professor of Corporate Law, University of Pennsylvania
"When is Bankruptcy the Answer for Troubled Cities and States?"
March 16, 2017

Professor Skeel addressed municipal and state bankruptcy as well as its causes and solutions. He identified the extent of governmental indebtedness and its many causes. Professor Skeel also explained current avenues—and obstacles—within the bankruptcy code for municipal and state bankruptcy, drawing upon his experience as one of five members of the federally-appointed board overseeing Puerto Rico's debt crisis.
A scholar and prolific writer, Skeel's expertise lies in the areas of corporate law, bankruptcy, and religion and the law. In addition to numerous articles, he has published four books: True Paradox: How Christianity Makes Sense of Our Complex World (InterVarsity, 2014); The New Financial Deal: Understanding the Dodd-Frank Act and Its (Unintended) Consequences (Wiley, 2011); Icarus in the Boardroom (Oxford, 2005); and Debt's Dominion: A History of Bankruptcy Law in America (Princeton, 2001). He has also frequently appeared in the press with commentaries appearing in the New York Times, Wall Street Journal, and The Weekly Standard.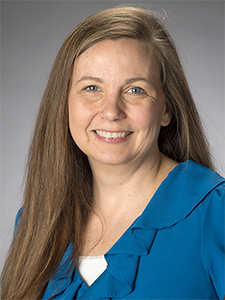 Nicole Stelle Garnett
John P. Murphy Foundation Professor of Law, University of Notre Dame
"The Continuing Transformation of K-12 Education Law: Beyond Vouchers and Charter Schools"
Sept. 21, 2017
Professor Garnett explained how changes to K-12 education resulted from education reformers embracing a child-focused, rather than a sector-focused, reform agenda. This reform agenda's central goal is maximizing the number of high-quality educational options for disadvantaged children across charter, private, and traditional public schools. The transformation of K-12 education may have profound implications for education law, including opening the possibility of faith-based, state-supported charter schools.
A well-known scholar of education and property law, Garnett has published two books in these areas: Lost Classrooms, Lost Community: Catholic Schools' Importance in Urban America (University of Chicago Press 2014), and Ordering the City: Land Use, Policing and the Restoration of Urban America (Yale University Press 2009). She is also widely published in leading law reviews and teaches courses in property, education, local government, and land use planning law at Notre Dame. She earned her BA from Stanford University and her JD from Yale Law School and was a law clerk for Supreme Court Justice Clarence Thomas.
---
2016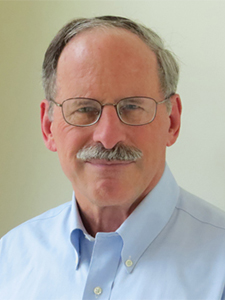 Stuart Taylor, Jr.
Author and freelance writer
"Mismatch: How Affirmative Action Hurts Students It's Intended to Help, and Why Universities Won't Admit It"
Feb. 3, 2016
Taylor is an author and freelance writer focusing on legal and policy issues, and a Brookings Institution senior fellow. In 2012, Richard Sander and Taylor co-authored the book, Mismatch: How Affirmative Action Hurts Students It's Intended to Help, and Why Universities Won't Admit It. In 2007, Taylor and KC Johnson co-authored the book, Until Proven Innocent: Political Correctness and the Shameful Injustices of the Duke Lacrosse Rape Fraud.
Taylor was a reporter for The New York Times from 1980-1988, for The American Lawyer, Legal Times, and their affiliates from 1989-1997, and for National Journal and Newsweek from 1998 through 2010. He has also written for The Atlantic, The New Republic, National Review, Slate, The Daily Beast, Harper's, Reader's Digest, and other magazines, plus op-eds for The Washington Post, The New York Times, The Wall Street Journal, The Los Angeles Times, and USA Today. Taylor holds an AB from Princeton University and a JD from Harvard Law School.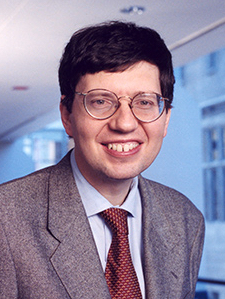 John O. McGinnis
George C. Dix Professor in Constitutional Law, Northwestern University
"Why Citizens United and Other Roberts Court Campaign Finance Decisions are Right"
April 4, 2016
No issue has generated more unyielding divisions on the Roberts Supreme Court and in American society than the Court's decisions about political campaign regulation, most famously in Citizens United v. FEC (2010). The Court's majority believes that campaign finance regulations should be analyzed under general free speech principles established in other contexts. The dissents seek to decide campaign finance regulation issues by considerations unique to campaign finance regulation. Professor McGinnis showed that the majority's approach is correct, because the First Amendment reflects a distrust of government and thus requires judicial constraint, which adherence to general First Amendment principles provides.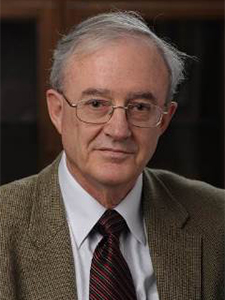 John M. Finnis
Emeritus Professor, University of Oxford and Biolchini Family Professor of Law, University of Notre Dame
"A Conversation with Professor John Finnis"
Sept. 20, 2016
Professor Finnis explained natural law and some of its important implications.
Finnis is a prolific scholar. He has authored and edited numerous books and written dozens of articles and essays. He was honored when Oxford University Press published his collected works in a five-volume series. Professor Finnis' publications have focused on law, legal theory, moral and political philosophy, theology, and late Elizabethan-era history. Until 2010, Finnis held positions of lecturer, reader, and a chaired professor in law at Oxford. He has also held positions at the University of California at Berkeley, the University of Malawi in Africa, and at Boston College of Law. He earned his LLB from Adelaide University in Australia and doctorate from Oxford University, where he was a Rhodes Scholar. He is admitted to the English Bar, Gray's Inn.
---
2015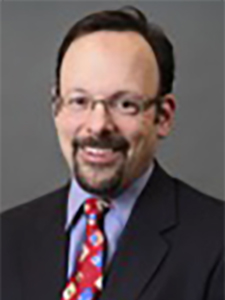 Jonathan H. Adler
Johan Verheij Memorial Professor of Law and Director of the Center for Business Law and Regulation, Case Western Reserve University
"Conservative Conservation: Property Rights and Environmental Protection"
March 26, 2015
Professor Adler challenged the premises upon which conventional approaches to environmental protection are based. He argued that greater concern for property rights can provide the foundation for environmental protection that is more effective and equitable.
Adler is the author or editor of five books and more than a dozen book chapters. His articles have appeared in the most influential legal and popular publications in the nation ranging from the Harvard Environmental Law Review and Supreme Court Economic Review, to The Wall Street Journal and USA Today. Adler is a contributing editor to National Review Online and a regular contributor to the popular legal blog, "The Volokh Conspiracy," hosted by washingtonpost.com. A regular commentator on constitutional and regulatory issues, he has appeared on numerous radio and television programs, ranging from PBS "Newshour with Jim Lehrer" and NPR's "Talk of the Nation," to Fox News Channel's "O'Reilly Factor" and "Entertainment Tonight." He has testified before Congress a dozen times and his work has been cited in the U.S. Supreme Court. Adler holds a BA from Yale University and a JD from George Mason University School of Law.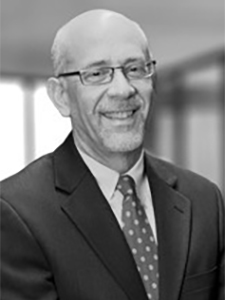 David Harris
Distinguished Faculty Scholar and Professor of Law, University of Pittsburgh
"A Conversation on Policing and Race in Post-Ferguson America"- Part I
Sept. 10, 2015

Since the events in Ferguson, Missouri, Americans have seen a steady stream of incidents replayed through video that raise uncomfortable questions about policing in this country. In the first lecture of a two-part series, Professor David Harris offered his thoughts on racial profiling and various means available to curb police misconduct.
Professor Harris is the leading national authority on racial profiling. His law journal articles about profiling became the basis for the Traffic Stops Statistics Act of 1997, the first national legislative proposal to attempt to address profiling. His 2002 book, Profiles in Injustice: Why Racial Profiling Cannot Work, and his research on profiling led to reform efforts by the federal government, by more than half the states, and by hundreds of police departments. He has testified numerous times in the U.S. Congress and before state legislative bodies. His other books include Good Cops: The Case for Preventive Policing (2005) and Failed Evidence: Why Law Enforcement Resists Science (2012).
Harris taught at The University of Toledo College of Law through 2007, where he was the Eugene Balk Professor of Law and Values. He holds a BA from Northwestern University, a JD from Yale Law School, and an LLM from Georgetown University.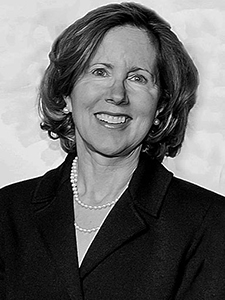 Heather Mac Donald
Thomas W. Smith Fellow, Manhattan Institute and Contributing Editor, City Journal
"A Conversation on Policing and Race in Post-Ferguson America"- Part II
Nov. 2, 2015

In the second lecture, Heather Mac Donald responded to Professor Harris and examined the claims of the Black Lives Matter Movement. She argued that police departments are the government agencies most dedicated to the proposition that black lives matter by explaining the policing revolution of the 1990s and looking at race, crime, and policing statistics.
Mac Donald's work at City Journal has canvassed a range of topics including homeland security, immigration, policing and racial profiling, homelessness and homeless advocacy, and educational policy. Her writings have also appeared in The Wall Street Journal, the Washington Post, The New York Times, and The New Republic. She is a frequent guest on FOX News, CNN, and other television and radio programs.
Mac Donald is the author of several books. Her second book, Are Cops Racist? (2003), investigates the workings of the police, racial profiling, and also the anti-profiling lobby's harmful effects on black Americans. She has frequently testified before Congress. She holds a BA from Yale University, an MA from Cambridge University, and a JD from Stanford University Law School.
---
2014
Ross Douthat
The New York Times op-ed columnist, author, and blogger
"Finding the Voice of Modern Conservatism: Between Ted Cruz and Chris Christie"
Feb. 19, 2014
Douthat explored the range of modern conservative opinion and how its competing voices manifest themselves in politics, law, and society. He considered various perspectives on such issues as the recent government shutdown, the Affordable Care Act, and the role of religion in society, and considered how conservatism can reclaim the moral high ground in contemporary discourse.
New York Times bestselling author Douthat's most recent book is Bad Religion: How We Became a Nation of Heretics (Free Press, 2012). He is also the author of Privilege: Harvard and the Education of the Ruling Class (Hyperion, 2005), and the co-author, with Reihan Salam, of Grand New Party: How Republicans Can Win the Working Class and Save the American Dream (Doubleday, 2008).
The youngest op-ed columnist in the history of The New York Times, conservative commentator Douthat analyzes domestic and international politics and government for the Times editorial pages. Formerly a senior editor and blogger at The Atlantic, Douthat has written on topics ranging from higher education to national politics to celebrities' religious conversions. He has contributed to The Wall Street Journal, The Weekly Standard, and National Review, among other publications.


Hans A. von Spakovsky
Former Federal Election Commissioner, Manager of Election Law Reform Initiative, and Senior Legal Fellow for The Heritage Foundation
"The Reality of Voter Fraud and How to Ensure Election Integrity"
Sept.r 29, 2014
Von Spakovsky said that voter fraud has plagued American elections since the founding, and that it continues to do so today. He proposed measures that states should take to deter, prevent, and detect fraud without inhibiting the ability of anyone who is eligible to register and vote. The experience of states that have implemented these election reforms shows, according to von Spakovsky, that the claims made by opponents of election reform are untrue, and that maintaining the confidence of the American electorate in the election process is of vital importance.
Von Spakovsky is co-author of Who's Counting?: How Fraudsters and Bureaucrats Put Your Vote at Risk (Encounter Books, 2012). His analysis and commentary have appeared in many publications including The Wall Street Journal, The Washington Times, Politico, and Human Events. Von Spakovsky appears regularly on national and regional TV and radio news outlets.
Previously, von Spakovsky worked at the Justice Department providing expertise enforcing the Voting Rights Act and the Help America Vote Act of 2002. He is a former vice chairman of the Fairfax County (Va.) Electoral Board and a former member of the Virginia Advisory Board to the U.S. Commission on Civil Rights. Von Spakovsky holds a BS from the Massachusetts Institute of Technology and a JD from Vanderbilt University School of Law.
---
For questions about the Stranahan Lecture Series, please contact Professor Lee J. Strang.