Danessia Scott-Warren '93 Names Beth Eisler, Carol Frendt and Barbara Greely As Her Difference Makers
April 4, 2022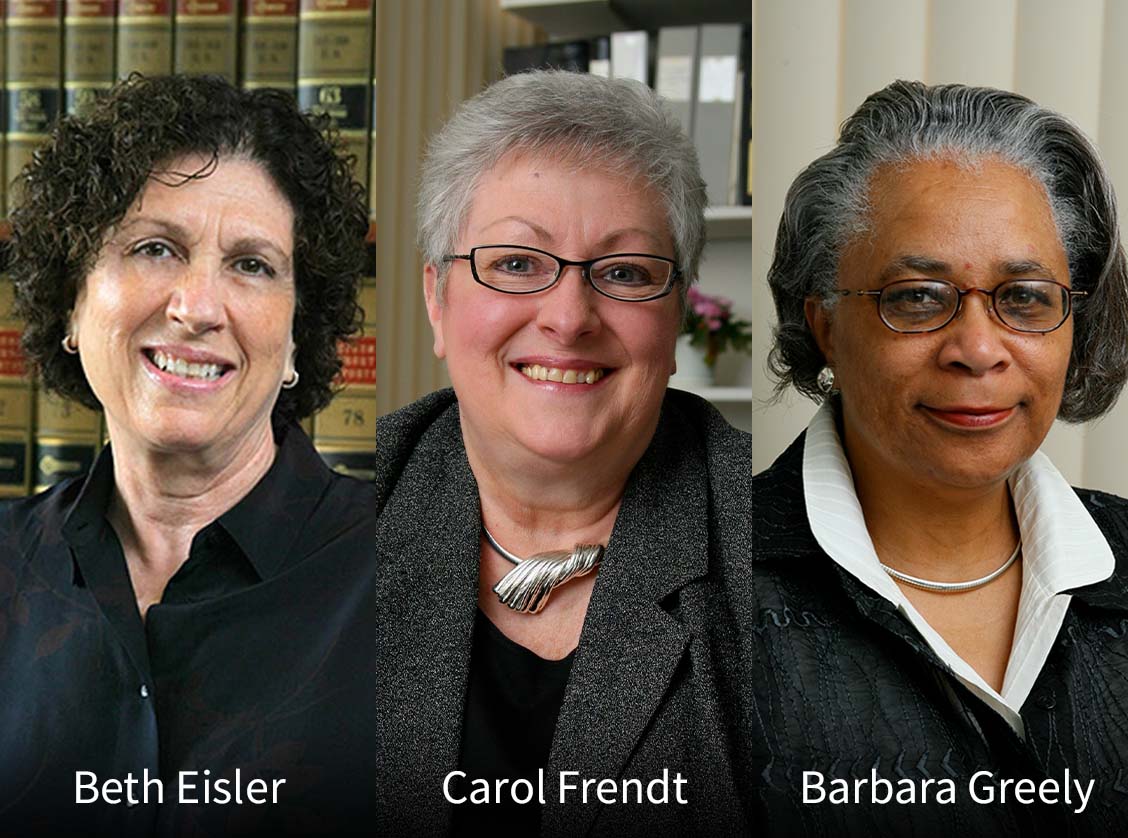 Danessia Scott-Warren '93 is a corporate attorney with her own practice. She is also a corporate compliance officer for Bornhava, a not-for-profit organization that serves children from birth to five years old who have a disability. In reminiscing about her years at Toledo Law, multiple women came to mind that had powerful and lasting impacts on her life: Beth Eisler, Carol Frendt and Barbara Greely. "From Beth's tough but fair attitude and heart of gold to Carol and Barbara's ability to make you feel at home, there was never a scenario where faculty or staff weren't there to help you through," says Danessia.
Danessia remembers Beth as a highly gifted and talented attorney and law professor. "Her passion for the law was contagious," she says. "Her approach to real-life situations and scenarios, not just a case study in a law book, gave you confidence in the subject matter." After practicing corporate law for almost 29 years, Danessia still keeps Beth's words of wisdom and confidence close to her heart. Danessia was studying for the New York Bar Exam while her classmates were studying for the Ohio Bar Exam. Beth connected Danessia with some Toledo Law alumni who were practicing in New York to help her build confidence while studying and envisioning her future. Danessia said, "After speaking with these alumni, I felt I could have the same success."
Having to spend so many hours in the College of Law, Danessia found her home away from home in the Admissions Office with Carol and Barbara. "Carol and Barbara were a dynamic duo," says Danessia. "You could always stop in their office and feel at ease if you were having a rough day, tough classes, or share the goodness of a great grade on an assignment. Whether you were stressed or excited about something in your personal life or in class, Carol and Barbara were there to ensure you didn't feel alone and celebrate your milestones along the way. They even kept in touch with our parents to let them know if we needed a little extra TLC phone call from home."
If it wasn't for Beth's long-lasting words of wisdom and contagious passion for law, along with Carol and Barbara's open arms for an inclusive environment for students to feel supported, Danessia's experience at Toledo Law and pathway to success would have never been the same. 
---
Beth Eisler was a faculty member from 1987-2012. She also served as interim dean from 2005-2006. She received The University of Toledo's Student Impact Award in 2011 and 2012.
Carol Frendt retired from her role as assistant dean of admissions in 2010 after 33 years with Toledo Law.
Barbara Greely was with The University of Toledo from 1978-2009 and served as the assistant director of admissions for Toledo Law. 
---
 This year for Day of Giving, we encourage you to donate in honor of your Difference Maker.
Did Beth, Carol or Barbara have a positive impact on your education and career? We want to hear about it!
Was someone else your Difference Maker? Please tell us who so we can celebrate them with you!
E-mail your story to lawcommunications@utoledo.edu, and your story might be featured in a future article.