Ashley Weis and Matthew Bodeman Win Top Two Prizes at OSBA Student Writing Competition
July 31, 2019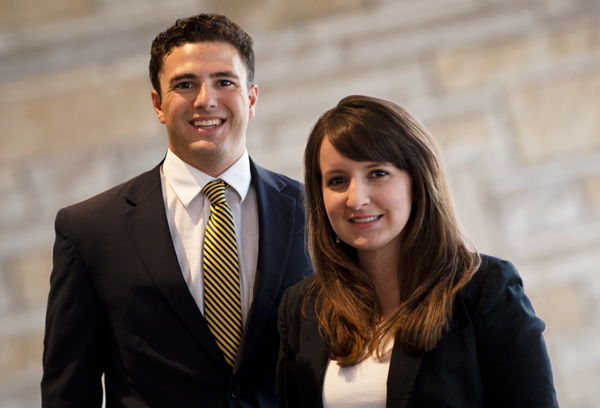 Congratulations to Toledo Law students, Ashley Weis and Matthew Bodeman, who won the top two prizes in the Ohio State Bar Association's Student Writing Competition for the Labor and Employment Law Section. The statewide competition was created to encourage relevant and innovative scholarly work in the area of labor and employment.
A judging committee of distinguished practicing attorneys and faculty members at Ohio ABA-accredited law schools selected the top student authors in the state.
Weis won first place with a $3,000 prize for her research article "Tip Jars in Need of Change: The Case for Reforming Employee Tip Regulations in the Fair Labor Standards Act." The article focuses on employee tip pooling, which has become a common practice in the service industry and directly affects millions of hourly and minimum wage employees. In the article, Weis explores the unexpected political influence that has shaped the current regulations over time. She argues that the rules do not adequately protect employees' tips as income and also fail to appropriately balance the regulatory burden on the employers who manage them. 
Weis is a third-year law student and Dean's Scholarship recipient. She most recently served as an executive editor of The University of Toledo Law Review. Her winning article was published as a student comment in the spring 2019 issue of the Toledo Law Review. 
Weis earned her bachelor's degree in paralegal studies, summa cum laude, from The University of Toledo. In addition to her legal studies, she is the director of legal services at Marco's Pizza, involved in numerous areas of the business including compliance, franchise regulation, contracts, corporate governance, real estate, employment matters, and litigation. Weis was named the 2018 Marco's Pizza MVP, which recognizes outstanding employee contributions to its franchise system. She also played an instrumental role in establishing the company's first non-profit organization to provide financial assistance to employees who are victims of natural disaster, medical emergencies, and other traumatic events.
Following graduation this December, Weis plans to continue her employment at Marco's Pizza as associate legal counsel and lend her time to pro bono and volunteer efforts in the community. She also enjoys spending time with family, her dog, reading, and keeping up on political events.
 Bodeman won second place with a $2,000 prize for his research article "Do Not Bite the Hand that Feeds You: Extinguishing the Duty of Fair Representation in the Public Sector Following Janus." The article discusses the U.S. Supreme Court's Janus v. American Federation of State, County and Municipal Employees (AFSCME) decision and its impact on public-sector unions. In the article, Bodeman argues that the decision had the effect of national right-to-work, allowing individuals to attain union representation while not being responsible for paying union dues. He proposes alternatives to buffer changes that American workers and the labor movement may see in the coming years.
Bodeman is a rising third-year law student. His winning article will be published as a student note in the spring 2020 issue of the Toledo Law Review. 
Bodeman was born and raised in Oregon, Ohio. He earned his bachelor's degree in law and social thought, magna cum laude, from The University of Toledo. He is a law clerk in the personal injury section of the Toledo law firm Gallon, Takacs & Boissoneault Co., L.P.A., as well as a high school basketball official in the Toledo area.
After graduation next May, Bodeman plans to take the Ohio bar exam. He is seeking an associate position in a mid- to large-size firm, practicing labor and employment, construction, and/or personal injury law. His passions include Notre Dame and Toledo football, exercising, traveling, and spending time with friends and family.
"Both Ashley and Matt did outstanding work on these research papers, and they are very deserving of their prizes," said Joseph Slater, Distinguished University Professor and Eugene N. Balk Professor of Law and Values at Toledo Law. Slater worked with both students on their papers. "Both papers showed an excellent grasp of important legal topics. Both were well-researched and well-written. And both made persuasive arguments for legal reform."