Emilie Easton and Daniela Peric Receive Carr Writing Award
Oct. 12, 2020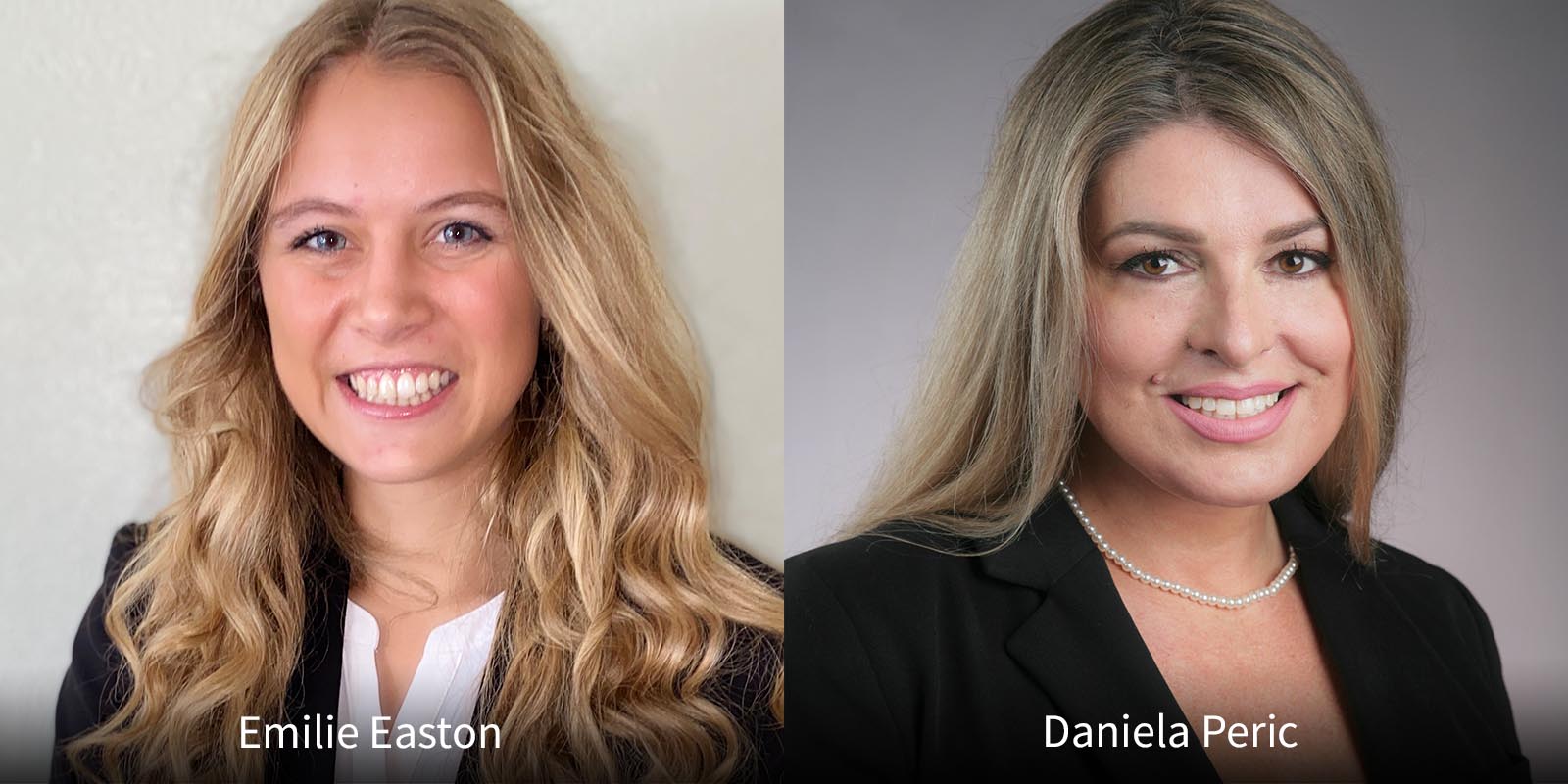 Emilie Easton and Daniela Peric were selected as recipients of the Judge James G. Carr Writing Award. The Carr Writing Award recognizes excellence in faculty-supervised research papers written by continuing law students.
In 2012, Dr. Eileen Carr and their family established the award to honor her husband, James Carr, professor of law emeritus at the College of Law and Senior U.S. District Judge for the Northern District of Ohio. The award recognizes the student whose piece of legal research and writing, for either a course paper or publication, is deemed to have the qualities of content and style exemplifying the best of legal prose.
Each year, Toledo Law professors nominate students for the award. Selection criteria include the importance of the research topic, the significance of the discussion, and the quality of the research. Judge Carr selects the winning entry.
Easton authored the research paper titled "Best Probationary Practices for Sex-Trafficked Victim-Defendants in Toledo Municipal Court." The paper devises an evidence-based policy plan to identify Municipal Court defendants who are victims of sex trafficking and/or commercial sex-work abuse and connect these victim-defendants to a pre-existing local program that provides a comprehensive continuum of care.
Easton is a first-generation law student from Bedford, Mich. with a bachelor's degree in criminology and international affairs from Florida State University. She plans to join the JAG Corps after graduation from Toledo Law.
Peric authored the research paper titled "Land Contracts: Alternative Road to Homeownership or Pothole Ridden Path to Forfeiture." The paper explores the advantages and disadvantages of land contracts while highlighting the historical arguments against the alternative home buying process, as well as current aspects that still make the process a viable solution to attaining the American dream of homeownership.
Peric is the first in her family to attend college. She received a bachelor's degree in public administration and public policy from Oakland University in Rochester, Mich. After graduating from Toledo Law, she plans to build a law career within the government and the public sector with hopes of successfully contributing to the areas of property, probate, secured transactions, and tax law.
Both of the students' work was supervised by Professor Benjamin Davis, who nominated them for the award.
"Ms. Easton clearly understood every aspect of the probationary practices for sex-trafficked victim-defendants and then went beyond the state of law today to make recommendations about how to improve the way the system addresses this vulnerable population," said Professor Davis. "Ms. Peric showed a clear understanding of the positions of both sellers and buyers in land contracts and came up with a solution that tries to balance the good faith seller's and good faith buyer's interest while also reducing abuse."